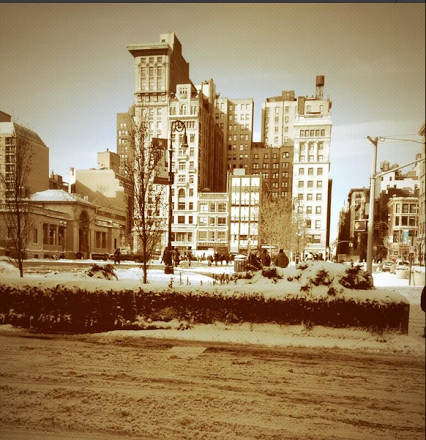 It's a new year and we're quickly becoming accustomed with fresh faces and new talent at the New York Film Academy. The motto of our film school is students receive a "hands-on education" and our new crop of students can tell you, this is certainly the case. Make no mistake, the film school courses are very intense. From day one, students quickly become familiar with our helpful TAs in the equipment room, as they're checking in and out film equipment to shoot their own short films. While instructors and TAs are on set, guiding individuals and teaching them proper filmmaking tactics, students will deal with similar pressures faced by professional filmmakers.
Given NYFA's location in Union Square, the heart of New York City, students don't have to look far to find the perfect set for their film. Just take a walk around Union Square Park if you're in the area, you'll be sure to catch a NYFA T-shirted film school student capturing his or her first ideas onto film. Yes, film. The New York Film Academy is one of the only film schools left who still uses the ArriFlex to create 16mm films. We feel it's important to learn the roots of cinema before entering the world of digital filmmaking. Though, our students are not deprived in the digital arena at all. NYFA provides access to the RED Epic, Canon 5D, and HDSLR. Plus, students have access to editing suites, at their own convenience, to edit each of their projects. So, our students are well versed in all aspects of filmmaking.
Just recently, The Huffington Post recommended readers to check out NYFA's film school workshops as a way to "Change the world using new media." Perhaps you'd like to change the world or your New Year's resolution is to learn the craft of filmmaking. If so, be sure to check out our short term workshops or Degree Programs that we have to offer.
As an example of what you can expect coming out of our film school programs, last September we compiled some of 1 Year Filmmaking students' films into an impressive reel. Have a look.

by nyfa