On Friday, January 17, New York Film Academy (NYFA) hosted the creative team behind the thriller Trauma Therapy. NYFA producing student Oksana Chester moderated the event.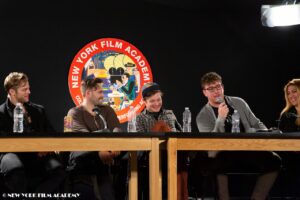 The panel included producer and Head of International Sales at Glass House Distribution, Michelle Alexandria; writer, actor, producer, and Head of Acquisitions at Glass House Distribution, David Josh Lawrence; director and writer, Tyler Graham Pavey; award-winning director of photography, Pascal Combes-Knoke; and actor and musician, Chase Coleman. 
Following a screening of the film, Chester opened up the Q&A by asking writer, actor, and producer, David Josh Lawrence, "What made you want to write this film and was it hard for you to allow people to change your vision of the film?" 
Lawrence shared, "Tom Malloy and I wrote it together. I was watching I Am Not Your Guru, which is supposed to be a documentary, but it's more propaganda to sell Tony Robbins tickets. So I thought, before Tony Robbins was Tony Robbins, who was into him and what kind of things was he teaching. So we took a character like that and gave him a more sinister thought behind what was going on. That was what started it." 
In regards to allowing other people to change his vision, Lawrence stated, "The film is told three times. It's told on the page, then it's told in production, then it's told in editing. You do have to let go of what the film once was because of finances and things getting cut." He continued, "Things change from your original idea and trusting the people that you are with to make a decision that will not affect the film in a negative way is very difficult thing, but it's one of those things where you do what you can to make sure that the story stays true to what you started off with." 
When asked about what piece of advice the panelists wish they knew before they started in the industry, Combes-Knoke expressed, "Take risks and pursue the projects that are more meaningful as opposed to the money. Specifically when it comes to cinematography, try not to get complacent with something you know is going to work. Try new things, use new tools, try different lenses you're not comfortable with, because you'll find happy accidents."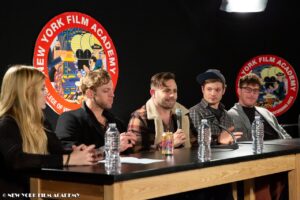 Chester then opened up the Q&A to the student audience. One student asked, "Since you guys are independent, how involved are you in each step of the process?" 
Director Graham-Pavey shared, "It really depends on the relationship with the individuals. The more you trust the people doing the job, the more they're telling you as opposed to you telling them. I think every project is different, but in this one I did a cut of the movie then turned it over and they finished it up nicely." 
Combes-Knoke added on, "Tying all this together, a majority of directors I've worked with would shoot every shot for every angle for the entire scene because they don't know what they want, and Tyler was great about knowing what shots he wanted—and frankly we couldn't have made the film in any other way. We had such a short schedule to shoot all those pages out." 
To close off the Q&A, the panelists were asked what keeps them motivated. Coleman replied, "Getting to see how I created something that affected people in a great way. That's what's so fun and amazing about creating art and creating change in front of someone. When it inspires them to do something better with their life, that's what keeps me motivated." 
When asked what advice moderator Oksana Chester wished to impart on her fellow NYFA students, she shared, "My biggest advice to anyone new to this industry is don't be afraid to meet new people, or go to different events, or apply for internships. If you want the world to know who you are and see your talents then you must be the one to take those hard, first steps to show the industry why you're here and why you matter."  
New York Film Academy would like to thank the creative team behind Trauma Therapy for joining us, and sharing their expertise with our students.
[su_image_carousel source="media: 34018,34019,34015,34017,34016″]
by nyfa