From Vogue to TEDx, it's been a busy month for New York Film Academy (NYFA) Photography School alums and students alike. As 2018 picks up momentum, we couldn't be more proud to share some truly inspiring success stories from various members of our NYFA community who have had their incredible photography work featured on major publications and thought leadership platforms.
Samuel McKnight
Samuel McKnight grew up in Germany and Oklahoma before following his dreams to the NYFA Los Angeles Photography Conservatory, graduating from the 1-Year Photography Program in 2017. Not much later, his photo of DJ and activist Zeke Thomas has been published in an interview in Paper Magazine.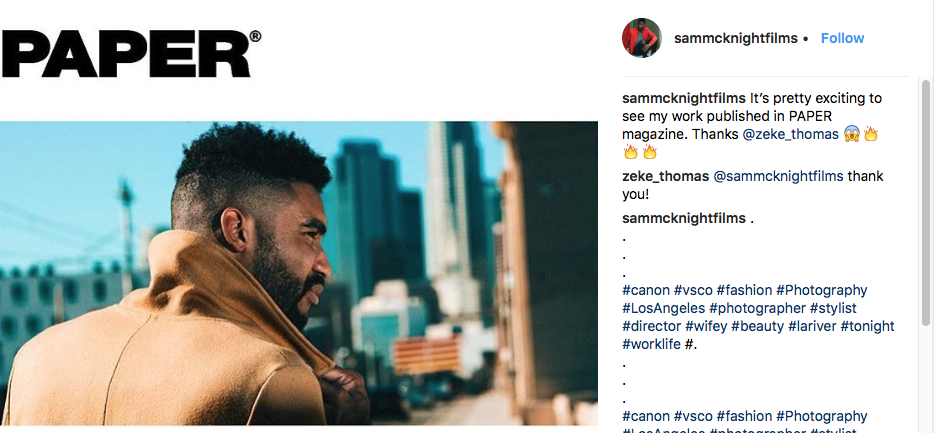 Monika Sedziute
Lithuanian Fulbright scholar and NYFA graduating MFA student Monika Sedziute has worked as a photographer all over the world, from her native Lithuania to London, Spain, and New York, with work published in magazines including IKONA, L'Officiel, Elegant Magazine, Promo Magazine, Shuba Magazine, Eden Magazine, Fayn Magazine, Stilius Magazine, Zurda Magazine (online), The Wrap (online), Luxure Magazine. See more of her clients on her website.
Most recently, the graduating MFA student's shots of actor Michael Stuhlbarg (Call Me By Your Name, The Shape of Water) and actor/director Kenneth Branagh were published in Rap Mag. She has also photographed actor Waytt Oleff from the film, IT.
Alina Grafkina
Alina Grafkina is currently working hard as a BFA student at NYFA Los Angeles, but being a busy student didn't hold her back from finding a home for one of her photos in the greatest fashion photography publication of all: Vogue! Her lyrical portrait titled Innocence went live on Vogue Italia in late January 2018.
Alejandro Ibarra
MFA alum Alejandro Ibarra nearly broke the internet when the Huffington Post, New York Daily News, Metro.Co.UK, Buzzfeed and more spotlighted his NYFA class proejct, Coming Out Stories, last spring. This year, Ibarra has held a burst of editorial photoshoots with celebrities including Kick-Ass star Chloe Grace Moretz, comedian John Oliver, Broadway star Kristen Chenoweth, and Armie Hammer of Oscar-nominated film Call Me By Your Name. Check out more of his work on his website.
[su_carousel source="media: 20227,20226,20225,20224″ link="image" width="780″ height="360″ title="no" autoplay="0″]
Brenda Cantu
Brenda Cantu has been up to big things since completing her BFA in Photography at NYFA Los Angeles. In a project called Midnight Memories which she began during her studies at NYFA, Cantu began to document every interaction she had with people, and made some surprising discoveries. The project evolved to become her 2016 TEDx talk, Why People Matter.
Pamela Garcia Aguirre
MFA grad Pamela Garcia Aguirre is a multidisciplinary artist — a photographer, filmmaker, designer, and writer — focused on a cinematic approach to moments of magic and mystery in art history, sociology, life cycles, and more. Her mystical approach is evident in her photo Thunder in Paradise, published in Vogue Italia last fall. See more of her work on her website.
Congratulations to our busy alumni for all their awesome work!
by nyfa