The Academy of Motion Picture Arts and Sciences have announced the nominees for the 91st annual Academy Awards, to be given out during ABC's televised ceremony on Sunday, February 24. The Oscars will cap off a months-long awards season featuring industry veterans, newcomers, and as always, endless debates about who deserves to go home with the golden statue.
New York Film Academy (NYFA) takes a closer look at this year's Academy Award nominees for Best Actor and Actress in a Supporting Role: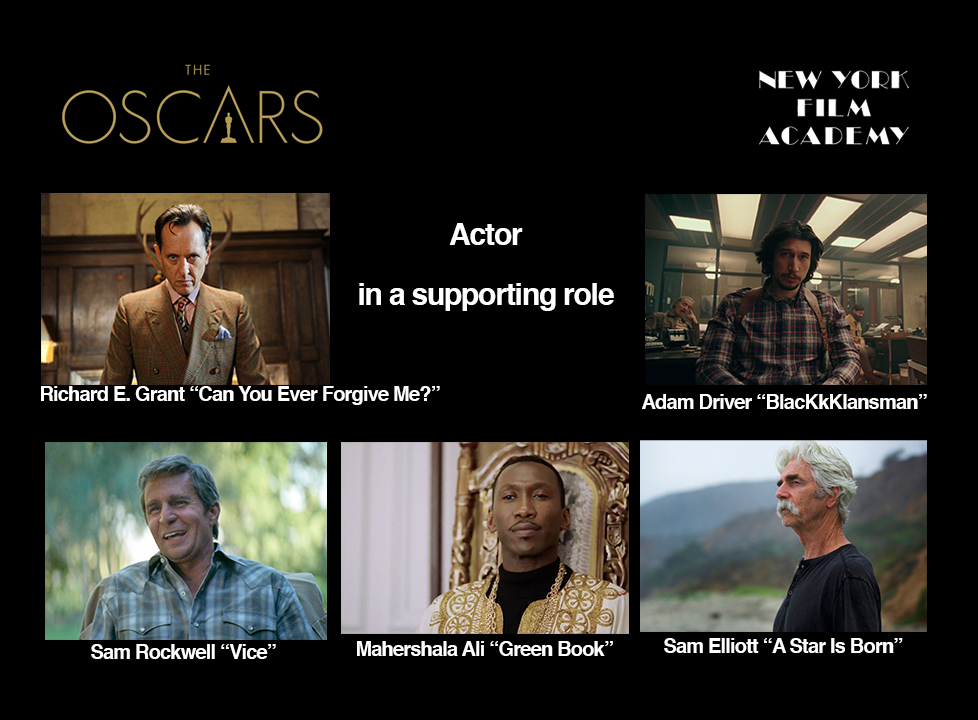 Mahershala Ali, Green Book
Mahershala Ali appeared as a regular on the television series Crossing Jordan, Threat Matrix, and The 4400 before pivoting to films with The Curious Case of Benjamin Button, Predators, and The Place Beyond the Pines. He has still acted in many high profile television series roles since, including House of Cards, Luke Cage, Treme, Alphas, and True Detective. This is his second nomination; he previously won in this category for Moonlight in 2017.
Adam Driver, BlacKkKlansman
Adam Driver came to fame for his supporting role in HBO's Girls, around the same time he appeared in Clint Eastwood's J. Edgar and Steven Spielberg's Lincoln. The NYFA guest speaker became a Hollywood superstar after being cast as Kylo Ren in Star Wars: The Force Awakens. Additional credits with high-profile directors include Paterson, Inside Llewyn Davis, Midnight Special, Logan Lucky, Frances Ha, The Man Who Killed Don Quixote, and Silence. This is his first Oscar nomination.
Sam Elliott, A Star Is Born
This is the first Oscar nomination for Sam Elliott, despite the actor having appeared in countless roles since his film debut in Butch Cassidy and the Sundance Kid. Just a few of his credits include Road House, Mask, Gettysburg, Tombstone, The Golden Compass, Hulk, Thank You for Smoking, and his iconic role as The Stranger in The Big Lebowski. His television credits are not sparse, either—he's appeared as a regular or recurring character on Justified, Mission: Impossible, Grace and Frankie, and currently stars on Netflix's The Ranch.
Richard E. Grant, Can You Ever Forgive Me?
Richard E. Grant has been appearing in films for over three decades with credits including L.A. Story, Henry & June, The Player, Bram Stoker's Dracula, The Age of Innocence, Spice World, Gosford Park, and Corpse Bride. He has been taking on more high-profile roles of late, including roles in Logan, Doctor Who, The Nutcracker and the Four Realms, Game of Thrones, Downton Abbey, and the upcoming Star Wars: Episode IX. This is his first Oscar nomination.
Sam Rockwell, Vice
Sam Rockwell has been acting since the late 1980s, slowly gaining recognition and prominence through a series of roles in films including Teenage Mutant Ninja Turtles, Lawn Dogs, The Green Mile, and A Midsummer Night's Dream. His supporting role in Galaxy Quest and starring role in George Clooney's Confessions of a Dangerous Mind helped certify Rockwell as a household name, and he's since appeared in The Hitchhiker's Guide to the Galaxy, Matchstick Men, Iron Man 2, Seven Psychopaths, and The Assassination of Jesse James by the Coward Robert Ford. This is his second Oscar nomination; he won in the same category last year for Three Billboards Outside Ebbing, Missouri.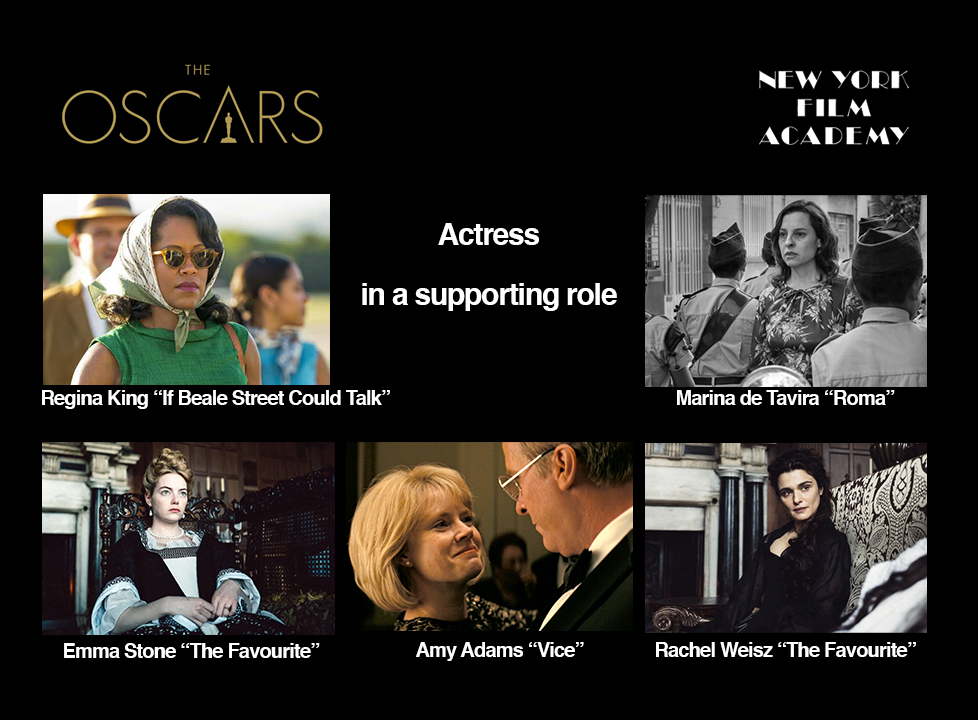 Amy Adams, Vice
This is the sixth Oscar nomination for Amy Adams, though she hasn't yet won the award. The Academy first recognized Adams for her supporting role in 2005's Junebug. She received nominations in the same category for Doubt, The Fighter, and The Master. Her sole nomination for Best Performance by an Actress in a Leading Role came in 2014 for American Hustle.
Marina de Tavira, Roma
Roma has brought international recognition to Mexican actress Marina de Tavira, whose credits include Efectos secundarios, Los árboles mueren de pie, and Sexo y otros secretos. This is her first Oscar nomination; she was previously nominated by Mexican Cinema Journalists for Efectos secundarios and Los árboles mueren de pie, as well as for Roma at the Latino Entertainment Journalists Association Awards.
Regina King, If Beale Street Could Talk
Regina King first got her start as a teenager on the hit sitcom 227. Since then she's appeared regularly on television series such as 24, The Leftovers, Southland, American Crime, and The Boondocks, and will be starring in the new HBO adaptation of Watchmen. Her film credits include Friday, Jerry Maguire, How Stella Got Her Groove Back, Ray, and the sequels to Miss Congeniality and Legally Blonde. This is Regina King's first Oscar nomination.
Emma Stone, The Favourite
The three leads of Best Picture nominee The Favourite are all nominated for acting Oscars, including Emma Stone. Stone's credits include Easy A, Superbad, Zombieland, The Help, The Amazing Spider-Man, Battle of the Sexes, and the Netflix series Maniac. She was previously nominated in this category for Birdman, and in 2017 Stone won the Academy Award for Actress in a Leading Role for La La Land.
Rachel Weisz, The Favourite
Rachel Weisz previously appeared in The Favourite director Yorgos Lanthimos's The Lobster. The English actress broke into Hollywood in 1999's The Mummy; her credits since include Enemy at the Gates, About a Boy, Runaway Jury, The Fountain, The Lovely Bones, The Brothers Bloom, My Blueberry Nights, and Disobedience. Weisz was previously nominated and won the Academy Award for her supporting role in 2005's The Constant Gardener.
Check out the New York Film Academy Blog after this year's ceremony for a full list of the 2019 Oscar winners and losers!
by nyfa