New York Film Academy Welcomes Star Wars' Adam Driver as Guest Speaker at the New York Campus
June 28, 2018 On Tuesday, June 26, Adam Driver spoke with a theatre full of exhilarated New York Film Academy (NYFA) students following a screening of his film, Paterson, at the New York City campus in downtown Manhattan. After a Q&A with executive producer Tova Laiter, Driver took questions from students and answered thoughtfully with honest opinions, interesting anecdotes, and sage advice for a room full of aspiring actors and storytellers.

Driver's time as a Guest Speaker visiting the students of NYFA was especially generous, considering just how busy he is of late: smack in the middle of a successful Hollywood career that has spanned from small indie films to theatre to hit television shows and the biggest blockbuster franchise of them all — Star Wars.

The road to stardom was an interesting one for Driver, who served in the U.S. Marine Corps for nearly three years. He then attended Juilliard and began his acting career in the New York theatre scene, both on- and off-Broadway. His feature film debut was in J. Edgar, starring Leonardo DiCaprio and directed by Clint Eastwood — the first of a long line of legendary directors whom Driver would find himself working. In fact, he chooses his roles based on the director.

In 2012, Driver became a familiar face after being cast in HBO's Girls as the boyfriend of Lena Dunham's lead character. For his role, Driver would be nominated for a Primetime Emmy for Supporting Actor three years in a row. That same year, he appeared in Steven Spielberg's biopic, Lincoln, and Noah Baumbach's dramedy Frances Ha. He followed those up with roles in the Coen Brothers' Inside Llewyn Davis, Jeff Nichols' Midnight Special, Steven Soderbergh's Logan Lucky, Terry Gilliam's The Man Who Killed Don Quixote, and Martin Scorsese's epic period drama Silence.




Most famously, however, Adam Driver became the Big Bad of the Star Wars saga when he joined the cast of Star Wars Episode VII: The Force Awakens, playing the son of iconic characters Han Solo and Princess Leia. The movie and its first follow-up, The Last Jedi, were commercial juggernauts and acclaimed by film critics, who especially found Driver's portrayal of the tortured Force-wielder Kylo Ren to be a highlight of the new trilogy.

The film screened for NYFA students was 2016's Paterson, a drama written and directed by indie luminary Jim Jarmusch about a bus driver whose monotonous working-class life inspires him to write poetry. Both Paterson and Driver were nominated for several awards, with Driver winning Best Actor from both the Toronto Film Critics Association and the Los Angeles Film Critics Association.

After a warm reception following the screening of Paterson, Driver and producer Laiter, whose credits include Glory, The Scarlet Letter, Varsity Blues, and Oliver Stone's Nixon, talked about the lyricism of Paterson and how it was achieved. Driver talked about the importance of the collaboration and contribution of everyone involved — including the director, cinematographer, set designer, etc. He addressed the questions about preparation by stressing the "banality of process" — the importance of rehearsal, knowing your lines and the lines of other actors' in the scenes, so that in the moment of shooting a performer can listen and be present without having to worry about all the technicalities of acting and character.

When asked when he knew he wanted to be an actor, Driver responded that it was never one single moment but a gradual realization. In some ways, deep down, he always knew he wanted to act, but never considered it a realistic career choice — especially in the small town in Indiana where he grew up. It wasn't until his time in the military, Driver stated, that he gained the confidence to give acting a shot.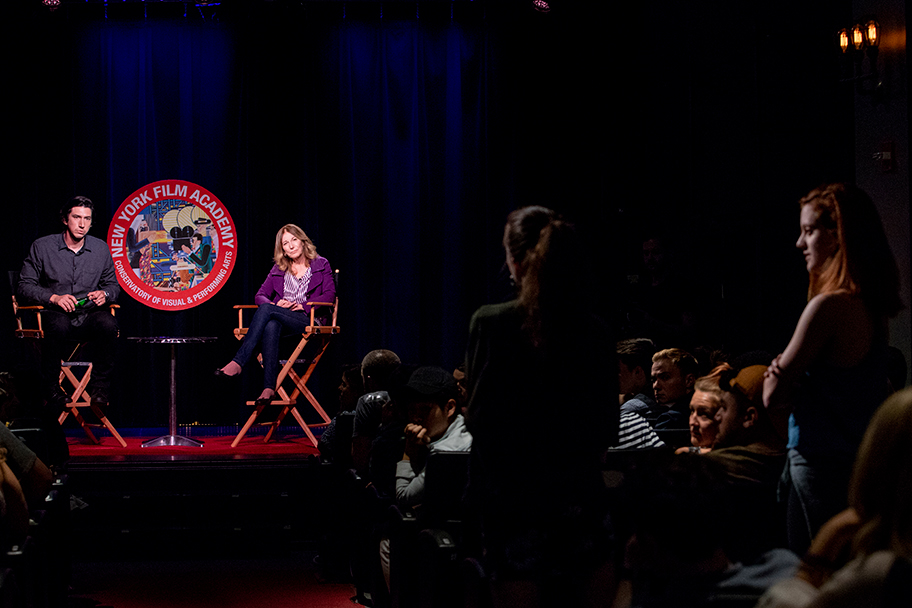 A number of the NYFA students present in the audience were, like Adam Driver, veterans of the Armed Forces. One such student asked Driver what inspired him to start Arts in the Armed Forces (AITAF), a nonprofit devoted to connecting members of all branches of the Armed Forces with writers, actors, and other storytellers.

Believing that drama had something unique and useful to offer to the military, Driver co-founded AITAF in 2008. Ever since, the organization has been hosting performances of contemporary American playwrights, such as Sam Shepard and Tony Kushner, at military bases. Driver's organization also grants the Bridge Award — a $10,000 grant for playwrights who have served or currently serve in the Armed Forces.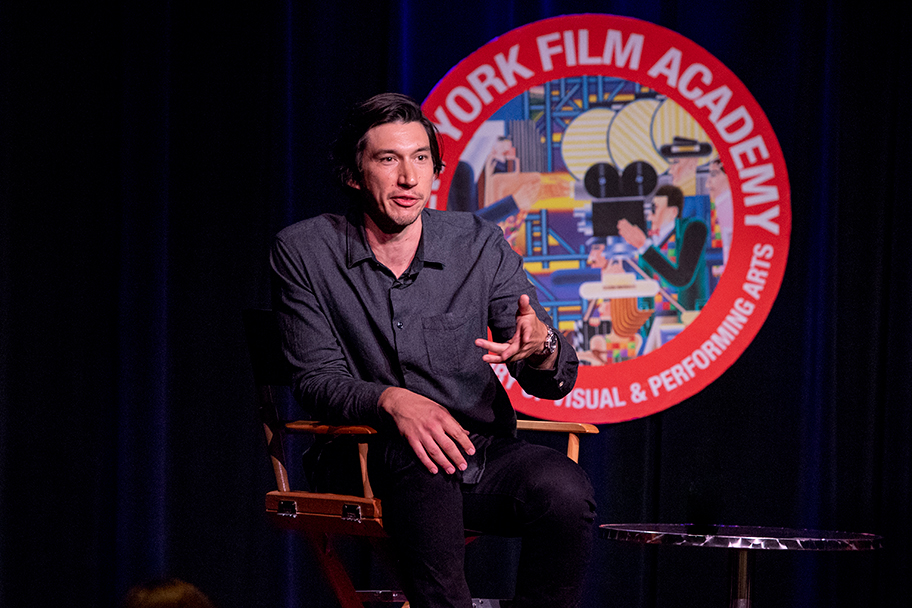 Driver took every question from the students seriously, and carefully answered each one with great detail, engaging with the students as well as the rest of the audience. When asked about working with wildly different directors Jim Jarmusch and Martin Scorsese, Driver mentioned that what the two directors have in common is that they respect the opinions and instincts of their cast and crew. He also stressed that what worked for him as an actor wasn't necessarily true for everyone in the audience — that each performer was unique and would have different needs, methods, and goals.

The New York Film Academy thanks Adam Driver for his time, passion, and thoughtful responses. As one student toward the end of the evening put it, "Thank you for letting us pick your brain."