This January, we celebrate Martin Luther King Jr. Day and reflect on his legacy of fighting for freedom, civil rights, and social justice.
"MLK was the conscience of America and one of the most transformative leaders of the 20th century," says Randall Dottin, the Chair of Screenwriting at NYFA New York.
"He held this country accountable for its racism, put in the work to try and dismantle it, and pursued his mission without cynicism. King's practice of giving grace was unlimited – his life was a testament to the power of love. Change is hard, most of us don't want to change – it takes self-reflection, sacrifice, and in some cases, pain. King's life and drive to create a 'Beloved Community' shows us that change is possible if we approach it with rigor, discipline, and compassion."
Dr. Martin Luther King Jr. Movies, Television Shows, and Plays
We remember Dr. King through his work, but we can also keep his mission alive by watching films and portrayals of him in popular media. From documentaries to biographies, here are some of our favorite movies and stories featuring the legacy of Martin Luther King Jr..
Selma (2014)
Selma (2014) tells the story of Martin Luther King Jr's endeavors to secure equal voting rights for Black Americans and recounts the three-month period in 1965 in which Dr. King led a massive march from Selma to Montgomery. What's great about this film and this performance is that it went deep into the character of MLK, how seemingly insurmountable the challenges he faced were, and how he reacted to these challenges.
David Oyelowo, a distinguished British-American actor, portrayed Martin Luther King Jr. in the movie. Oyelowo does a phenomenal job of making the character feel as close to the real person as one can get.
Prior to this film, he was also in the movie The Butler (2013), where he played Louis Gaines. Sound familiar? Well, that's because it is – he's the character, Louis, that had an interaction with Nelsan Ellis' depiction of Martin Luther King.
David Oyelowo is also well known for his role in the HBO film Nightingale (2014) as Peter Snowdin, his roles as Robert Katende in Queen of Katwe (2016), and for portraying Seretse Khama in A United Kingdom (2016).
Current NYFA students can see David Oyelowo's portrayal of MLK in NYFA's Streaming Video Library. Please note that you must be logged in with your NYFA email credentials to stream this film.
Boycott (2001)
Boycott, a 2001 film, is about the story of Rosa Parks and the early beginnings of the Civil Rights Movement, specifically the bus boycott in Montgomery, Alabama. The film does well to touch upon Rosa Parks' interactions with some of the movement's key figures, which include Ralph Abernathy, Coretta Scott King, and of course, Martin Luther King Jr.
Jeffrey Wright has the honor of portraying Martin Luther King Jr., and here, the role of MLK is much more central to the story, as it only focuses on one era. Jeffrey Wright delivers a powerful performance as the legendary civil rights leader.
Ali (2001)
Levar Burton, an actor and director, portrayed MLK in the movie Ali (2001). The film focused on the life of Muhammad Ali (Will Smith), one of the most famous boxers of all time. There was, however, more to the man than just his boxing. Muhammad Ali was an outspoken civil rights advocator with two very close friends who shared similar views. These two individuals are shown in the film Malcolm X and none other than Dr. Martin Luther King Jr.
While the movie focuses more on Ali's relationship with Malcolm X and the Nation of Islam, this doesn't take away from Burton's performance. Levar Burton is also famous for his roles in ABC's miniseries Roots as Kunta Kinte, and Lieutenant Commander Geordi La Forge in the sci-fi television series Star Trek: The Next Generation.
King: A Filmed Record… Montgomery to Memphis (1969)
While this Academy Award-nominated documentary was originally shown at theatres, it aired later on US television. The film begins with the 1955 bus boycott, and the start of the Civil Rights movement in Montgomery, then tells the story of King's movement. The doc is moving and informational and includes footage of protests, King's speeches, and arrests, as well as heartfelt testimonials.
Though made in 1969, it's still one of the best stories about Dr. King and has a 100% Tomatometer and audience score on the film rating site RottenTomatoes.
The Mountaintop (2011)
Katori Hall's The Mountaintop is one of the best stories about Dr. King, with Samuel L. Jackson (Pulp Fiction, The Avengers) starring. The story is about Dr. King's last night on Earth, taking place from his room at the Lorraine Motel. While the tale is completely fictional, an angel visits King to tell him his fate, it's an example of beautiful, symbolic storytelling.
While the play had a bumpy start, at first failing to secure a venue in the United States, it finally debuted in London at the 65-seat 503theatre. The play got rave reviews, and Hall won a Laurence Olivier award for Best New Play. Below are highlights from the play.
All The Way (2016)
One of the more recent films to have been released, All The Way (2016), features Anthony Mackie as MLK. The character is one of the more central figures in the plot, akin to Boycott (2001), if not more so. The film follows Lyndon B. Johnson's first term in office following the assassination of President John F. Kennedy, and it focuses on his efforts to pass the Civil Rights Act of 1964.
In an interview with NPR, Mackie talks about how it felt channeling MLK. In keeping with the values MLK upheld, Mackie emphasized not only the importance of portraying the compassion intrinsic to the character but also just how "great and shrewd a politician" he was, as it was a dimension of the character he felt most people weren't familiar with. He also did well to emphasize MLK's role "as a leader of men" (NPR, 2016).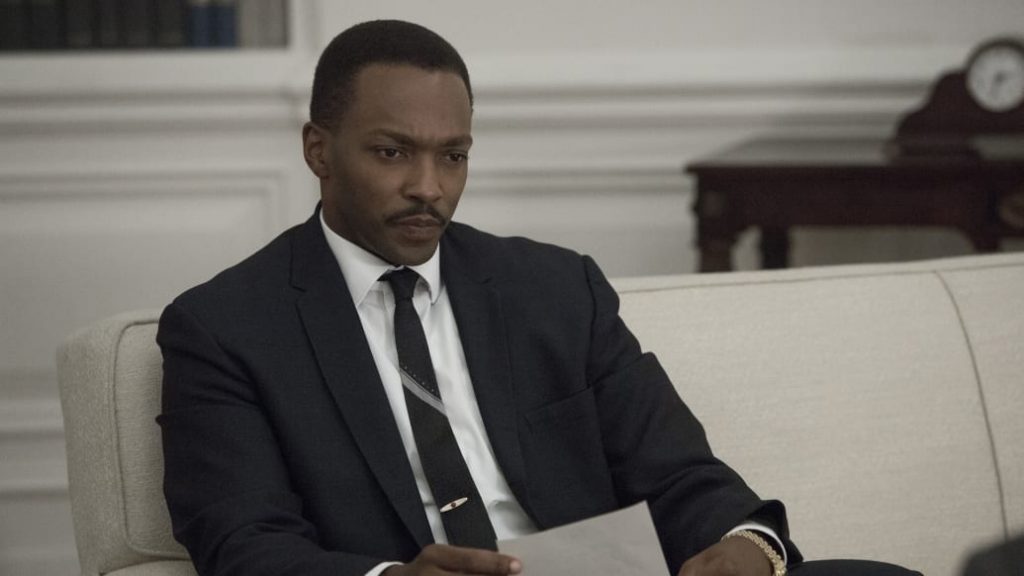 Anthony Mackie has also starred in The Manchurian Candidate (2004), Brother to Brother (2004), for which he won the Independent Spirit Award for best actor, and Notorious (2009), where he portrayed Tupac Shakur.
King (1978)
In 1978, character actor Paul Winfield (Sounder, The Terminator, Star Trek II: Wrath of Khan) portrayed Dr. King in this three-part NBC miniseries, with Cicely Tyson playing Coretta Scott King. The story followed Dr. King through his life, capturing his time as a Baptist minister through his assassination. The series received nine Emmy nominations and one award, many applauding Winfield's realistic and human portrayal of the civil rights legend.
The Butler (2013)
The late Nelsan Ellis stepped into the role of Martin Luther King Jr. in the film The Butler (2013). Ellis was an American actor and playwright best known for portraying Lafayette Reynolds in True Blood, an HBO TV series.
The Butler (2013) is a film that tells the story of Cecil Gaines, a black man who served as a butler in the White House through several presidential administrations. The character of Cecil is based on the life of Eugene Allen, a real butler who served in the White House.
One of the periods the movie visits is the era of the Civil Rights Movement (1954-1968), where we get to see Ellis' portrayal of MLK. In it, he is teaching Gaines' son, Louis, a lesson about the struggles of racial equality not long before he is assassinated in Memphis. It's a truly harrowing scene, one in which Nelsan Ellis gives an exceptional performance.
NYFA Honors The Life and Legacy of Dr. Martin Luther King Jr.
In creating stories about Dr. King, filmmakers keep his story alive in a way that reaches more people and further cement his thoughts and timeless ideas into our memory. We thank all the filmmakers and actors for their profound work in making these memorable films.
by nyfa