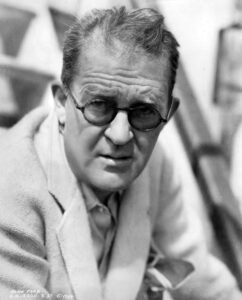 Name: John Martin Feeney aka John Ford aka "Pappy"
Essential DVDs: Stagecoach (1939); My Darling Clementine (1946); She Wore A Yellow Ribbon (1949); The Searchers (1956); The Man Who Shot Liberty Vallance (1962)
Oscars: Best Director (The Informer, 1935); Best Director (The Grapes Of Wrath, 1940); Best Director (How Green Was My Valley, 1940); Best Director (The Quiet American, 1951)
In His Own Words: "Anybody can direct a picture once they know the fundamentals. Directing is not a mystery, it's not an art. The main thing about directing is: photograph the people's eye."
When John Ford self-deprecatingly introduced himself with, 'My name's John Ford, I make Westerns', he had a canny sense of the way he would be remembered. Though he started cranking out silent quickies (his first director's credit was Red Saunders Plays Cupid in 1917), his great Hollywood years found him hailed as an important, Oscar-worthy maker of significant films like The Informer, How Green Was My Valley and The Grapes Of Wrath. After the silent superproduction The Iron Horse, he stayed off the range until 1939, when Stagecoach revived a genre that allegedly was just for kids by mixing shoot 'em up thrills with literary merit (the inspiration is a story by Guy de Maupassant) and breathtaking pictorial skills.
He rescued John Wayne from the Bs, and showed him to be a better actor than we'd imagined in She Wore A Yellow Ribbon and The Searchers. He managed the lyrical legendary of My Darling Clementine and the harsh revisionism of The Man Who Shot Liberty Valance. The embarrassing Oirish belief that drunken brawling is the highest form of social interaction is blotted out by moments of beauty, sensitivity, heroism and sadness that are unmatched.
Few other directors can make male audiences cry in the way Ford manages in sober moments, as he mythologises the men and women who made the West and the loveliness of the savage landscape, but acknowledges those times are gone and there's probably no room in the meagre modern world for the man who really shot Liberty Valance.
by nyfa