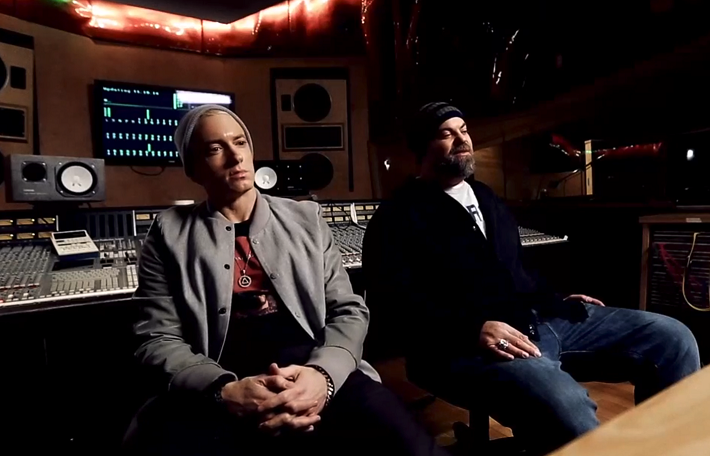 The music documentary industry has never been better or more prominent. From 2012's flawless Searching for Sugar Man to the DJ essential Scratch ten years before it, we've seen some excellent works from the genre coming from both professional filmmakers and documentary school students alike.
With this in mind, we've previously covered a list of the most essential music documentaries ever made, but a brand new Eminem documentary has just dropped that may have us revising this list in the coming days.
Not Afraid: The Shady Records Story
Even non-hip hop fans will be aware of Eminem's divisive music, public image and career. The Detroit-born rapper has never failed to push the envelope since his emergence (primarily through his Slim Shady alter ego) into the mainstream during the late nineties, and it's tricky to sum up the entirety of his career in one go.
A new documentary, however, has done a pretty good of just that. Click the video to watch the brand new Eminem documentary produced and released by Complex:
Not Afraid: The Shady Records Story is a 30 minute retrospective released in time to commemorate the 15th anniversary of Marshall Mathers' label Shady Records, which Marshall Mathers founded with renowned hip-hop manager Paul Rosenberg.
The documentary predominantly charts Slim Shady's rise to prominence and features some behind-the-scenes stories from the Shady Records label, including candid interviews with Dr. Dre, 50 Cent, Rosenberg and other label mates and luminaries of the genre.
The short itself is exceptionally well produced and will shed some light on facets of the label that even hardcore fans aren't likely to know. There are also some great soundbites that emerge from the footage, including Dre admitting that he had no idea Marshall was white. Other stories from the documentary include 50 Cent's near-fatal shooting, the background to songs like Lose Yourself and Stan, and the numerous collaborations that have happened so far on the label.
Are you a Shady fan, and have you seen the documentary? Let us know your take on it via the comments below.

by nyfa