New York Film Academy alumnus Adrian Rodriguez has been hitting the festival pavement with three new films, "Princess," "43," and "New Dawn." He took some time off from collecting awards to sit down with NYFA correspondent, Joelle Smith, to discuss how he's building his career, his art, and what's next on his to-do list.
Joelle: Tell us about your latest projects.
Rodriguez: I have directed three award-winning short films in the last two years:
"New Dawn," won Best Director at To the Point Short Film Festival and at the Direct Online Film Festival. It won Best Short Film at WorldFest International Film Festival:  "Short Film narrating the mystical time-traveling journey of Ocelot, the Aztec Jaguar Warrior."
"43" won an award at Feel the Reel Film Festival. It was an Official Selection at Move Me Production Film Festival and London Rolling Film Festival: "Julian and Marcos are part of the 43 students that have gone missing in Ayotzinapa, Mexico. Gonzalez, leader of thepolice, threatens their lives".
"Princess" won an award at the Hollywood Boulevard Film Festival, Hollywood International Film Festival, Los Angeles Cine Fests, and the Move Me Productions Film Festival. Recently, "Princess" was a strong nominee for the "Best of the Best" at Fest Forums Film Festival in Santa Barbara, CA: "Princess is a young good-looking prostitute who works for a man who cares dearly for her. Princess, however, plans to kill him and leave the street business for good."
Joelle: What was your process for applying to film festivals? Were you surprised by the outcome?
Rodriguez: The process wasn't about just applying, it was selecting the most adequate film festivals for each of the short films. Target the right market. Platforms such as FilmFreeway and Without a Box are the best for submitting. I was certainly surprised by the outcome. Never expected for my films to win awards.
Joelle: What have you learned in the process of making these three films?
Rodriguez:  Filmmaking is a beautifully complicated process from concept development to post-production. However, the one thing that I have learned is that a great film can be done with a small budget. All it takes is a great narrative, highly talented filmmakers, and a dedicated cast.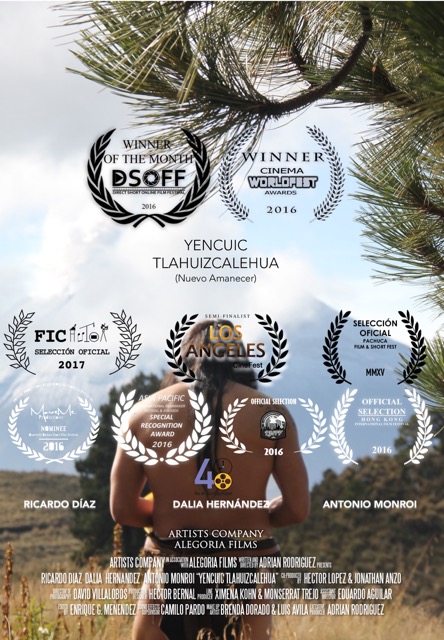 Joelle: Where does your inspiration come from?
Rodriguez:  Life experiences. Traveling. Understanding where do you come from and more importantly what do you want to communicate to those who see your films. Cinema is a language, and such language must have an aftermath meaning — a prestige.
Joelle: What are you hoping to achieve in the next five years?
Rodriguez: My aim is to finish my first feature film. Consolidate a financial deal to acquire the necessary resources and finally initiate the pre-production process. Plus, I hope that one of my films, if not all, get recognized internationally winning a strong award in film festivals such as Venice Film Festival, Cannes or Sundance.
We at the New York Film Academy would like to thank Adrian for sitting down to talk with us, and congratulate him on all of his success!
by nyfa