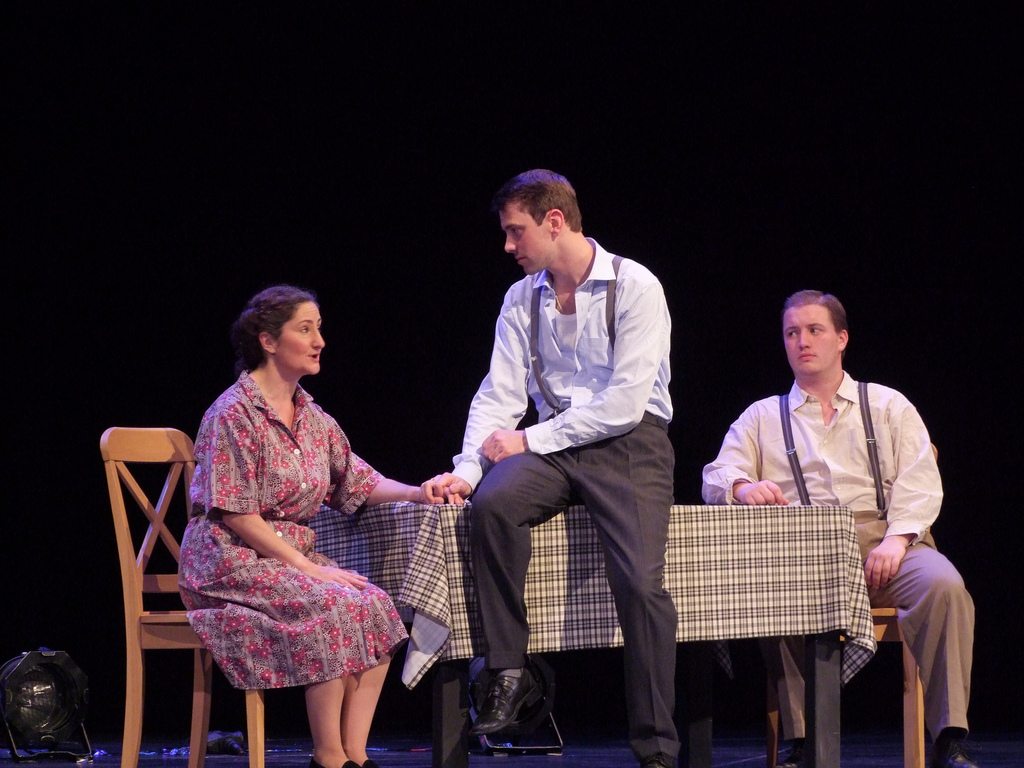 Actors must familiarize themselves with the greatest works, analyze them, and learn from them to develop the timeless skills of the classically trained. Plus, odds are that you will come across them in your life time, so best be prepared. Without further ado, here are the top five plays for actors to read.
Waiting for Godot
By Samuel Beckett
Absurd, boring, unintelligible, and purely brilliant are words that describe Godot. Beckett considers the meaning of human life, the purpose of our existence, and the fact that we are capable of terrible things. Two main characters who do nothing, sparse dialogue, and a seemingly post-apocalyptic set design characterize the play. Yet, somehow, actors consistently have a special connection to this play about waiting for something to happen that never does.
A Streetcar Named Desire
By Tennessee Williams
This script won Oscars, Tony Awards, and the Pulitzer Prize for Drama, and it launched the career of Marlon Brando for good reason: Streetcar is legendary. Set in New Orleans, the play is the story of a young couple who take in a wayward family member and how the lives of all are changed forever. The central conflict occurs between the volatile and rage-filled Stanley, and the manipulative seductress Blanche.
The Importance of Being Earnest
By Oscar Wilde
Quite possibly the greatest comedy ever written, Wilde's masterpiece is a master class in comedic acting. To be played properly, an actor must excruciatingly analyze the timing, innuendo, and playfully deceitful dialogue. No other comedy combines physicality and wit with enduring social messages in the way that Earnest does. There are roles for men and women, both young and old. All of them are funny, challenging, and well developed in a Wilde way.
The Cherry Orchard
By Anton Chekhov
This position could easily be occupied by another Chekhov play (Three Sisters, The Seagull, or Uncle Vanya), but The Cherry Orchard is special because of the long history of the play. It was written as a comedy, but interpreted as a tragedy; a dichotomy that makes the play a delicate balance between laughs and tears. The social issues, philosophical monologues, and nuanced characters present a challenge for actors of all ages. The Cherry Orchard is a play with a big cast with roles for both female and male actors, and any actor who works in the theatre will eventually come across it.
Macbeth
By William Shakespeare
A list sans The Bard is a list incomplete. The hard part is choosing the one play that is essential for all actors to read. Some would argue Hamlet, Richard III, or Romeo and Juliet, and they would have substantial support.
Macbeth, Shakespeare's greatest tragedy, is a fast-paced, intriguing play with tremendous fodder for actors to work with. The two lead roles, Macbeth and Lady Macbeth, are absolute powerhouses that any actor would dream of playing. And, as one of Shakespeare's shortest plays, Macbeth doesn't linger on any plot point for long. Actors in the play must be flexible, dynamic, and able to shift objective on a knife's point.
Honorable Mentions:
Death of a Salesman
By Arthur Miller
Few plays stick with you like Death of a Salesman. A challenge to the American Dream and a challenge to actors of all ages, Miller's masterpiece is a must read.
Who's Afraid of Virginia Wolf?
By Edward Albee
Two epic roles for older actors and two great young roles, this American classic is equal parts hilarious and terrifying.
Miss Julie
By August Strindberg
Ironically, Strindberg was considered highly conservative, some even call him a sexist, but he wrote some of the greatest female characters of all time. Go figure.
August: Osage County
By Tracy Letts
No play in the last decade has had the impact of this dark comedy. It won a Tony and the Pulitzer, and if that isn't reason enough, it's one of the most popular productions in recent years.
[su_note]Learn more about the School of Acting at the New York Film Academy, with campuses in New York, Los Angeles, and Miami.[/su_note]
by nyfa