Forty-six years after its release, Don't Look Now, the drama/thriller/horror directed by Nicolas Roeg and shot by New York Film Academy (NYFA) Los Angeles Chair of Cinematography Anthony B. Richmond, BSC, ASC, is still held up as a cinematic classic, so it's no surprise that Studio Canal has released a 4K digital restoration of the film.
With the new restoration, many in the film world are taking another look at the beloved 1973 film, which stars Julie Christie and Donald Sutherland as a couple who've recently lost their daughter and come across a pair of elderly sisters—one of which claims to be a psychic in touch with the spirit of their child.
Cinephilia & Beyond recently published an in-depth look at the film, including quotes from Roeg and Richmond. Cinephilia & Beyond started out as a small blog centered on independent film and has evolved into a community of passionate lovers of film, including A-list names like Guillermo del Toro, Ava DuVernay, and William Friedkin.
The article, written by Jasun Horseley, takes the reader through the entire film from start to finish, with in-depth analysis on several key scenes, incorporating interviews and quotes from the filmmakers
"It is a fabulous movie," says Richmond, the director of photography for Don't Look Now. "Not because I shot it, but it still stands up today. It was probably the most difficult thing I have shot, because in Venice everything goes in and out on barges. We shot it in the winter with an Italian crew, which was fantastic, because Venice in the winter is dark, cold and foreboding, which was wonderful."
Tony Richmond is the London-born, BAFTA-winning cinematographer who has shot numerous productions, including The Man Who Fell to Earth, The Sandlot, Legally Blonde, and Sympathy for the Devil. He is currently Chair of Cinematography at NYFA's Los Angeles campus, where he works closely with talented, hard-working students. 
Richmond also spoke with Antonia Quirke about Don't Look Now on BBC's Film Programme. Among other things discussed was the film's infamous and oft-scrutinized sex scene between Sutherland and Christie. 
The interview, which takes place during the first 11 minutes and 30 seconds of the show, can be found here.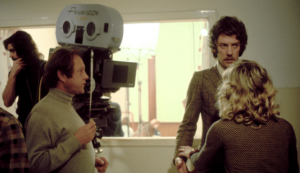 by nyfa