New York Film Academy (NYFA) MFA Documentary student Drama del Rosario received some major support for his important filmmaking endeavors when he received a Commissioning Grant from BAFTA-GSA.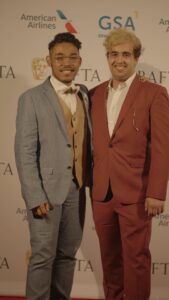 del Rosario is currently studying for his MFA in Documentary at NYFA's Burbank-based campus. "It's been amazing to watch Drama del Rosario grow as a documentary filmmaker over the last two years," says Sanora Bartels, NYFA-LA Chair of Documentary Filmmaking. "He brings tremendous heart to all of his projects and is fearless in his approach to sharing the truth of his personal story."
I'm Okay (And Neither Are You) is del Rosario's thesis film and is currently in post-production. del Rosario's grant application and documentary proposal was given final approval by an elite group of BAFTA members, including veteran writer and actor Stephen Fry, and succeeded despite a great deal of competition for the grant.
"Drama is an amazing student and filmmaker," says NYFA instructor Mary Beth Fielder. "All the work he's produced while at NYFA has been exceptional, beginning with his very first film In This Family, a personal voice documentary which explores the repercussions of being 'outed' against his will by his seventh grade teacher."
The $8,000 grant was awarded to del Rosario by the British Academy of Film and Television Arts (BAFTA), in partnership with Global Student Accommodation (GSA), for his documentary I'm Okay (And Neither Are You). The BAFTA-GSA Grant was launched in 2018 to provide young filmmakers with a platform to raise awareness and encourage change in how mental wellbeing is understood amongst their peers. This year marks the first time Netflix has sponsored the BAFTA Student Film Awards.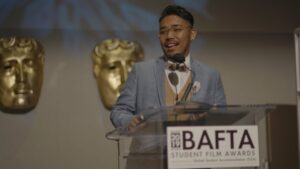 At the awards ceremony, del Rosario gave an impassioned, emotional speech, thanking New York Film Academy, his family, and his boyfriend, and more importantly speaking publicly of his own personal mental health issues. "I have been fortunate in my life to know how to use a camera and to have people around me who don't judge me for being in front of the camera," del Rosario told the audience in attendance. "So when things like this happen to you in your personal life, to some degree it's your responsibility to share with other people."
The BAFTA-GSA grant will certainly help del Rosario finish his film and reach his goal of sharing his important story with others. "Drama literally puts himself and his personal stories in his films," says Crickett Rumley, NYFA Director, Film Festivals. "Given the specificity of his observations, the powerful emotions he expresses, and the reactions he provokes in his audience, it's no surprise to me that he's been tapped for such a prestigious award."
New York Film Academy congratulates MFA Documentary Filmmaking student Drama del Rosario on his BAFTA-GSA Commissioning Grant and looks forward to the completion of his thesis film, I'm Okay (And Neither Are You).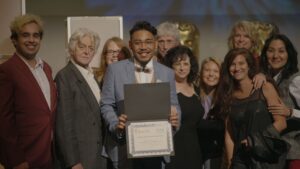 by nyfa