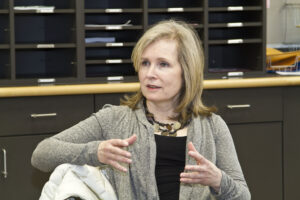 Ethics form the essential foundation for effective journalism. Yet in the current hyper competitive media environment, there is often a temptation to "move" a story before it has been fully vetted. That's what happened at CBS News when '60 Minutes' broadcast the dramatic story of an alleged "eyewitness" to the attack on the U.S. Consulate in Benghazi, Libya. The story turned out to be false, and resulted in the suspension of the CBS correspondent responsible for the report.
On Wednesday January 29, Rhonda Roland Shearer — editor-in-chief and publisher of iMediaEthics, a media watchdog website — will conduct a seminar for Broadcast Journalism students at the New York Film Academy. A project of the Art Science Research Laboratory, which was co-founded by Ms. Shearer and her late husband, Harvard Professor and scientist Stephen Jay Gould, iMediaEthics regularly explores the "hits and misses" of the news media. The winner of a 2012 Mirror Award from Syracuse University's Newhouse School of Public Communications, the website provides a lively forum for the exploration of high-profile media issues.
This seminar will take place on Wednesday morning, January 29 on the 17 Battery Place campus of the New York Film Academy. All current, and potential, NYFA students are welcome to attend. The discussion will be moderated by Emmy Award-winning journalist Bill Einreinhofer, Chair of the NYFA Broadcast Journalism department. For more information, contact him at [email protected] or 862-755-1203.
by nyfa