Our NYFA Acting faculty aren't only professionals in front of the camera but are working professionals in the industry constantly experimenting and making their own work while simultaneously teaching NYFA students the fundamentals of their craft.
Blanche Baker teaches in both the Acting and Musical Theatre departments at NYFA's New York campus. With an extensive background on the stage and on screen, Baker made her television debut in the miniseries Holocaust, for which she won an Emmy Award. Her feature films include Sixteen Candles, The Handmaid's Tale with Robert Duvall, Raw Deal with Arnold Schwarzenegger, and the Kevin Bacon HBO film Taking Chance. She was part of the Yale Repertory Theatre and Anna Sokolow's dance troupe and her theatre roles include Steel Magnolias and Edward Albee's Lolita with Donald Sutherland.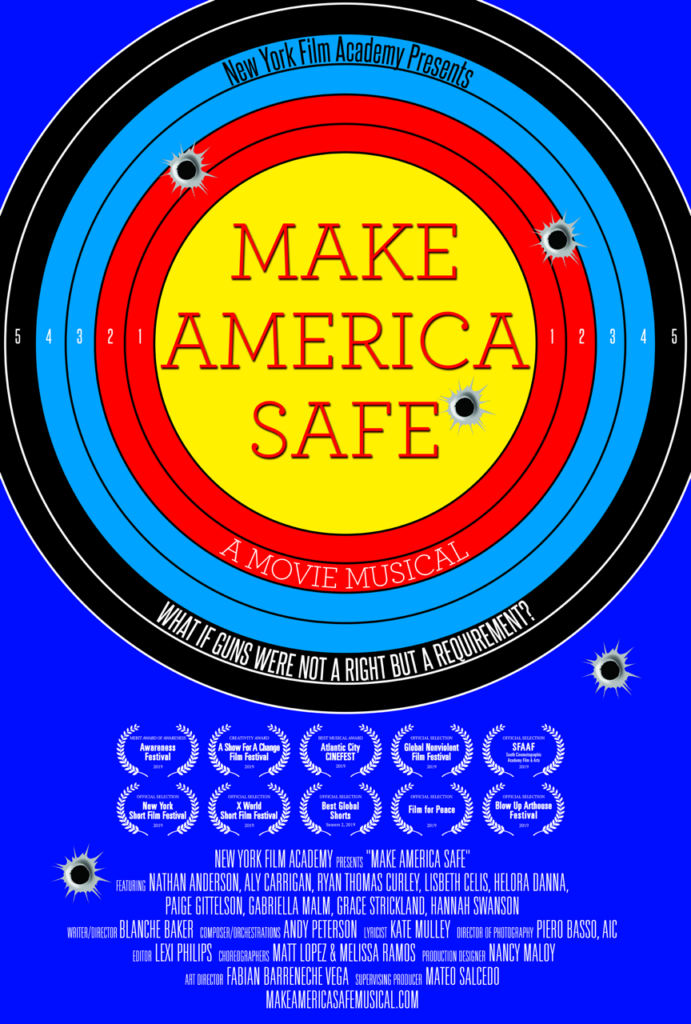 In addition to writing and directing the award-winning short film Streetwrite, Baker wrote and directed her latest film Make America Safe, with award-winning cinematography Piero Basso, serving as the director of photography. The film has been garnering accolades and making its rounds on the festival circuit, recently appearing in the Global Impact Festival in Washington, D.C.
Make America Safe is a musical short film about the 2nd Amendment and asks the question, "what if in the next few years citizens were required to carry weapons in order to ensure the safety of the public?" Using the premise of a news commentary show, the film takes a sardonic look at this possible future and examines the kind of scenarios that could arise in this world. With music composed by Andy Peterson, it sheds light on the rationales that could lead to such a future. 
[su_image_carousel source="media: 35585,35586″ limit="2″ crop="2:1″]
The film features a talented cast of Musical Theatre students working alongside NYFA's professional faculty of artists as part of their Musical Theatre curriculum, which requires students to perform in original movie musicals, combining both musical theatre for the stage and for film.
Official Selection: 
Global Nonviolent Film Festival
South Film and Arts Festival
Film for Peace
New York Short Film Festival
Sanctuary International Film Festival
Accolades:
A Show For Change – Creativity Award
Awareness Festival – Merit Award for Awareness
X World Short Film Festival – Best International Short and Best Original Music
Cinefest – Best Musical
Blow Up Arthouse – Finalist
by nyfa