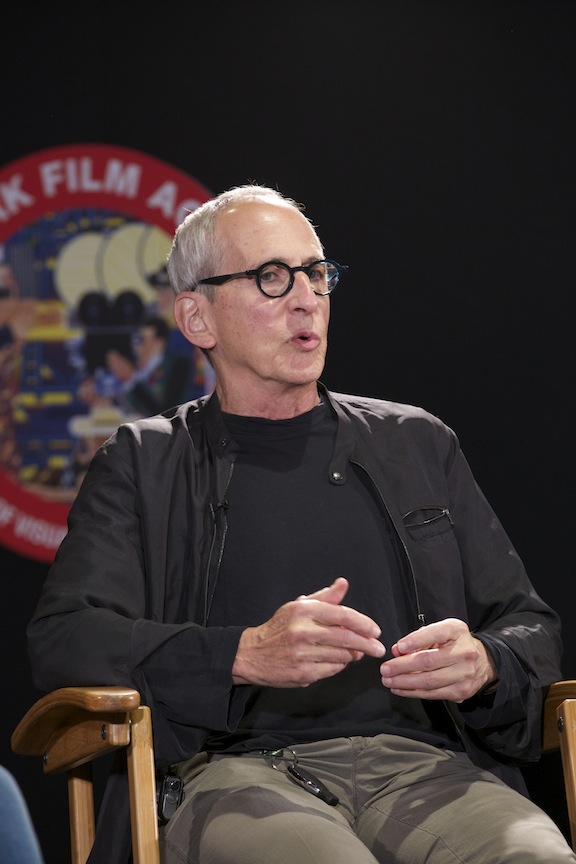 On October 6th, New York Film Academy in Los Angeles hosted renowned producer Michael Shamberg after a screening of one of his films, Out of Sight, directed by Steven Soderbergh and starring George Clooney and Jennifer Lopez. Following the film was an in-depth Q&A, moderated by producer Tova Laiter and Dean of Students Eric Conner.
Mr. Shamberg was the epitome of calm, cool and collected as he shared stories of his 35 year career as a producer of Hollywood favorites like Get Shorty, Be Cool, Pulp Fiction, Erin Brockovich, A Fish Called Wanda, Django Unchained and many, many more.
Shamberg, previously a correspondent for Time Life, got a taste for film while working on experimental documentaries (or guerrilla television as he coined it). After moving to Los Angeles and reuniting with college buddy and beloved director Harold Ramis, Shamberg got his foot in the door producing the generational classic The Big Chill.
After meeting actor Danny Devito and producer Stacey Sher, the three created Jersey Films production company, producing hit after hit like Matilda, Reality Bites and the night's feature Out of Sight, which sparked a continual collaborative partnership with Steven Soderbergh.
Shamberg postulated that the key to his successful movies is being commercially approachable with fresh aesthetics, and not necessarily execution-proof. He also noted the key qualities of a producer as a delicate balance of belief in the material, creative loyalty of the director, and a confident showmanship for the studio executives.

Michael recalled a time when Soderbergh was adamant on shooting the meeting between George Clooney and Jennifer Lopez's characters in Out of Sight in one take. Though Shamberg initially supported the decision, studio executives hated the poor scores from audience screenings. He eventually made the call to reshoot with more coverage, and the scene became the legendarily steamy trunk scene that skyrocketed both Clooney and Lopez's movie careers. "A producer has to make sure the movie is made and make sure the movie is made well," Shamberg noted. "It's not always the same job."
Shamberg has remained on the cutting edge of the rapidly changing state of media distribution. He was recently brought on as an advisor to the newly created Motion Pictures division of Buzzfeed, the wildly successful American Internet news media company. Michael describes Buzzfeed as a lab for filmmakers and studios, who can experiment with content in short form and see what sticks with the audience. In this way, creativity is maximized and nothing is lost if something doesn't hit.
We sincerely thank Michael Shamberg for his inspiring visit and wish him continued success in his career.
by nyfa