Lujein Ashi is a filmmaker, graphic designer, and storyteller who works for Saudi Arabia's leading oil company, Saudi Aramco. In August, Lujein completed the 4-week Filmmaking workshop at New York Film Academy's Los Angeles campus after winning a scholarship with a 1-minute video. 
New York Film Academy (NYFA) met up with Lujein to find out what her experience was like with the program, and what her plans for the future include.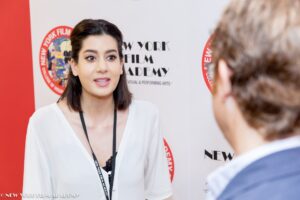 New York Film Academy (NYFA): So, how did your interest in coming here start? 
Lujein Ashi (LA): I've always loved filmmaking stories since I was a child. I told stories to my sisters before we'd go to sleep, stuff I'd make up. I remember there was one moment that really stood out to me in my life. I went to watch Lord of the Rings in the cinema. I was with my friends. When we left everybody was so happy, but I felt sad. I didn't understand it then. I understand it now. I felt like I was on the wrong side of the screen, like I was the one who was supposed to be giving people that feeling, not people giving that feeling to me. So, stories have always been a part of my life. 
When it came time to choose what I wanted to study in college, I had to choose something that was practical. In the Gulf, we don't have many opportunities for film, but then the New York Film Academy came to Bahrain to do a promo. I went and I just sat there and listened to [Dean of Enrollment Services] Tami Alexander do the presentation. She was really sweet. 
I told her one day I'm going to come — hopefully, if it's meant for me — and I signed up to their newsletter. I think it was like a month or two later, I get an email saying there was an opportunity for two scholarships for Saudi students. They want to encourage Saudi filmmakers because they're opening cinemas in Saudi. 
I saw the email late. I had two days to come up with my 1-minute video. I've never done a film before, but I knew I could write. So I wrote a script really fast and I did a very little video. I must have done something right, because she contacted me and told me I was one of the two students that got the scholarship. I was really, really happy. I cried hysterically.
So I came here. It's been a crazy four weeks. It's just so amazing, the collaboration that you have with people… people that were strangers to me on Day One are like really close friends. There's nothing like it, really. It's everything I thought it would be, and even more.
NYFA: Why did you choose the city of Los Angeles?
LA: I think there's no place better to learn filmmaking than in Los Angeles because it's the hub of worldwide, excellent movies. It's where the Hollywood industry is. Universal, Warner Brothers… all of these places, they're all here. So there's no place better to learn filmmaking.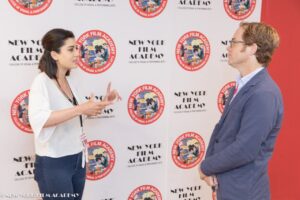 NYFA: What did you learn about filmmaking?
LA: It's all about story, that's for sure. If your story is weak, then it doesn't matter what you're going to do. It's not going to be something that touches people. Also technically the camera is your eye. You need to be one with the camera. You have to look through it, and if you don't like what you see then you're not going to like your movie. 
I mean, it's not like people can imagine what you meant, you know? So you have to be aware of the technical stuff. Which [at first] was very hard for me, because I've never touched a camera before, but Charlie did a really good job teaching us.
NYFA: Is this something you want to continue doing? What's your plan after this?
LA: I found my heart here. I really did. It's an amazing thing to find. People live their whole lives trying to find that thing they love. I think that's the key to a happy life. I really feel like I found it here. I'm really going to try and do my master's in this. Hopefully, then I could just do this for as long as I can. 
NYFA: Do you see opportunities opening up in Saudi Arabia or Bahrain? 
LA: Yes, for sure! Especially with the opening of cinemas, the government has been opening different entertainment entities trying to open things up to the people. I think there's definitely going to be a demand for that. It's going to be an exciting time for Saudi.
NYFA: As Saudi opens up, is there a place there for you? Do you see yourself working there?
LA: I don't know. I mean, sure, if there's a place for me in Saudi to make great movies. I would love to. I mean, it's my country. But to me, my geographic location was never something that was important. I'm very multicultural. My father is from Saudi, my mom's from Lebanon, I lived in Baghdad, and I'm married to a Palestinian. I come from very different places, so I never felt like I belonged somewhere. Sometimes it's a disadvantage, but sometimes it's an advantage. Wherever you are, you feel like you can just connect with people because you're from everywhere, basically. 
So yeah, I mean, I could be — for example— in LA or in New York or anywhere with like-minded people, trying to do the same thing, just doing what we love; ultimately making somebody feel something. That's why we go to the movies, right? Because we want to feel something! I could make somebody feel like Lord Of The Rings made me feel or Game of Thrones or any of these shows that have changed me so profoundly. It just amazes me how somebody could get that feeling out of you. It's so satisfying. 
NYFA: You mentioned two high-fantasy titles — is that kind of your thing?
LA: I love fantasy, yeah. I mean, I love getting out of the real boring world and leaping into somebody's imagination. That's something out of this world! 
NYFA: Why do you think stories are important?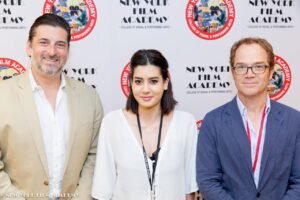 LA: I think they make people feel empathy for one another and understand each other on a level that maybe we don't. In real life, there are a lot of issues that, when a film sheds light on them, could actually bring people closer together. You know, I think arts and filmmaking have the capacity to change people's lives, to change societies and to open people up.
Truthfully, it's fundamental for our growth. It's fundamental for us to connect and to see the point-of-view of other people. If I saw it from your perspective, which is what film lets you do, maybe I'll be able to connect with you and understand you.
The New York Film Academy wishes Lujein Ashi the best of success with her future endeavors, and hopes to see more of her amazing and beautiful stories in the near future!
[su_carousel source="media: 28714,28713,28712,28711,28710,28709″ limit="60″ link="lightbox" target="blank" width="780″ height="360″ title="no" autoplay="0″]
by nyfa