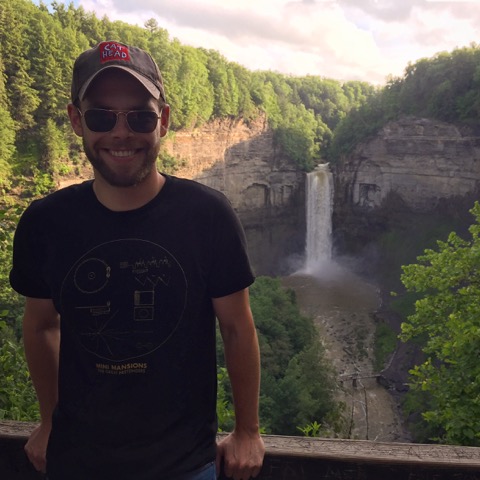 Recently, former development exec-turned screenwriter Tyler Savage joined New York Film Academy's Business of Screenwriting class to tell his journey from going from a one-time development intern to adapting Chuck Klosterman's novel Killing Yourself to Live for the silver screen. A rare Angelino native, Savage grew up in North Hollywood writing plays in high school.
Savage knew that interning was a great foot in the door, and after college, while still living at home, applied to production companies all over town, eventually landing an internship at Gianni Nunnari's production company, Hollywood Gang Productions (300, IMMORTALS), which then had a deal on the Warner Bros. lot.
Savage got a rare lucky break, which often doesn't happen in this business, when, as an intern, he was asked to become Nunnari's assistant. "We had Immortals going into production and it was a great opportunity." Savage explained how valuable it was to be in the room and see how the development process worked, and to witness what happened after a writer left the room — who had a good meeting, who had a bad meeting and why. After the movie, Savage stayed at Hollywood Gang and was promoted to Story Editor, but the writing/filmmaking bug never left him.
Before long, Savage got a job working for acclaimed visionary director Terrence Malick after working as a PA on-set and lobbying himself for the position when another assistant left.
First up, Savage worked on a still Untitled Project, about two intersecting love triangles, and obsession and betrayal set against the music scene in Austin, Texas. It stars Christian Bale, Michael Fassbender, Natalie Portman, Rooney Mara and Ryan Gosling among others.
Next, Savage worked on Malick's film, Knight of Cups, which opens March 4, 2016 and, perhaps apropos, is about a screenwriter living in Los Angeles trying to make sense of the strange events occurring around him. "We had an amazing cast, Christian Bale, Natalie Portman, Ben Kinsley, Cate Blanchett." For his work, Savage received an Associate Producer credit on each of Malick's film.
All the while, Savage stayed writing, working on his craft with his writing partner, Dash Hawkins. Eventually, Savage and Hawkins wrote an action/thriller script called No Man's Land that garnered the attention of managers at Madhouse Entertainment. It's about a former Army Ranger-turned-local-Sheriff who must resurrect his military skills in order to save his troubled son, who's run away from home and unwittingly into the clutches of a drug cartel operating in the Pacific Northwest.
"The script didn't sell, but a lot of people liked it and it garnered us fans and exposure, two things you need when you're starting out." On taking generals, Savage explained, "It's important to meet with a lot of people, but you want to find the ones who get your sensibilities. Get your work." On picking what to write next, Savage explained, "You have to remember you're not writing this project just for yourself, you're writing it for an audience – who is it for? I always keep that question in mind when I work on something."
On working with a writing partner, Savage explained, "It's like a marriage when you have a writing partner, you have to find ways to work together or it all falls apart. I really like working with Dash, as we help keep each other focused and hit our deadlines." Answering a student's question about what makes a good partnership, Savage responded, "I think it's most important that each feels the other pulls his or her weight and that you set weekly goals that you actually meet."
Most recently off their writing samples, the writing duo landed the opportunity to adapt Chuck Klosterman's darkly comedic novel, "Killing Yourself to Live," about the novelist's own experiences as a music journalist investigating the connection between untimely death and legacy in music. "It's a highly anecdotal musical road movie with a lot of emotion and insight," explained Savage, "We're really excited to be working on it."
Tyler Savage lives in Los Angeles and has a period horror feature script that's out on the market. He is repped by Madhouse Entertainment.
by nyfa