New York Film Academy held a Q&A on June 26 with film and television star Tony Hale, following a screening of HBO's Veep—the award-winning comedy series that skewers American politics. The event was moderated by NYFA-LA Acting for Film Associate Chair, Anne Moore, and held at NYFA's Burbank-based campus.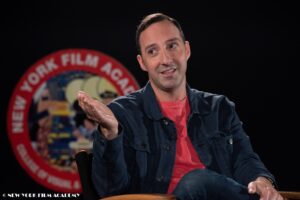 Tony Hale is best-known for his work as youngest sibling Buster Bluth on the critically-acclaimed Fox sitcom Arrested Development, and as Gary Walsh on HBO's Veep, which he won twoEmmys for. Recently, Hale starred in Toy Story 4 as Forky, a beloved new character. 
Hale discussed his start in acting to begin the Q&A. "I was not a kid who was into sports, and so my parents just didn't know what to do with me," he told a captivated audience of NYFA students. "And they found this children's theatre, called Young Actors Theatre … I'm such an advocate for arts in schools just because—even if you don't make it a career, like I did—certain personalities need that environment to thrive." Moore and Hale then discussed how they met, at one of Hale's first productions in New York City.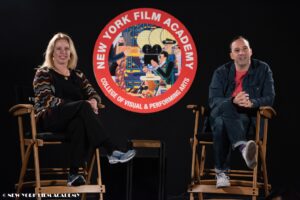 The actor went on to discuss how he got his start in the business. He acquired his first agent and did a lot of commercial work and theatre before the audition for Arrested Development in 2003. A casting director remembered him from a previous audition and called him in for Buster Bluth. "I don't know what that's saying [about me] … he's just kind of a man-child," Hale joked about the casting director thinking of him for Buster.
Moore asked Hale about how he approaches his characters. Hale remembered a film he was working on in the mid-2000s, and he really didn't like the character. "The character I was playing—I didn't like the guy, 'cause he was kind of a player, he was manipulative … And I was just like, ugh, I know people like this … I just didn't like this character."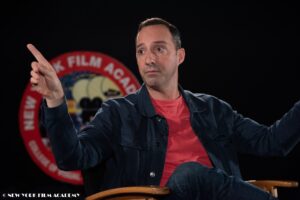 Someone advised him that "Tony, you have to realize that these characteristics are inside of you." Hale said it was a wake-up call: "It's so refreshing … the fact is I would be lying if I said I never had moments where I've been manipulative … you have to find those places in them that are inside of you."
Tony Hale wanted to leave the students with a bit of advice from his most recent film, Pixar hit sequel Toy Story 4: "One thing that Forky said in Toy Story that I love [was] 'It's gonna be okay.' Because it really is. It's going to be an emotional rollercoaster—like life!—but just coming back to the space of like, it's alright, it's going to be okay. It's going to unfold in time."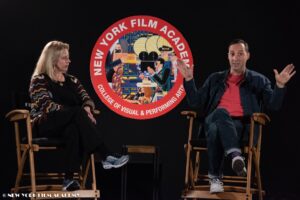 New York Film Academy would like to thank Emmy-winning actor Tony Hale for speaking to our students and sharing his experiences and insight.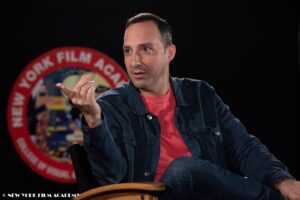 by nyfa