Years ago, Mohamed Diab was a 1-Year Screenwriting program student studying at the NYFA Los Angeles campus. Today, he is the lead director and executive producer of Marvel Studios' Emmy Award-winning series Moon Knight, available to stream on Disney+.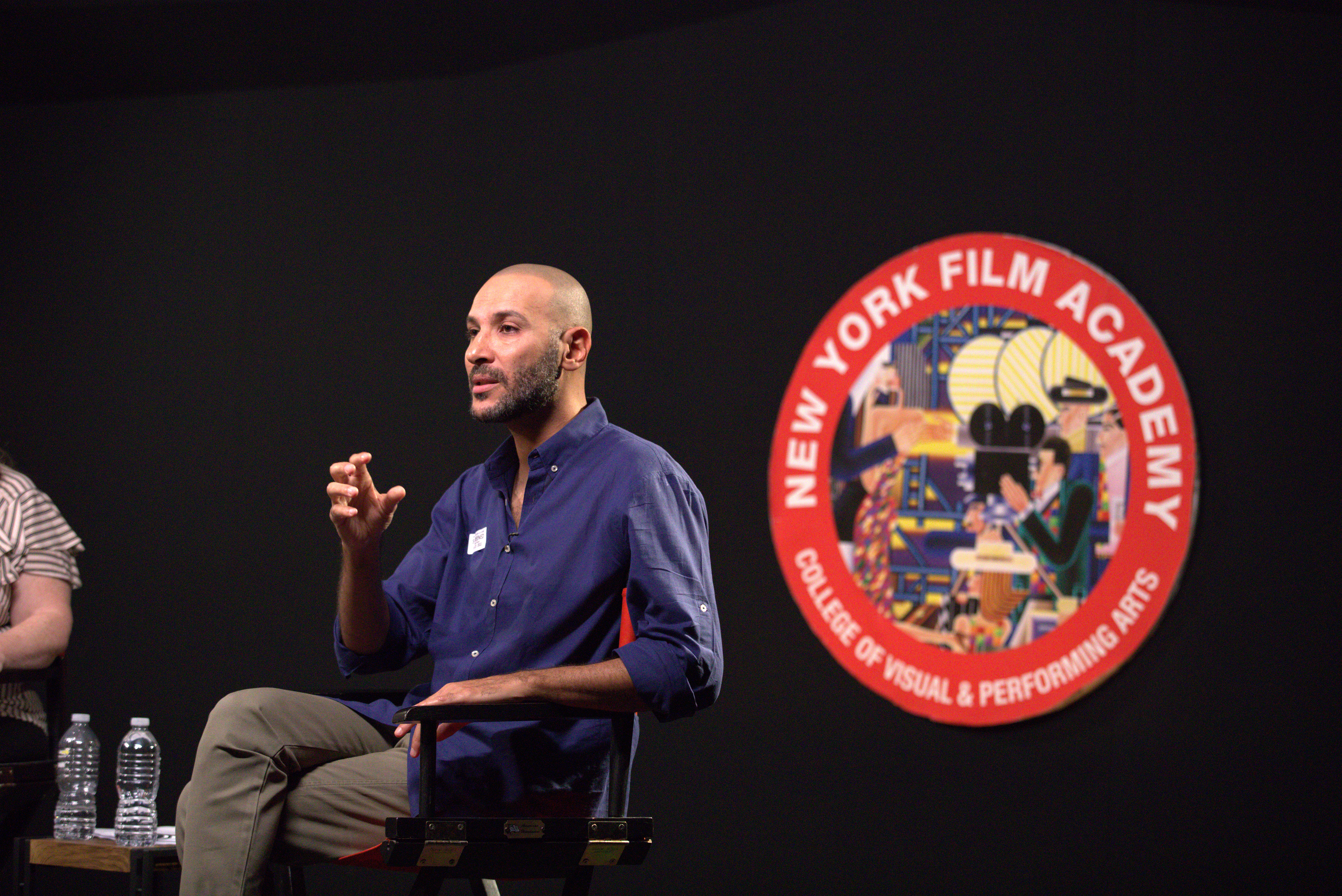 NYFA Screenwriting alum and Marvel Studios director of the Disney+ series Moon Knight, Mohamed Diab
Mohamed Diab's Return to NYFA
In September 2022, Diab returned to Los Angeles to speak with his former screenwriting instructor Crickett Rumley and current MFA Filmmaking student Israa Al-Kamali. In front of a crowd of students and alumni, Rumley and Diab discussed his career, recent work, advice, and anecdotes to share with aspiring filmmakers and screenwriters who dream of the same success.
"It's been incredibly rewarding to watch Mohamed build his career through the years since he left NYFA. He is so devoted to his craft, and it shows in the ways that he captures the complexities of the human experience in his stories and inspires audiences to think beyond their everyday lives. We are so proud of him and can't wait to see where his work goes next."

– Crickett Rumley, Senior Director, New York Film Academy Film Festival Department.
Screening Diab's 2016 Feature Film Clash
Earlier that month, Crickett Rumley, the Senior Director of NYFA's Film Festival Department, hosted a screening of Diab's 2016 feature film Clash. The film, which landed Diab the role of director on the Marvel Series Moon Knight, tells the story of pro- and anti-Muslim Brotherhood demonstrators at a July 2013 protest of the ousting of Egyptian President Mohamed Morsi. After the protest, demonstrators from opposite sides are forced into the back of a police van together.
The film was an instant success, earning a 95% "certified fresh" and 82% audience score on Rotten Tomatoes. Variety magazine author Jay Weissberg describes the film as "bravura filmmaking with a kick-in-the-gut message about chaos and cruelty (with some humanity)." Weissberg continues, "Diab's handling of the crowded interior is a notable achievement…the way he moves rioting mobs outside the wagon in a fury of relentless, mad movement seems to channel De Mille with its sweep and control."
Award-Winning Films and Television Credits
In addition to Clash, Diab's film and television credits include other well-known titles, including The Replacement (2009), Cairo 678 (2010), Tayea (2018), Renegades (2018), and Amira (2021). His works, known to international audiences as thought-provoking and purposeful, have earned Diab respect and recognition on the film festival circuit. His 2021 film Amira, which tells the story of a 17-year-old Palestinian girl conceived from the smuggled sperm of her imprisoned father, Nawar, won three awards at the Venice Film Festival. His films have screened as official selections among a host of world-renowned and prestigious festivals, including Cannes, BFI London, El Gouna, and Red Sea.
A Conversation with Mohamed Diab
Kicking off the Q&A, Diab began with a statement that would tug at the heartstrings of even the most hardened college administrator, saying, "I feel I'm back home."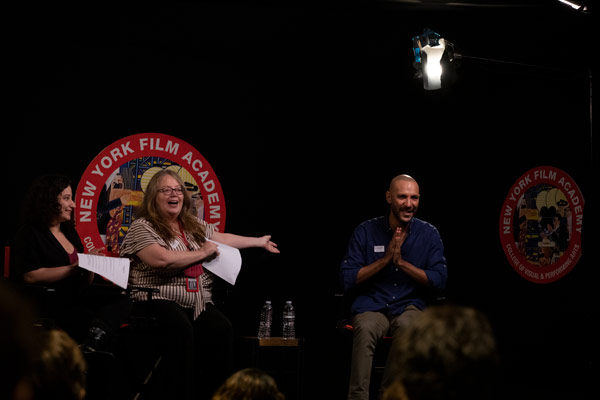 Crickett Rumley (left) with director Mohamed Diab (right)
"This place holds a dear place in my heart. I see my teachers here. I see Sonny Calderon. I was in his first class and am so proud of that." Diab then enlightened the audience with his path from Egypt to Los Angeles, "When I got here, I had the syndrome of–I'm going to say–culturally defeated. I was in my country. I thought, like a lot of the generation right now–we don't watch Arabic movies–it's 'beneath us,' we only watch American movies. So after arriving, we were asked to write a full-length script, but I struggled with understanding the day-to-day in America. Every small nuance about the American character that I'm writing didn't come easy to me."
"I feel I'm back home."
As a student, Diab recalled Crickett's instruction to "write what you know," and that's what he did. "It wasn't just my small experience of what I did to join [NYFA], but I felt like it was about who I am–understanding who you are. That's the most important lesson I want to tell you guys. The line to make a film is so long, but to your own experience–who you are–your own voice isn't long."
After discussing the success of other well-known international directors, Diab explained how he found his voice to realize the same dream. According to the director, "I was actually too politically active, but even though I'm not making any political movies right now, it's not just about politics. Having an opinion and feeling strong about something is good."
The conversation then pivoted to directing, a similar pivot that Diab made within his own career. He offered his perspective on what prompted him to switch focus, "Everyone sees things differently. So when I gave a director my project, he saw it his own way. So it wasn't my voice. That was the first time I realized I needed to be a director. I never had the dream of being a director, but I discovered that's not how I saw the film in my head."
When Rumley asked Diab how he made the switch from low-budget, gritty dramas to a Marvel Studios series, Diab commented that "I discovered through Cairo 678 that I'm going to direct in the simplest way. It's going to be a slice of life. Is what I have on screen right or wrong? Does it match life or not?" The NYFA alum then discussed his experience working with special effects and the studio's expectation of him as the director. According to Diab, questions like "How are you going to direct action or green screen?" aren't part of the conversation. That's because "they have a system. You have someone beside you. All the big action sequences–you direct them beforehand."
Audience Q&A Kicked Off with Cairo 678 and its Impact on Society
Once the conversation approached the Q&A, Diab reflected on his work's impact on his life. With the alum's recent successes on the festival circuit and his work with Marvel Studios, it would be easy to assume that Diab's career has consisted of nothing but success. In actuality, Diab made headlines in Egypt for his early works–sometimes for controversial reasons.
Following the release of the Cairo 678 film trailer, the media accused Diab of exaggerating the subject. The film highlights sexual harassment in Egypt, a highly sensitive issue in the country at the time of its release. The director was accused of modifying the extent to which sexual harassment occurs in Egypt as a way to entice Western audiences. According to Diab, "Now 12 years later–Cairo 678 is seen as one of the things that happened. Laws have been changed. Everyone acknowledges this is a problem. I think Cairo 678 was one of the reasons we started the conversation."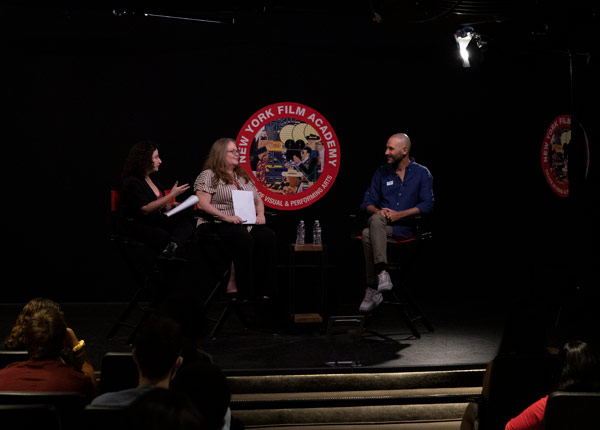 MFA Filmmaking Student Israa Al-Kamali (left) with Crickett Rumley (middle) and Mohamed Diab (right)
Following the rocky media attention to Cairo 678, Diab went on to begin his project Clash. In 2011 the world was captivated by the Egyptian revolution, which resulted in the ousting of former President Hosni Mubarak. As an activist in the revolution, Diab was blacklisted. The result was a permanent move to the US. According to Diab, "I knew that there was a chance I couldn't make Clash. And actually, after Clash, I could no longer work in Egypt. That's why I left and came to the United States. I knew that there was a chance the government was going to stop me from making it, so I had a version of the film that I could make in my house." Rumley then asked the alum how he dealt with the backlash and blacklist. In an honest reply, Diab said, "I sat on the couch and cried. I try to reason with it, but sometimes I can't. I am the guy who has had the most backlashes in the Middle East. For every film, I was demonized in the Middle East. I was like, what is happening? Are they watching the same movie I just made?"
When the forum opened up to the students, one of the audience members asked Diab what his greatest challenge was when making Moon Knight or Clash. Diab responded that "every film had its own fight. The first film I ever made was to convince people that I'm not just a successful writer, but I'm a good director too. That was a challenge. I'm the hardest person on myself." The director added, "it's hard on my family, it's hard on me financially, but I like to have those high standards. I need to make something better than my previous film."
"You have to have your own interpretation. It's never a life without your own interpretation."
In one of the final questions, an audience member asked Diab, "What were the challenges you faced in presenting your authentic voice inside the prewritten world of Marvel?" To which Diab responded, "First of all, we're lucky that we are in this time. Five years ago, when I pitched ideas, my partners pushed me to find an American writer. They insisted it was the only way the project would get made. When the American writer wrote it, it definitely felt like an American person writing an Eastern story. We sold it to Amazon, and it was canceled right away."
In an incredible continuation of the story that highlighted Diab's emphasis on using your own voice, he continued, "Inside of me, I was sad this happened, but I realized it wasn't an authentic story." When Marvel approached him about Moon Knight, Diab said, "That was my secret card. This is Egyptian. They understood me, and that was one of the reasons I was there, and they did it with the utmost respect –I was definitely the Egyptian police."
Closing out the Q&A portion, a student stood up and asked the NYFA alum the final question of the evening, "What if your actor feels differently from the way you interpret an action?" Diab graciously responded, "You have to have your own interpretation. It's never a life without your own interpretation."
Catch the full Q&A with Crickett Rumley and Mohamed Diab below:
Please note: NYFA does not represent that these are typical or guaranteed career outcomes. The success of our graduates in any chosen professional pathway depends on multiple factors, and the achievements of NYFA alumni are the result of their hard work, perseverance, talent and circumstances.
by nyfa