FILMS FROM NYFA AUSTRALIA ALUMNI STEPHEN OSBORNE, JOSH HALE, AND LUKE SPEECH SELECTED FOR 2021 GOLD COAST FILM FESTIVAL
April 14, 2021
New York Film Academy Australia is excited to congratulate alumni Stephen Osborne,
Josh Hale
, and Luke Speech, who have been selected to screen their films at the 2021 Gold Coast Film Festival ("GCFF"). This year, NYFA Australia is the only film school to have more than one alum featured among the festival's robust lineup of curated film selections.
An official GCFF selection, Osborne was invited to screen his film
Strangeville
at this year's festival and compete in the Best Australian Indie Film category. The sci-fi dramedy centres in on an outback town, plagued with alien abductions, that must battle unknown forces and dismantle a law enforcement cover-up in the process. The dystopic had its world premiere at the Sydney Sci-fiction Film Festival, where it was nominated for Best Feature Film and was hailed by
Blunt Magazine
as a "well-earned break for your viewing schedule."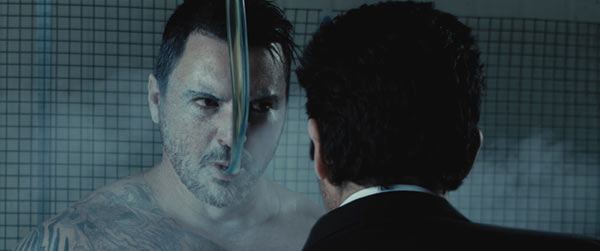 Still from Stephen Osborne's "Strangeville"
Osborne has previously received recognition for the short film
Roommate Wanted For The End of The World
, winning Best Short Screenplay at the Rome Prisma Independent Film Awards and Screenwriter of The Month for The Monthly Film Festival. His short film
Jane
also earned Osborne an award for Best First Time Director at the Oniros Film Awards, which he completed during his studies at New York Film Academy.
In addition to being written and directed by Osborne,
Strangeville
also includes 21 members of the cast and crew who also attended NYFA's Gold Coast campus. Among them is Vito Leo who plays Miles in one of the film's leading roles. Leo has worked most notably on
Thor: Ragnorok
and the highly-anticipated
Godzilla vs. Kong
.
Also on the slate for the GCFF is Hale's
House of Inequity
, which will appear in the 'Dark Nights and Fantastic Fans' portion of the program, alongside screenings of
Willy's Wonderland
and
The Lord of The Rings
trilogy. The film follows a group of friends that experience a day trip gone wrong after investigating an abandoned house where they must figure out how to survive the night.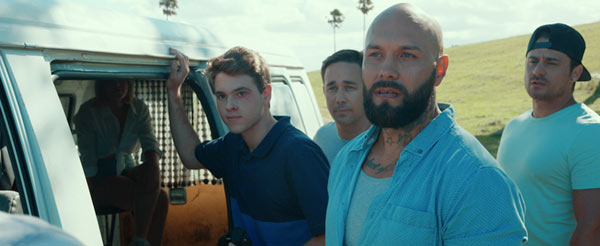 Still from Josh Hale's "House of Inequity"
The NYFA Australia alum is known for his critically acclaimed film
Digital Athlete: The Road Set League
, which earned Hale an IndieFEST Film Award of Merit, a Festival Award at the Festigious International Film Festival, and a Best of the Year Award nomination at the Gold Movie Awards. The producer-director is also in production on the documentary
Do or Die
and is currently in the development of the thriller
Force of Evil
.
Hale's
House of Inequity
was originally supposed to have its world premiere at the 2020 GCFF but was put on hold due to the COVID-19 pandemic. The film credits 17 NYFA Australia alumni among the film's cast and crew and features the work of NYFA Australia faculty members Stuart Lumsden (NYFA Australia Deputy Chair of Acting for Film), sound design instructor Vic Kaspar (
House of Flying Daggers, Harry Potter and The Prisoner of Azkaban
), and Patrick Ryan (NYFA Australia Associate Chair of Short-Term Filmmaking).
"I am so proud of what we achieved," shares Hale. "A local cast and crew utilising the incredible Gold Coast and its glorious production value. I am proud of this film."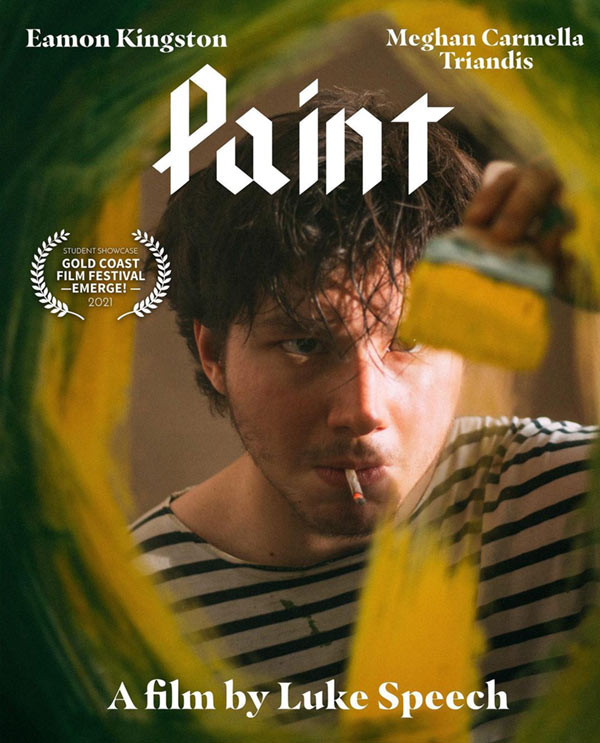 Film poster for "Paint" by Luke Speech
Also screening at GCFF is Speech's
Paint
. The NYFA Australia alum's film will screen as part of the EMERGE! showcase of short films that celebrates the best and brightest film talent from Queensland's next generation of filmmakers.
NYFA Australia is proud of Filmmaking alumni Stephen Osborne, Josh Hale, and
Luke Speech
, as well as the incredibly talented group of NYFA Australia alumni and faculty who served as the cast and crew for
Strangeville
and
House of Inequity
.
House of Inequity's
second screening and the
Emerge!
short film showcase (where
Paint
will be screened) still have tickets available. To book your tickets, click the links below:
Tickets for Paint - This film will be part of EMERGE! short film showcase
Wednesday, 21 April at 5:00 p.m. AEST
Tickets for Strangeville
Sunday, 18 April at 7:30 p.m. AEST -

SOLD OUT