New York Film Academy Shines Brighter Than Ever in its 25th Year
August 24, 2017 The New York Film Academy was founded on the idea that the best way for aspiring filmmakers to learn is through intensive hands-on programs. This year signifies a milestone in the school's history as students and faculty continue to flourish and NYFA expands its worldwide influence. At 25, the New York Film Academy holds to its founding principles and continues to innovate into new fields like VR and to expand to new locations around the world including Mumbai, India.

"It has been a banner year for the New York Film Academy in so many ways," states NYFA President Michael J. Young. "We have seen a number of alumni earn accolades and success in the industry including two Academy Award nominations in short film, an Emmy nomination, leading roles in major motion pictures, and visual effects credits on the biggest films of the year (see our alumni page). We were gratified to have the excellence of our programs recognized by the two industry publications of record: Variety naming NYFA as a stellar film school, and The Hollywood Reporter naming us one of the top film schools in the United States. This recognition is due to the the incredible work of our students, faculty, staff, and the great successes of our alumni from all over the world, whose passion, talent, and dedication have helped shape the Academy into what it is today."

From our many achievements and success stories at NYFA in 2017, below we bring you our highlights:



ALUMNI SUCCESS
This year, not one but two NYFA alumni were nominated for one of the highest achievements in the industry: an Academy Award.
Jean de Meuron
attended the New York Film Academy in 2009 and studied several disciplines, including filmmaking, screenwriting, and cinematography, at both the New York and Los Angeles campuses.
We spoke to him about his experience at NYFA and his Academy Award-nominated film "La Femme et le TGV."
| | | |
| --- | --- | --- |
| NYFA Alumnus Jean de Meuron at the Golden Globe Awards | | Academy Award Nominated Film Joes Violin by NYFA Alumnus Raphaela Neihausen |
NYFA Documentary Filmmaking alumna
Raphaela Neihausen's
film
"Joe's Violin" was nominated for an Academy Award for Best Documentary Short.
Neihausen is also one of the New York Film Academy's partners for our documentary screening series, Stranger Than Fiction.
Other success stories include:
NYFA counts many successful alumni among its ranks, including
Issa Rae
("
Insecure
") and
Aubrey Plaza
("Parks and Recreation," "
Ingrid Goes West
"). This year, 3D Animation & VFX alumnus
Francesco Panzieri
continues his ascent with "
Spider-Man: Homecoming
" where he was the digital compositor, while Musical Theatre alumnus and Netflix's "
Brown Nation
"
Jaspal Binning
makes his directorial debut with "
Doomsday
. Acting for Film alumnus
Manuel Garcia-Rulfo
of "Magnificent 7" will also star in upcoming revamp of "Murder on the Orient Express." Acting for Film alumnus
Themo Melikidze
performed opposite Mark Wahlberg in "
Patriot's Day
." 3D Animation & VFX alumna
Alexandra LoRusso
worked on the visual FX for blockbuster hits and academy award winners "Suicide Squad," and "Fantastic Beasts and Where to Find Them."

GUEST LECTURE SERIES
Our Guest Lecture series, whose past guests include Al Pacino, Steven Spielberg, and Seth Rogen, continued throughout 2017 with insightful and instructional Q&A's. Students learned from visiting Guest Speakers
Kim Cattrall
("Sex and the City"),
Eric D'Arbeloff
("Manchester by the Sea", co-founder of Roadside Attractions),
Mel Gibson
("Hacksaw Ridge") and many others.
Our students also had the privilege to attend a Master Class taught by NYFA Board Member and Master Class Lecturer
Matthew Modine
, who won a SAG Award this year along with his "Stranger Things" castmates.

COMMUNITY OUTREACH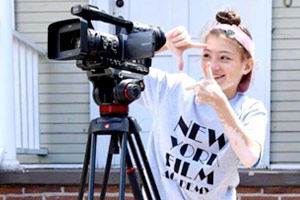 NYFA endeavors to engage the surrounding community through continued partnerships with excellent organizations like the Bill Duke Media Foundation, Young Storytellers Foundation, and Hands4Hope LA just to name a few. We have also instituted our own program,
NEXT Young Filmmaker Program
which aims to allow young, aspiring filmmakers to learn the filmmaking process.

NYFA OPENS NEW CAMPUSES
Earlier this year, the New York Film Academy inaugurated new campuses in Gold Coast, Australia, and Mumbai, India.
Gold Coast
The New York Film Academy Australia celebrated the Grand Opening of its new Gold Coast, Australia campus location at
Southport
. Centrally located near the Gold Coast's world famous beach, Surfer's Paradise, Southport is a vibrant area filled with exciting attractions, theme parks, buzzing nightlife, trendy cafes and restaurants, as well as one of the Gold Coast's largest shopping complexes, Australia Fair, as well as the exclusive Marina Mirage boutiques of Southport Yacht Club.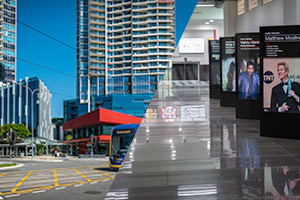 Mumbai
The New York Film Academy (NYFA)'s newest location in
Mumbai
, India, holds our signature hands-on Filmmaking and Acting for Film workshops at the Urmi Estate, a modern 41-story skyscraper located in the heart of the city. "The New York Film Academy turns 25 this year, and we're thrilled to add this beautiful new location in Mumbai to the global NYFA family," said Kitty Koo, NYFA Vice President - Mumbai, India. "There is no place better than Mumbai, India, the land of Bollywood."

NYFA RECOGNIZED FOR EXCELLENCE BY INDUSTRY MAGAZINES
NYFA was also recognized by media giants
Variety
and The Hollywood Reporter for its academic excellence and outstanding hands-on programs. Our Musical Theater program was lauded for being one of the only curriculums that focuses on creating original movie musicals. The Hollywood Reporter recently named NYFA among the Top Film Schools in the country.
In response to The Hollywood Reporter's list, NYFA Senior Executive Vice President David Klein says, "We are very proud to have been recognized by The Hollywood Reporter as a top American film school. This achievement would not be possible without the work and dedication of the professional filmmakers, actors, musicians, screenwriters, composers, cinematographers, and producers who partner with us to empower and prepare our students as they pursue their chosen craft."

Ardent Supporters of Diversity
The New York Film Academy has and continues to be
a strong supporter of diversity and inclusion
. As President Michael Young put it, "The extraordinary variety of nationalities represented throughout the New York Film Academy is one our greatest strengths. We are proud to welcome students from over one hundred countries and to stand with many of our nation's colleges and universities that are resisting threats to international diversity."
We would like to extend our thanks and congratulations to our faculty, staff and our students for making NYFA one of the top film schools in the country for 25 years. We endeavor to make our next 25 years as successful as the first.