New York Film Academy (NYFA) South Beach MFA Filmmaking Student Wins Award at Miami Film Festival
March 24, 2020 New York Film Academy (NYFA) MFA Filmmaking student Bruklyn Miller nabbed the top prize at the Wolfson CinemaSlam Production Grant Competition during the Miami Film Festival.

The Wolfson CinemaSlam Production Grant is run by the Miami Film Festival and is a competition that invites film students from all over Florida to submit projects that incorporate archival footage from the world-renowned Wolfson Moving Image Archives in Miami. Miller submitted her film Celestial for the competition and, when asked about incorporating the archival footage, remarked, "I knew how I wanted to use the archival footage the moment the opportunity was presented to us, however, I never planned on highlighting it as much as I did in the finished product."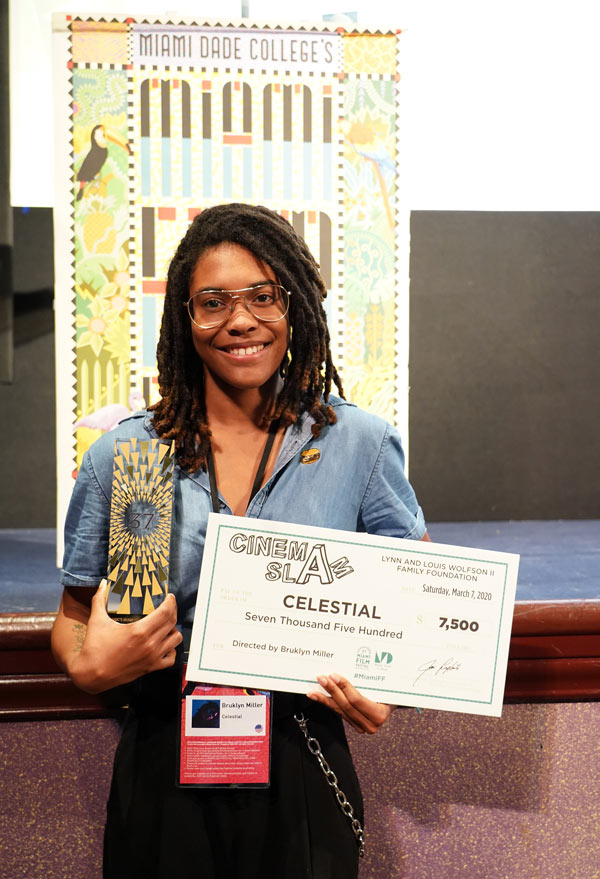 Bruklyn Miller with Wolfson CinemaSlam Production Grant award
Miller, who is in her second year at New York Film Academy's South Beach campus working toward her
MFA in Filmmaking,
says that
Celestial
is the reason she applied to New York Film Academy in the first place. "I found myself with, what I believed at the time, was a good script, but no idea on how to bring it to life," she says. "New York Film Academy and CinemaSlam helped me do exactly that."
Celestial
, Miller's narrative short film, follows the uneasiness that stems from the stigma surrounding mental illness in the African American community.
Miller was selected as one of ten finalists by the
Miami Film Festival
before being awarded the $7,500 top prize for
Celestial
. "Becoming a finalist and winning the grand prize was surreal," she adds. "I'm even more driven to improve as a writer and director and this grant also allows me to be fully funded for my next project,
Sambo
."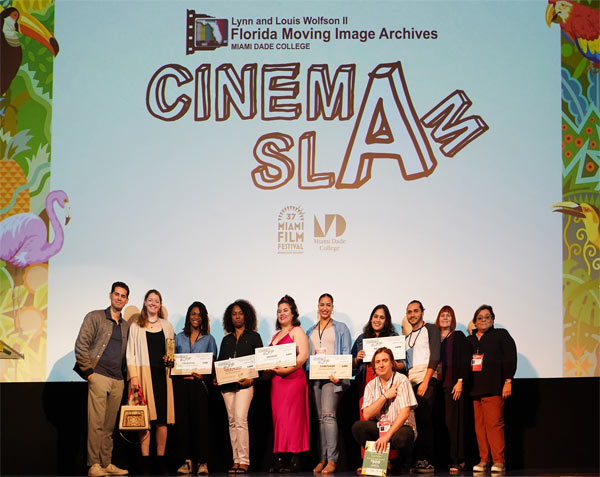 Bruklyn Miller accepts top award with other grant winners
Miller also received one of 15 "Works-In-Progress" grants, which are awarded by the Lynn and Louis Wolfson II Family Foundation. Other distinguished recipients of the grant included current MFA Filmmaking students at NYFA's
South Beach
campus Steven Wieclaw, Annabel Inman, and
BFA Filmmaking
student Marcela Lugo.
New York Film Academy congratulates Bruklyn Miller on the success of her film
Celestial
and being awarded two grants, as well as Steven Wieclaw, Annabel Inman, and Marcela Lugo for receiving the Wolfson Family Foundation's "Works-In-Progress" Grant.