New York Film Academy Congratulates Documentary Filmmaking Faculty Claudia Raschke and Bob Eisenhardt Whose Work on "RBG" and "Free Solo" Has Been Shortlisted by the Academy Awards
December 20, 2018 The holiday season will soon be over but Awards Season is just heating up for Hollywood and the film industry. Nominations for some major awards like the Golden Globes and various Guild awards have already been announced, and the Academy of Motion Picture Arts and Sciences are a step closer to naming their own, having just announced several shortlists of potential nominees for next year's Oscars.

The Oscar Documentary Feature Shortlist includes RBG and Free Solo, two critically-acclaimed documentaries with New York Film Academy (NYFA) faculty playing key roles in their production. RBG was shot by Director of Photography and NYFA Documentary instructor Claudia Raschke; Free Solo was edited by NYFA Documentary instructor Bob Eisenhardt.

The fifteen shortlisted documentaries had an incredible amount of competition this year, with 166 films originally submitted in the category. The shortlist was voted on by the documentary branch members of the Academy.


RBG
tells the story of Supreme Court Justice Ruth Bader Ginsberg, and was a surprise success story after premiering at
Sundance
, striking a chord with many young voters and moviegoers. To date, the film is one of the most financially successful documentaries of all time.
Raschke, who teaches cinematography for NYFA's documentary school, has previously shot several other Academy Award shortlisted films and nominees, including
Mad Hot Ballroom
. In addition, Raschke has won a Peabody Award, a Dupont, and a National Board of Review Award, among others.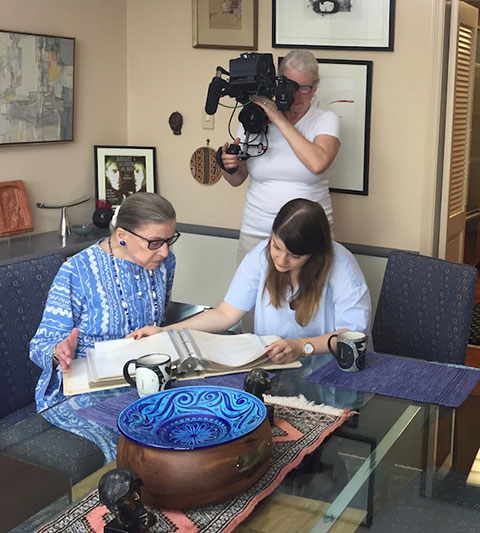 Claudia Raschke filming RBG
Free Solo
is a critically-acclaimed documentary from National Geographic, focusing on rock climber Alex Honnold as he attempts to free solo — or climb without the use of ropes — the famed vertical rock formation, El Capitan. Honnold is the only person to have ever pulled off the climb. The film, which broke
An Inconvenient Truth's
box office record for highest per-theater average, currently has a Rotten Tomatoes rating of 98%.
Editor Bob Eisenhardt is an Academy Award nominee, three-time Emmy winner, and recipient of the coveted "Eddie" aka American Cinema Editors Award. He has edited over 60 films, mostly feature and television documentaries, including Sundance Audience Award Winner
Meru
. His film
Scotty Bowers
and
the Secret History of Hollywood
was screened at DOC NYC in 2017. Eisenhardt teaches Advanced Thesis Editing and is a Master Class instructor at New York Film Academy's New York City campus.
Asked about
Free Solo's
appearance on this year's shortlist, Eisenhardt says, "When you are stuck in the edit room in the middle of the process there is no way of knowing how your film will be received. It's very gratifying that it's been recognized and done so well at the box office."
He continues, "Now that the Academy has whittled consideration down to a shortlist of really good films, you can only hope for the best."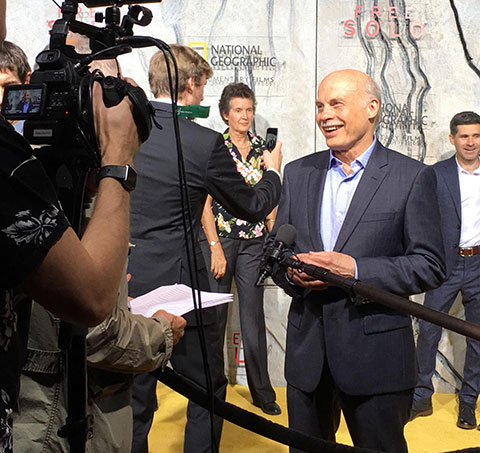 Bob Eisenhardt
Andrea Swift, Chair of NYFA's Documentary Filmmaking department, couldn't be more thrilled about this year's shortlist, telling NYFA, "Bob and Claudia are two of the best in the business. Both have had films nominated for Oscars multiple times.
RBG
and
Free Solo
have enjoyed huge box office success, critical raves, and fantastic buzz. So I can't say it's a surprise. Still, we're all very excited for them!"
Swift is also grateful to have such talented people working in her department. She adds, "For documentary masters like Claudia and Bob to work closely with the students on their films day in and day out — it just doesn't get any better."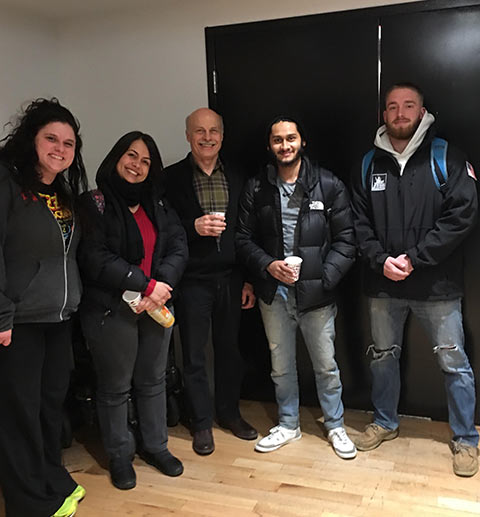 Bob Eisenhardt Celebrating with NYFA Students after this year's Shortlist was announced
Raschke and Eisenhardt aren't the only faculty members of NYFA's documentary school with prestigious awards and nominations. Just last year,
Heroin(e)
— edited by instructor Kristen Nutile — was nominated for Best Documentary Short and won an Emmy Award. Earlier this year, prolific documentary filmmaker and NYFA instructor
Maxine Trump
published her book,
The Documentary Filmmaker's Roadmap: A Practical Guide to Planning, Production and Distribution.
"No Documentary film school in the world has a better faculty. Even Oscar is a fan," remarks Andrea Swift.
The New York Film Academy congratulates instructors Claudia Raschke and Bob Eisenhardt on the success and recognition of their films, and wishes them the best of luck as the awards season continues!