New York Film Academy (NYFA) Filmmakers Direct 'Thrive' with Maroon 5's Jesse Carmichael
April 23, 2019 New York Film Academy (NYFA) alum Shivin Sanjeev Grover and his brother, NYFA BFA student Sunny Grover, recently collaborated with Maroon 5 keyboardist and rhythm guitarist Jesse Carmichael on the two minute short film Thrive, which focuses on the struggle and obstacles still faced today by the LGBTQIA+ community.

The film was written and directed by Shivin and Sunny, two brothers from India, and is part of Carmichael's 2 Minute Movies (2mm) project, which was created last year. Thrive is the first film to come from 2mm with a focus on LGBTQIA+ rights.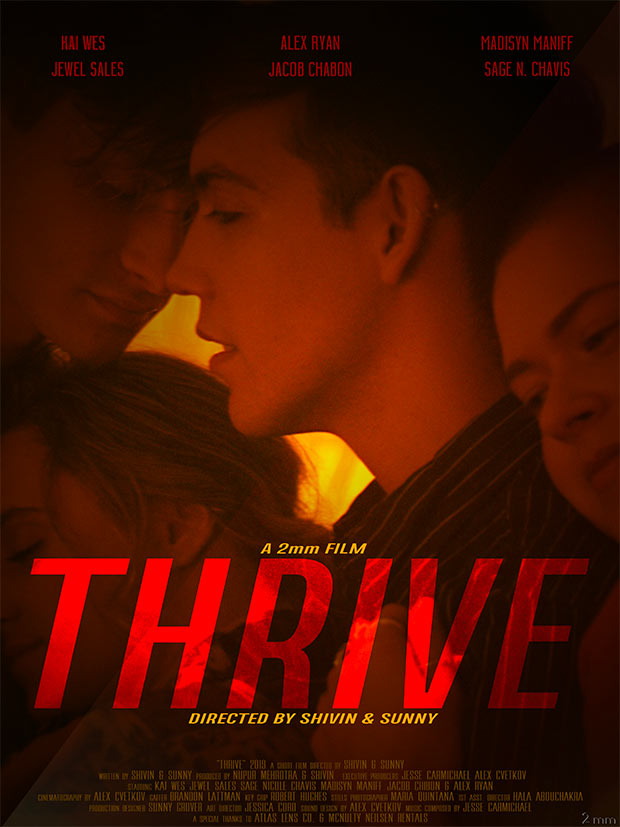 In an interview with
Get Out Magazine
, Carmichael says he is "hoping that things are moving in a more and more equanimous and loving, tolerant, and open direction in [India]," adding that Shivin and Sunny "reached out to me with an idea about doing some sort of film in the realm of trying to open people's eyes to the violence that people in [the] LGBTQIA+ etc. experience."
Carmichael first rose to fame as a founding member of rock/pop group Maroon 5, one of the most popular and successful rock bands of all time. Maroon 5 played the Halftime Show at the most recent Super Bowl and have such hits as "Girls Like You," "Sugar," "Moves Like Jagger," and "This Love."
"Through this process, we had the honor of being mentored by Jesse Carmichael who implored us to explore the subtlety and elegance that can be achieved through visuals and music," says Shivin. "This experience goes beyond words and went on to make this process all the more special."
Thrive
is a visually evocative and emotionally powerful film, that gets a lot across in its short two-minute running time. "We set out to create a visual letter that juxtaposes the love shared within the community with the violence and hate inflicted by those who have not yet had the chance to share this acceptance with us," adds Shivin.
The film has been critically well received and was featured in at least two national
magazines
to date, as well as a laudatory review from renowned film critic Alan Ng and a recommendation from the BAFTA- and Oscar-qualifying Aesthetica Short Film Festival.
In addition to the two brothers, much of
Thrive's
film crew also came from New York Film Academy. This includes current
NYFA BFA
students Rob Hughes (key grip) and Jessica Coro (art director), and NYFA alumni Nupur Mehrotra (producer), Alex Cvetkov (cinematographer), Brandon Lattman (gaffer), Hala Abou Chakra (assistant director), and Maria Quintana (set photographer). In addition to co-writing and co-directing, Sunny also served as the film's production designer.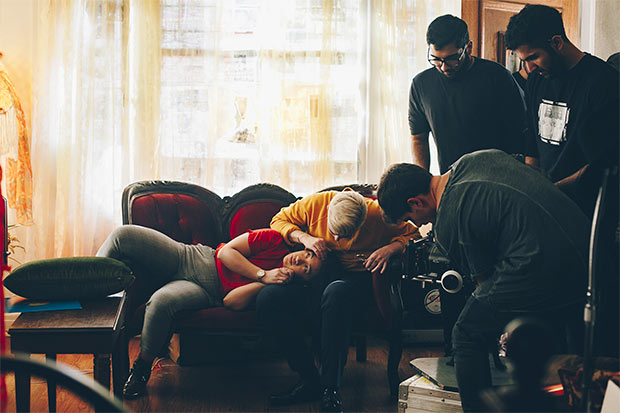 The New York Film Academy congratulates the NYFA students and alumni on their hard work and the success of
Thrive
, and wishes the best of luck to co-directors Shivin Sanjeev and Sunny Grover as they continue to make films they are passionate about!