NEW YORK FILM ACADEMY (NYFA) WELCOMES MANAGER AND PRODUCER RISA SHAPIRO FOR 'THE Q&A-LIST SERIES'
August 28, 2020
On Tuesday, August 25, 2020, New York Film Academy (NYFA) had the honor of hosting a live video Q&A with manager and producer Risa Shapiro, where Shapiro shared her career expertise with NYFA students and alumni.
Tova Laiter
, Director of the NYFA Q&A-List Series, curated and moderated the event.
Risa Shapiro began her career in the entertainment business at The William Morris Agency in New York in 1981. She helped discover and cultivate the careers of such stars as Julia Roberts, Jennifer Connelly, Rosie O'Donnell, David Duchovny, Andie MacDowell and many more. In 1991, Shapiro left William Morris to join the ICM agency, where she continued to thrive as one of the most powerful female agents in the industry. In 2008, she decided to pursue management and production.

Tova Laiter (Left) and Risa Shapiro (Right) for NYFA's Q&A-List
As a manager, Shapiro continues to represent Cher, Jennifer Connelly, Heather Graham, Steven McQueen, Christian Madsen, and many others. She co-financed
Saw
(2004), was an executive producer on
Burlesque
(2011), and produced the television movies
Dear Mom, Love Cher
(2013) for Lifetime and
Love At First Glance
(2017) for the Hallmark Channel.
Laiter opened up the discussion by recalling how, when Laiter was working as Co-President at Imagine Entertainment, Shapiro was just introducing the world her new upcoming client, Julia Roberts, who because her brother was already famous, "knew her way around the set and knew what actors were like and I knew she will go places and signed her," remembered Shapiro.
Laiter then commented how Shapiro has such a keen eye for talent and asked whether she was born with it, or if it was something learned. Shapiro explained that it's something you develop over time and it's about loving actors and the movies. From there, she explained, it's about "finding those roles [for your actor] that you can then show to the next director, and the next director, and the next one to get them (the clients) to that next big role."
Film poster for 'Burlesque' (Produced by Risa Shapiro)
As for the role of a Manager vs Agent, (and she was both) Shapiro explained that, in her role as a Manager, she is charged with being the point person to help guide her client's career but an agent has most of the information from staff meetings so the ideal is to have both. She then shared a time when she received a producer credit on Burlesque without even pursuing one because, ultimately, the director knew that Shapiro was the reason that Cher [her client] remained there shooting the film and was a huge comfort for the actress.
Shapiro explained that one of the biggest challenges actors are facing now in the business is competition. She shared that, due to the high volume of talent and availability, actors have to "be really great these days," and reminded NYFA students: "You're not going to do a great job on your own. You have to stay in class and you have to get a coach."
(Left to Right) Producer Donald De Line, restaurateur Victor Drai and executive producer Risa Shapiro
A student then asked about how someone would go about finding an agent if they are new in the business and Shapiro had this advice to share:
"Put together a reel you are proud of and just remember: People in the entertainment business have a short attention span, so don't make it too long. Then, go online and find the names of managers and agents and make sure they are relatively young and send material on yourself to them (your picture, resume, reel, where you went to school, etc)."
Laiter then added "make friends with the assistants of those people," to which Shapiro agreed, noting that you should always get to know the people around the point person you are trying to reach when finding an agent. Laiter and Shapiro also suggested that actors and others should invest in IMDBPro so they can keep up with who represents who in the industry.
Another student looking for advice from Shapiro asked, if they have other talents other than acting, whether they should begin looking for representation as an actor first, rather than for all the other disciplines.. "Don't be spread too thin," Shapiro replied. "Try and get an agent as an actor and then branch out. When you work on a set as an actor, you're going to meet people that will help you in other areas later on."
Shapiro closed the conversation by encouraging students to create using the resources they have today. "People in the industry today can make a movie by themselves on their computer. You could write and star in your own movie, but always have something to show people that will make others impressed." Laiter agreed and added, "use this time in school to do the best short, broadcast segment or project that you can be proud of."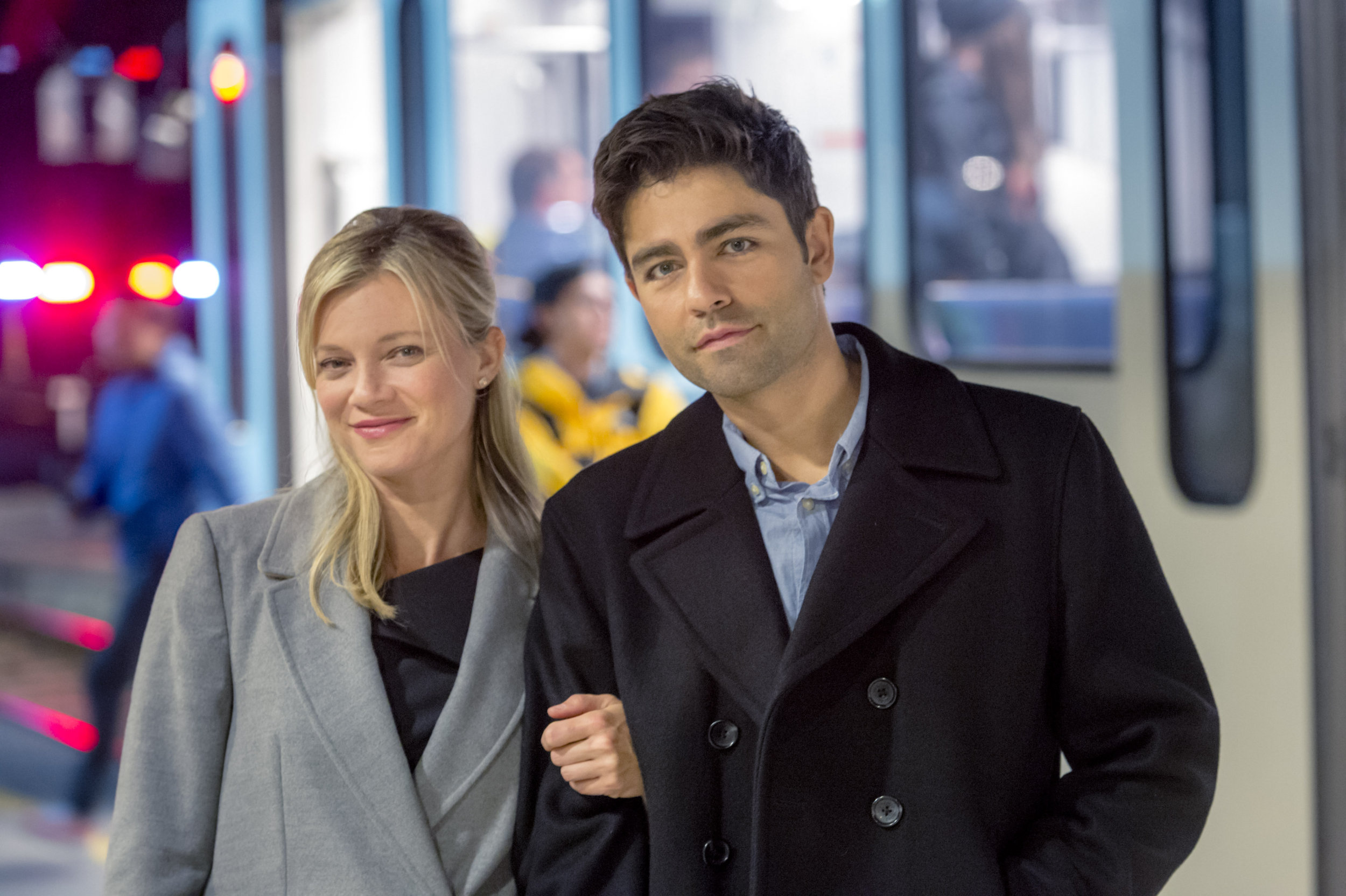 Actors Amy Smart and Adrian Grenier in 'Love at First Glance' (Produced by Risa Shapiro)
Laiter closed the conversation by thanking Shapiro for sharing her time and vast knowledge of the business side of the movie industry.Shapiro expressed her enjoyment of the conversation and wished NYFA's students the best of luck in their future endeavours.
New York Film Academy would like to thank Manager and Producer Risa Shapiro for sharing her time and expertise with students and alumni looking to explore the business side of the film industry as actors, filmmakers, producers, and more.
To view the full conversation,
click here
or watch below:
These guests are not faculty and do not teach at NYFA, but they have appeared to share their stories and experience with our students. As guest speakers are scheduled based on their availability, NYFA cannot guarantee whether a guest speaker will visit during a student's attendance or who that guest speaker may be. This guest speaker forum is not part of any NYFA curriculum and attendance at guest speaker events is purely voluntary. Students should be aware that guest speaker events do not represent a job opportunity nor are they intended to provide industry connections.