NEW YORK FILM ACADEMY (NYFA) WELCOMES AWARD-WINNING DIRECTOR AND ENTREPRENEUR BRADLEY ROSS TO THE 20/20 SERIES
February 8, 2021
On Wednesday, January 27, New York Film Academy (NYFA) had the honor of hosting award-winning director and entrepreneur
BRADLEY ROSS
as part of The 20/20 Series, created by NYFA's Creative Director of Filmmaking and
Cinematography
, Liz Hinlein. The conversation was moderated by Hinlein and was held virtually, allowing individuals to join NYFA and the special guests from all over the world.
The 20/20 Series, created by Hinlein, is a virtual pop-up event that takes us into the homes, hubs, and workspaces of an array of dynamic creative visionaries to allow for relaxed, engaging conversations on craft, creation, and artistic vision.
Liz Hinlein (Left) and Bradley Ross (Right) for The 20/20 Series
Bradley Ross is a celebrated director, editor, and entrepreneur. As a commercial director, his work earned him multiple awards including a 2020 Telly and Clio. He spent a decade editing and producing a wide variety of content in New York City earning him multiple Emmy Nominations and Awards. Most notably, he edited and co-produced the hit documentary feature
Cartel Land
, which was nominated for the Academy Award for Best Documentary in 2016. His other long-form credits include
The Kindergarten Teacher
starring Maggie Gyllenhaal, the 2017 TriBeCa Film Festival Audience Award Winner,
Here Alone
, and the 2020 release of
Centigrade
, now streaming on HULU.
Hinlein began by asking the entrepreneur filmmaker how he seems to manage to work on a multitude of film and commercial projects all at once, something that nowadays seems to be more apparent with creatives. "I was always taught to be well rounded and there was always a sense of relief with that because if I hit a wall in one place there was always a journey somewhere else," shared Ross. "With filmmaking, the knowledge that I gained in other specialties always elevated the other parts of the craft."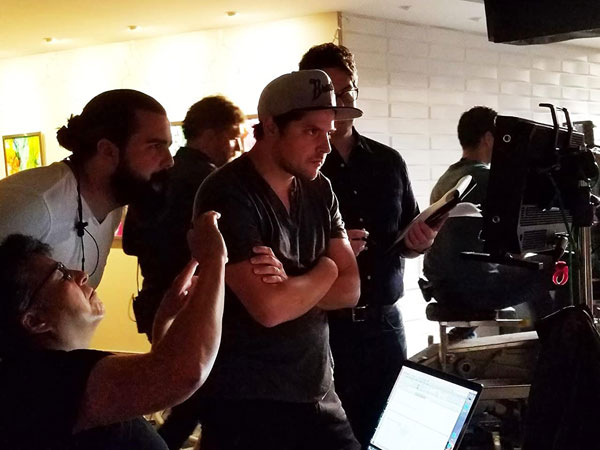 Bradley Ross (center) behind the scenes of a film production
"And now is the time to be proud of being multi-hyphenated," added Hinlein, acknowledging the disciplines that many filmmakers possess in the industry today. "Nowadays that's the expectation; to be this and that," began Ross. "Very rarely do I meet someone who is 'just' a director or 'just' something."
Hinlein remarked how one might achieve such success without diluting their abilities along the way. In other words, how can creatives not spread themselves too thin in such a competitive industry? "Opportunity is the loudest voice is getting the attention," Ross responded. "It's more that you can create more opportunity because you are out there every day and are being seen so as you find your people."
Ross, who dabbles in both commercial and film projects, explained to the 20/20 Series audience that knowing your audience is one of the most important things in the industry and this varies with commercial clients and film projects. "My job is to fulfill other people's dreams for commercials. In filmmaking, that's the fun part because then you can do what is best for the creative vision. If you want to play in both worlds, you have to understand that in the commercial world you are making it for other people. In the film world, you are making it for yourself."
On the business side of things, Ross revealed that even with a creative force and drive behind him, building and running a business can be a very difficult thing financially, mentally, and creatively, but ultimately, it has been worth it for his company MANHATTAN. Recently, Ross and his company produced the thriller
Centigrade
, now available to stream on HULU.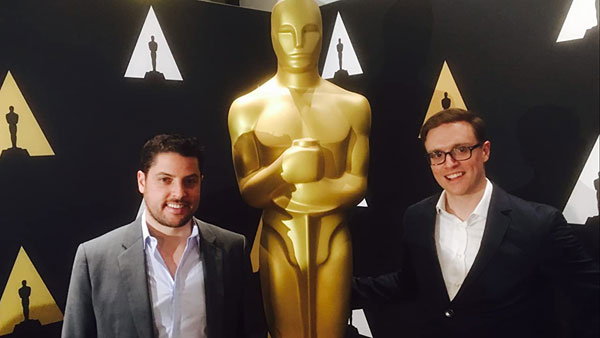 Bradley Ross (Left) at the Academy Awards for the documentary film "Cartel Land"
Closing out the conversation, Ross urged those stepping into a filmmaker role to "command respect, don't demand it." He also urged the 20/20 Series audience to think outside the box when it comes to submitting to film festivals. "Start early. Nothing is too novice to send to a film festival. Sometimes, if you can compete in a less competitive category, then do that," he began. "Also, look beyond the festival. If you have a good movie, it could really slow the ROI on your investors if you wait to get your film accepted into a film festival, so that's the pitfall."
Ross also shared some advice from his mentor that has always stuck with him as a filmmaker over the years that he emphasized to others to consider when sharing their ideas: "The amateur comes up with three ideas and gets excited. The professional comes up with three ideas and 50 more." In short, Ross explained that when you work with other people, and you will because filmmaking is a collaborative process, they are going to push you into other ideas, and then you are going to come up with better ideas.
New York Film Academy would like to thank director Bradley Ross for joining the NYFA global community to discuss the business side of filmmaking and creativity for The 20/20 Series.
These guests are not faculty and do not teach at NYFA, but they have appeared to share their stories and experience with our students. As guest speakers are scheduled based on their availability, NYFA cannot guarantee whether a guest speaker will visit during a student's attendance or who that guest speaker may be. This guest speaker forum is not part of any NYFA curriculum and attendance at guest speaker events is purely voluntary. Students should be aware that guest speaker events do not represent a job opportunity nor are they intended to provide industry connections.