NEW YORK FILM ACADEMY (NYFA) WELCOMES CEO OF INDOCHINA PRODUCTIONS AND PRODUCER NICHOLAS SIMON FOR LIZ HINLEIN'S 'THE 20/20 SERIES'
July 6, 2020 On Wednesday, June 24, New York Film Academy (NYFA) had the pleasure of hosting founder and CEO of Indochina Productions NICHOLAS SIMON as part of The 20/20 Series, created by NYFA's Creative Director of Filmmaking and Cinematography, Liz Hinlein. The conversation was moderated by Hinlein and was held virtually, allowing individuals to join NYFA and the special guests from all over the world.

The 20/20 Series, created by Hinlein, is a virtual pop-up event that takes us into the homes, hubs, and workspaces of an array of dynamic creative visionaries to allow for relaxed, engaging conversations on craft, creation and artistic vision.




Liz Hinlein and Nicholas Simon for The 20/20 Series
Nicholas Simon is an American-Hungarian citizen living in Bangkok, Thailand and he is the Founder and CEO of Indochina Productions. His vast Asian filmmaking experience dates back to the early '90s, with Indochina Productions being the only company in South East Asia to produce and service big-budget Hollywood studio films and Fortune 500 advertising commercial needs. Indochina Productions operates throughout Thailand, Vietnam, Malaysia, Sri Lanka, Japan, The Philippines, Cambodia, Laos, Myanmar, The Maldives, Singapore, Bangladesh, and Malaysia.
Simon pioneered big-budget filmmaking in Vietnam with Warner Brothers/Legendary Films'
Kong: Skull Island
starring Samuel L. Jackson and in Bangladesh with Netflix's
Extraction
, starring Chris Hemsworth. His recent productions include Spike Lee's
Da 5 Bloods
starring Chadwick Boseman and A24's
A Prayer Before Dawn
, starring
Peaky Blinders'
Joe Cole. Indochina's TV commercial resume includes award-winning spots for Apple, Toyota, and Samsung among others.
Hinlein began the conversation by asking Simon about the differences between shooting a film in the U.S versus Asia. "In some ways it's very similar with different levels of productions being present," he replied. "However, there are no union rules like you would find in the U.S on studio productions, so, in a sense, it's more old school, but we do still follow similar standards that you would find on-set in the U.S in order to protect local crews."
Simon explained that on Indochina Productions' films his role as a line producer is also that of a production partner for studios. "We're essentially glorified travel agents," he jokes. "But there is a much more creative element to it too in order to find the right crew that suits the personality of the production."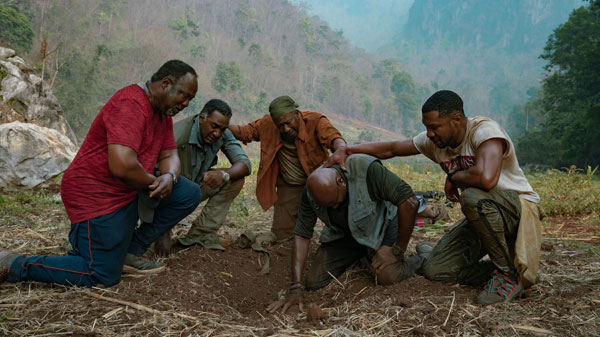 Still from Spike Lee's 'Da 5 Bloods'
"Each country has its own personality, with Thailand having the most international experience," says Simon. Hinlein, who has also shot in Thailand, agreed and observed how members of the Thai film industry tend to wear matching team shirts and also remarked on the sense of unity and shorthand among Thai crew members on set.
Hinlein then pivoted the conversation to discuss Simon's work on the critically acclaimed A24 film,
A Prayer Before Dawn
, which she describes as "emotionally wrenching but visually fantastic." Simon, who was a producer for the film, remembered: "We had well below $2 million dollars, but for the small budget we had, we were able to successfully stretch it to work with the director's vision."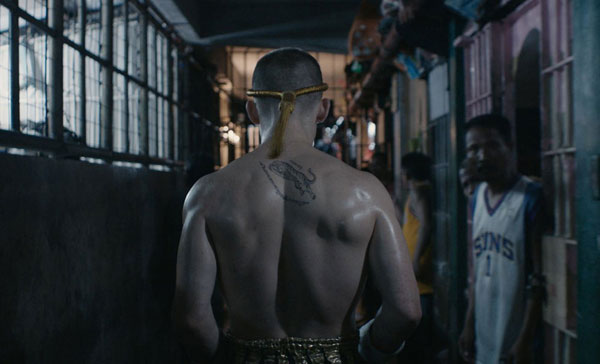 Still from A24's 'A Prayer Before Dawn' (Produced by Nicholas Simon)
When asked more on the role of key learnings as a producer, Simon shared that being a producer "is to have the ability to see 'what's possible and what's not possible," like Simon successfully did as a producer for
A Prayer Before Dawn
.
Simon also encouraged the audience to make mistakes but "never make the same mistake twice," he jokes. "I wish at a younger age I had the knowledge I do now, but that's how it goes." Hinlein agreed and added, "you're always going to be smarter at the end of the day than the beginning of the day."
New York Film Academy would like to thank Nicholas Simon for taking the time to speak with the NYFA global community on his producing career and for sharing his insight into South East Asian film market for The 20/20 Series, created by and moderated by Liz Hinlein.
To watch the full conversation, view the video below or watch on our
Youtube channel
.
These guests are not faculty and do not teach at NYFA, but they have appeared to share their stories and experience with our students. As guest speakers are scheduled based on their availability, NYFA cannot guarantee whether a guest speaker will visit during a student's attendance or who that guest speaker may be. This guest speaker forum is not part of any NYFA curriculum and attendance at guest speaker events is purely voluntary. Students should be aware that guest speaker events do not represent a job opportunity nor are they intended to provide industry connections.