New York Film Academy (NYFA) Welcomes Emmy-Winning Actor Matthew Rhys
July 10, 2019 New York Film Academy (NYFA) was honored to welcome Emmy-winning actor Matthew Rhys to our New York City campus for an insightful, passionate, and jovial Q&A session with NYFA students. The event was moderated by Amy Van Horne, actress and Creative Director of Acting for Film at NYFA-New York.

The Q&A followed the screening of a reel produced by NYFA featuring Rhys' well-known and applauded work in the stage play, Look Back in Anger (with co-star and previous NYFA guest speaker Adam Driver); films The Edge of Love, Burnt, and Steven Spielberg's The Post; and television shows Brothers and Sisters and The Americans.

Rhys won the Primetime Emmy for Outstanding Lead Actor in a Drama Series for his incredible work on The Americans, the FX series about undercover Soviet spies living in the 1980s Virginia suburbs. He was previously nominated twice for the role, as well as a third time for his work on HBO's Girls. Additionally, he received two Golden Globe nominations as well as a plethora of other awards and nominations for both his work on The Americans and other projects.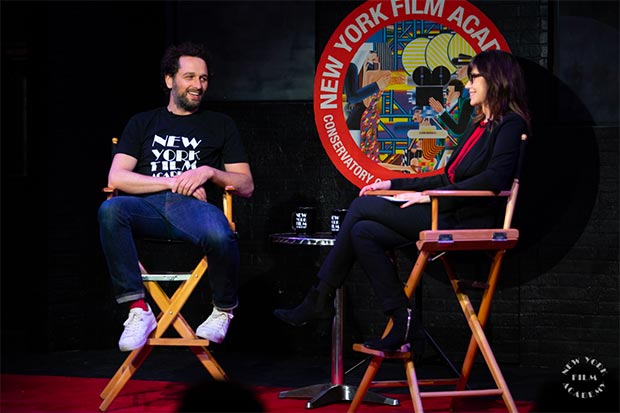 The actor was more than happy to take multiple questions from students, both in the theater audience and from our
South Beach
campus, where the event was livestreamed.
Among other topics, Rhys discussed the grueling process of
acting
with an American accent (Rhys is native to Wales), and said that there are always two things that happen before he recites a line: first, he has to decide if the sound will come out right, and then he has to act the part as he speaks.
Rhys has also directed several television episodes as well as a documentary short. When asked about his role as a director, he responded, "When I started directing, someone said, 'Look, everyone on a film and TV set is obsessed by their tree, and it's only the directors and the actors that will usually have to work with the forest."
"Everyone's obsessed with their tree," Rhys elaborated, "and when you direct, you have to manage the forest and you have the idea alone of what the forest looks like."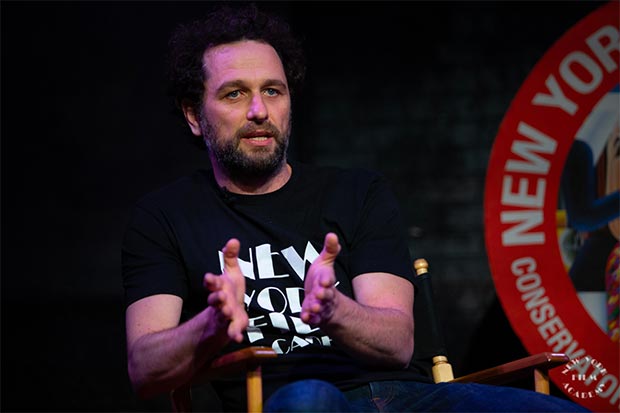 When asked about his favorite director to work with, he said of course that it was the director of
The Americans
, but also elaborated on his experience working with Steven Spielberg on
The Post
. "It was like working with God," Rhys told the audience, "and everyone in the room knew it."
The actor was also asked which was his favorite character to play, and he replied that
The Americans
' Philip Jennings is definitely his favorite, given the complexity of the show and the intricacies of the character. When asked about how he prepares emotionally to get into character—since undercover spy Philip Jennings has so many false identities—Rhys said that he always tries to identify parts of the characters that he shares a truth with to lend a sense of authenticity to each part.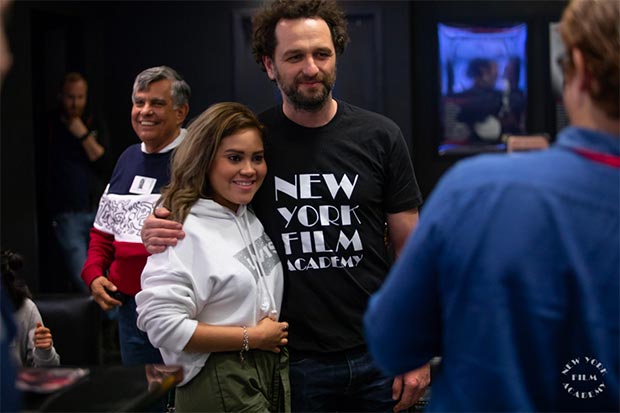 One student asked for advice on
auditioning
. Rhys advised students not to try and show off in an effort to differentiate themselves. Now that he's on the other side of the casting table as a producer on the new
Perry Mason
, he's noted that in auditions that "those who serve the script more than they serve themselves" always stand out.
"Turn up on time, know your lines, be bold, and great gods will come to your aid," Rhys told the captivated audience, sharing the advice once given to him by Sir Anthony Hopkins.
New York Film Academy thanks Emmy-winning actor Matthew Rhys for taking the time to share his advice and experiences with our New York and South Beach students.
These guests are not faculty and do not teach at NYFA, but they have appeared to share their stories and experience with our students. As guest speakers are scheduled based on their availability, NYFA cannot guarantee whether a guest speaker will visit during a student's attendance or who that guest speaker may be. This guest speaker forum is not part of any NYFA curriculum and attendance at guest speaker events is purely voluntary. Students should be aware that guest speaker events do not represent a job opportunity nor are they intended to provide industry connections.