New York Film Academy (NYFA) Welcomes Oscar-Winning Cinematographer Janusz Kaminski to New York City Campus
July 8, 2019 New York Film Academy (NYFA) Cinematography students recently had the chance to meet and speak with one of the industry's most renowned and well-known directors of photography, Janusz Kaminski.

Kaminski originally hails from Poland and only had a handful of cinematography credits to his name when Steven Spielberg chose him to shoot his passion project, Schindler's List. Kaminski's beautiful, mostly black-and-white photography earned him his first Academy Award. To date, he has been nominated for a Best Cinematography Oscar six times, winning again for Saving Private Ryan. Since Schindler's List, Kaminski has filmed many of Spielberg's films, including Catch Me if You Can, Munich, Amistad, Minority Report, and Ready Player One, and is currently working on the upcoming remake of West Side Story. Other notable credits include Jerry Maguire and The Diving Bell and the Butterfly. Kaminski previously spoke with NYFA students at our Burbank-based campus.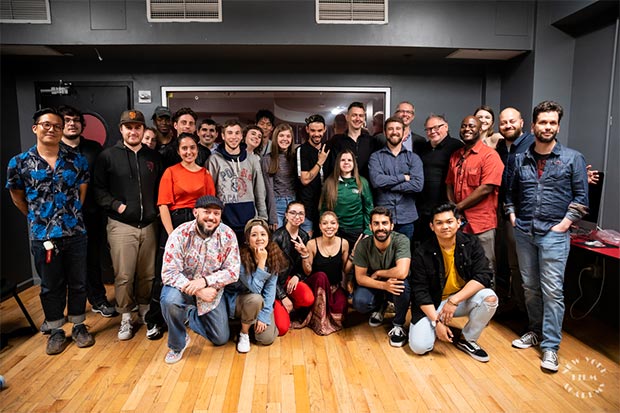 Last month, Kaminski spoke at length with
NYFA Cinematography
students at our New York campus in an intimate setting. He began by sitting down with little fanfare, just inches from the students, and telling them, "I'm here for you, what would you like to talk about?" followed by several questions both technical and related to the profession.
Much of what he covered included the thought process of a professional director of photography, which remains consistent no matter how much success or accolades one acquires in their career.
"The meeting with Janusz Kaminski was an incredible experience for the students and for the instructors that have been able to participate," says Piero Basso, NYFA-NY Chair of Cinematography.
Basso adds, "Apart from the obvious knowledge and life experiences he has shared with us, the key element of his visit was that even a superstar DP like him, on the verge of shooting again with Steven Spielberg, hasn't lost his connection to real life and to feelings that are common to every DP before starting a new job. "To hear him explaining that less than a week away from starting his new movie (nothing less than the remake of
West Side Story
) he is still thinking on how to approach it—and that he has a dose of healthy tension and worries about how it will turn out—is refreshing in a world where you are always wondering if your own choices are right, and often you don't know it until later into the movie when turning back is virtually impossible."
Kaminski also talked to students about taking risks and working hard, especially in finding the proper visual language for each film. He focused extensively on how important it is for students to own their images, to find a language and style that is appropriate for the film they are doing, while always remembering that working fast is absolutely fundamental, as well as keeping an eye on the production aspects of the job.
Since he was speaking with NYFA's highly-trained cinematography students, he wasn't afraid to get into the weeds and talk about very technical aspects of his artistic choices. Kaminski brought up the importance of filtration and the necessity of modifying the images while creating them to match the look and tone the filmmakers are exploring for their movie.
Kaminski also discussed how sometimes lighting is done very simply and almost without any intervention, like in several sections of
Saving Private Ryan
, but how in other situations it becomes very important to use artificial light even in daytime exteriors—for example in
War Horse
, which was often lit in daytime to be able to save the beauty of the light in the background of the characters.
All in all, the discussion was very congenial and lasted nearly three hours. Kaminski stressed to the students the importance of experience and working as much as possible, even if certain projects are low budget and are not going to earn much recognition. He also shared some personal details, including that the work he is most proud of is the film
Munich
, a difficult film that explores complex themes.
New York Film Academy thanks legendary and Oscar-winning director of photography Janusz Kaminski for taking the time to share his expertise and experiences with our NYFA Cinematography students!
These guests are not faculty and do not teach at NYFA, but they have appeared to share their stories and experience with our students. As guest speakers are scheduled based on their availability, NYFA cannot guarantee whether a guest speaker will visit during a student's attendance or who that guest speaker may be. This guest speaker forum is not part of any NYFA curriculum and attendance at guest speaker events is purely voluntary. Students should be aware that guest speaker events do not represent a job opportunity nor are they intended to provide industry connections.