NEW YORK FILM ACADEMY (NYFA) WELCOMES SET PHOTOGRAPHERS NICOLA GOODE AND GLEN WILSON FOR 'THE 20/20 SERIES'
October 9, 2020 On Wednesday, October 7, 2020, New York Film Academy (NYFA) had the pleasure of welcoming set photographers NICOLA GOODE and GLEN WILSON to The 20/20 Series, created by NYFA's Creative Director of Filmmaking and Cinematography Liz Hinlein. The conversation was moderated by Hinlein and was held virtually, allowing individuals to join NYFA and the special guests from all over the world.

The 20/20 Series, created by Hinlein, is a virtual pop-up event that takes us into the homes, hubs, and workspaces of an array of dynamic creative visionaries to allow for relaxed, engaging conversations on craft, creation, and artistic vision.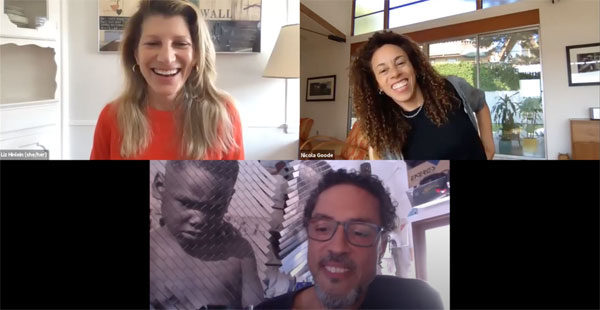 Liz Hinlein, Nicola Goode, and Glen Wilson for The 20/20 Series
Nicola Goode's first on-set job was shooting behind the scenes on the groundbreaking sketch comedy series ​
In Living Color​
. In the years since she has covered over 40 features, documentaries, and TV/streaming productions including ​
The XFiles​, ​Waiting to Exhale​, ​Friday​, Ray,​ ​Tyson,​ ​The Morning Show,
and the upcoming crime thriller ​
The Little Things
starring Denzel Washington, Rami Malek, and Jared Leto. She has worked as a unit still photographer on numerous productions and is a member of the International Cinematographer's Guild and the Society of Motion Picture Still Photographers.
Glen Wilson is a member of the Society of Motion Picture Still Photographers. Notable recent projects include
Harriet, Roman J. Israel, Esquire, The Devil All The Time,
and the upcoming
Judas and The Black Messiah
. Wilson co-directed
Revolution By Design: Spike Lee x Emory Douglas,
a short-form documentary of an informal conversation between Emory Douglas and director Spike Lee.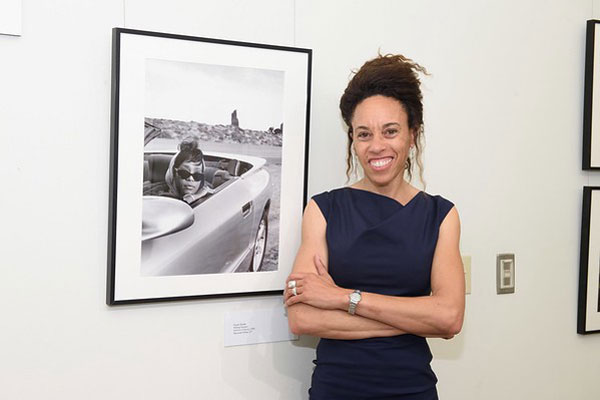 Nicola Goode with her photograph of Whitney Houston from "Waiting to Exhale" (Medium)
Hinlein asked both photographers how they got their start in photography and merged it with their love of film and media. "I grew up in LA and my dad is a producer and director so I grew up around that," shared Goode. "The film industry was creeping into my world but it feels like the same muscle. Being on set is essentially street photography."
Goode got her start on set working in wardrobe and bringing her street photography skills to capturing behind the scenes moments for film and TV sets like
In Living Color
. Wilson, who also focused on photography first, shared that the on-set photography "cross-pollinated" with the other work he was doing.
In terms of whether or not it's important to know the fundamentals of the photography and filmmaking craft, Wilson shared that it is beneficial, but not always time necessary. "I think because you are around so many other creatives, it's beneficial to be able to bring encyclopedic archive knowledge to filmmaking," he began. "If you have a rich set of references to draw upon, it can be helpful." Though, like many artists, some have a natural instinct.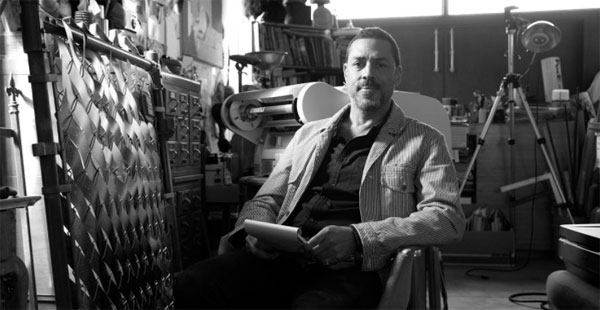 Glen Wilson (Photographed by Jonathan Dawe)
Collaboration is key on set, even for a photographer capturing the moment. "It's such an entry into other worlds and you can't stop," explained Goode. "On the street, you are collaborating with everyone, but on set, you are wearing an invisibility cloak." Wilson agreed, and also noted that being a "ninja-samurai" on set also means you are able to read the room so you can "strike when you need to."
Goode laughed and added that sometimes on set photographers really have to ask for things and work around certain scenarios. "You have to crouch, climb, and more to find the shot. We have to call upon favors with members of the crew, so eventually, the grips and electrics team become our best friends."
New York Film Academy would like to thank Nicola Goode and Glen Wilson for joining the NYFA global community to discuss capturing critical moments behind the scenes for The 20/20 Series, created by and moderated by Liz Hinlein.
To watch the full conversation, view the video below or watch on our
Youtube channel
.
These guests are not faculty and do not teach at NYFA, but they have appeared to share their stories and experience with our students. As guest speakers are scheduled based on their availability, NYFA cannot guarantee whether a guest speaker will visit during a student's attendance or who that guest speaker may be. This guest speaker forum is not part of any NYFA curriculum and attendance at guest speaker events is purely voluntary. Students should be aware that guest speaker events do not represent a job opportunity nor are they intended to provide industry connections.