NYFA curates clips from some of our favorite horror films from all over the world!
You may also like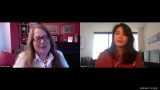 3.17K Views0 Comments9 Likes
NYFA's own Phyllis Tam, who recently graduated with her MFA in Filmmaking from NYFA's Los Angeles campus, was named a finalist in the 47th Annual Student Academy Awards for her narrative short film Fragile Moon. Cr...