South Beach, Miami Campus
Why Study at NYFA South Beach
Located in the vibrant neighborhood of South Beach in Miami, NYFA offers a wide range of degree, conservatory, workshop, and youth filmmaking and acting for film programs. During their time studying at our South Beach campus, students will work and study like professionals, immersing themselves in our tight-knit creative community of aspiring visual artists and performers.
Information about Youth Programs at NYFA South Beach can be found here.
---
Programs
At our Miami campus, we offer a variety of degree and certificate programs, as well as in-person workshops, youth summer camps, and youth workshops. The disciplines available at this campus include Filmmaking, Acting for Film, and Screenwriting (no degree programs available for Screenwriting.)

View all of our available Miami programs here.

Faculty
NYFA's international faculty includes professional filmmakers and actors who actively work in the entertainment industry. Our faculty use their real-world experience as well as the latest best practices of the film, television, and media industries to mentor their students.

Learn more about the Miami faculty here.

Diversity
NYFA is a welcoming space with students from all over the world. The South Beach campus is committed to ensuring strong, diverse leadership, inclusive decision-making, and global citizenship that respectfully welcomes and encourages different points of views.

Read more about our diversity initiatives here.
Campus
Details
NYFA South Beach is located in a modern space with on-campus resources including designated areas for filming, purpose-built classrooms, as well as an editing lab. The South Beach campus also has an expansive equipment office with a selection of professional-grade film production equipment, as well as sets, props, and software.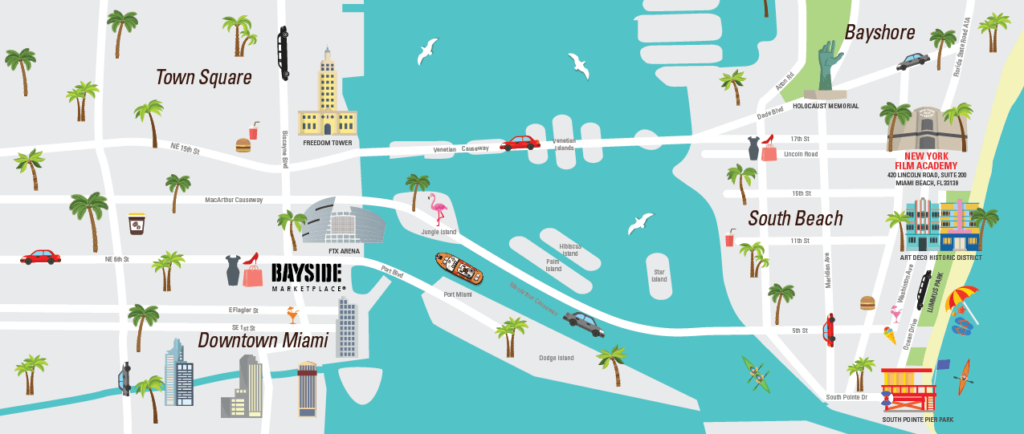 Living at NYFA
South Beach