Study Film, Entertainment, and Media at NYFA Los Angeles
Los Angeles is an energetic city with a long, established history in film, television, and the arts. At NYFA Los Angeles, aspiring actors, filmmakers, and visual storytellers are fully immersed in the entertainment industry, working and studying like professionals from their first day on campus. Located in Burbank, the media capital of the world, NYFA LA is a neighbor to legendary studios, including Universal, NBC, Warner Brothers Entertainment, Nickelodeon Studios, and The Walt Disney Company.
Information about Youth Programs at NYFA Los Angeles can be found here.
---
Programs
At NYFA Los Angeles, we offer a variety of degree and certificate programs, as well as in-person workshops, youth summer camps, and youth workshops. The disciplines available at this campus include Filmmaking, Acting for Film, Producing, Photography, Cinematography, 3D Animation & VFX, Game Design, Documentary Filmmaking, and Screenwriting.

View all of our available Los Angeles programs here.

Faculty
The faculty at our Los Angeles campus includes professional filmmakers, screenwriters, producers, actors, photographers, game designers, and 3D animators who actively work in the entertainment industry, and can share their experience and the latest practices of the film, television, and media industries with their students.

Learn more about the Los Angeles faculty here.


Diversity
With students from over 120 countries, the NYFA community is incredibly diverse. To maintain a safe, welcoming environment for our students, our Los Angeles campus is committed to strong leadership and inclusive decision-making, creating a global community that respectfully considers multiple points of view.

Read more about our diversity initiatives here.
Campus
Details
NYFA Los Angeles is a modern, expansive campus surrounded by some of the best film and production studios in Los Angeles. During their time at NYFA, students can access a plethora of on-campus resources, such as our extensive equipment supply, which includes professional-grade tools and technology from leading brands. Many students will also have the opportunity to participate in production workshops on the prestigious Universal Studios backlot.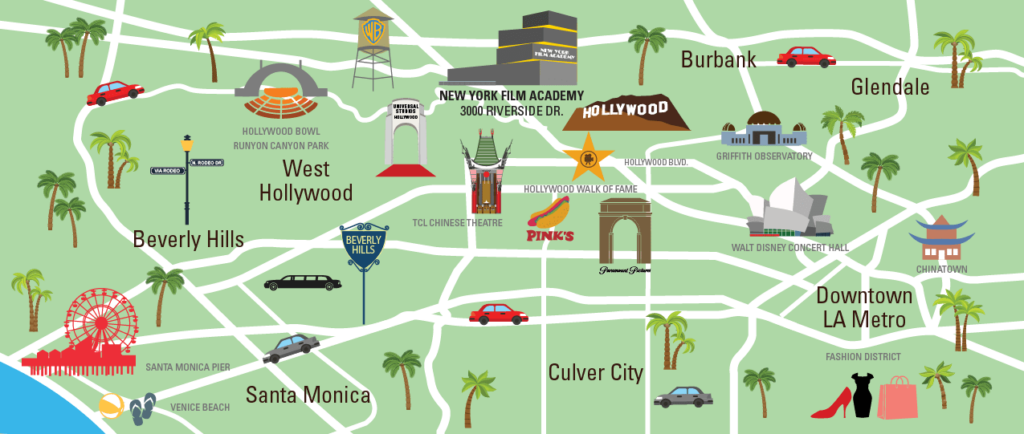 Living at NYFA
Los Angeles
BUREAU FOR PRIVATE POSTSECONDARY EDUCATION
The New York Film Academy is approved to operate by the California Bureau for Private Postsecondary Education (BPPE) "Approval" or "Approval" or "approval to operate" means that the institution is compliant with the minimum standards contained in the California Private Postsecondary Education Act of 2009 (as amended) and Division 7.5 of Title 5 of the California Code of Education. See New York Film Academy's 2021 School Performance Fact Sheet for the Los Angeles Campus and the New York Film Academy – BPPE 2021 Annual Report for more information.
1747 N. Market Blvd, Suite 225,
Sacramento, CA 95834,
Web site address: www.bppe.ca.gov
Toll-free telephone number: (888) 370-7589
Fax: (916) 263-1897