The New York Film Academy congratulates MFA Screenwriting student Ines Carolyne de los Santos Almanzar and her all-NYFA crew for winning the Runner-Up prize in the All Rise Film Competition.
Founded by Simone Benhayon in 2015, All Rise is a not-for-profit organization that seeks to eradicate cyberbullying. Through legislation, reform, and education, All Rise has empowered thousands to take a stand against cyberbullying. Part of their education initiative is an annual film competition that draws attention to many of the issues surrounding online bullying.
This year, the theme of the film competition was "Is Cyber Abuse an International Crime?"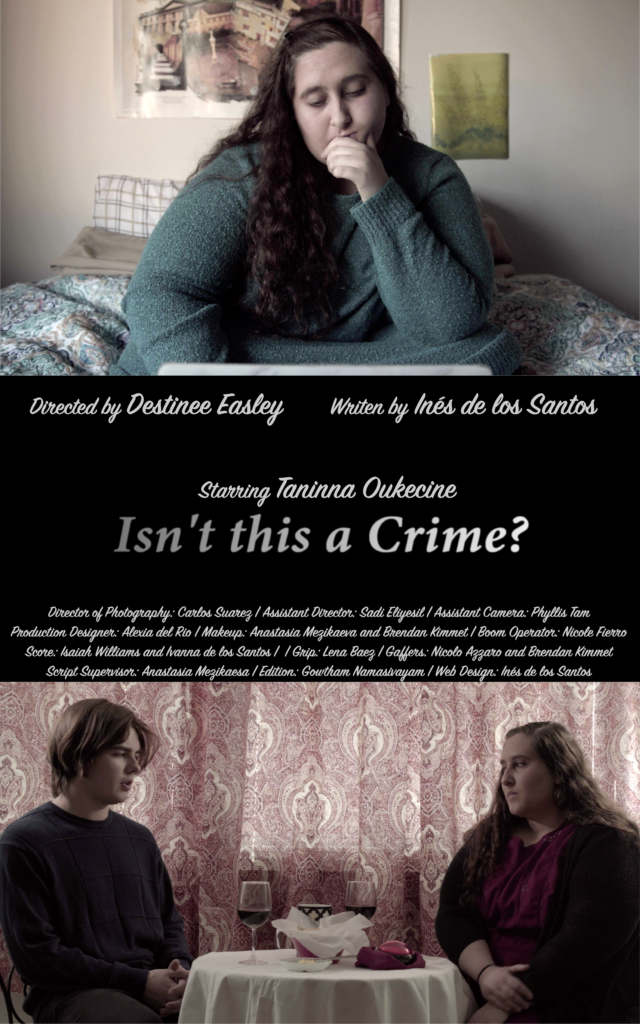 The youth competition is divided into two categories. The first is a children's competition, featuring filmmakers between the ages of 10-15. The second is a young adult's competition, featuring filmmakers between the ages of 16-21. Films can't be more than three minutes in length. Other than that, creators are able to tell their story in whatever cinematic format they chose.
Initially, Almanzar wasn't sure what story she would tell, but she relied on her own experiences.
"I was a victim of cyberbullying, myself," Almanzar said. "I know how tough it can be to survive cyberbullying. You want to ask for help, but most people don't think this is a big issue."
With polls showing that anywhere from 35-50 percent of teens have been bullied online, it is clear that cyberbullying is, in fact, a very big deal.
[su_carousel source="media: 25000,24999,24997″ link="image" width="780″ height="360″ title="no" autoplay="0″]
Almanzar's film Isn't This a Crime follows a plus-size woman as she tries internet dating for the first time. She struggles through date after date. She is told she isn't pretty enough. One man explains that her need to have kids makes her undesirable. Everything from the way she dresses, to her desire to study art, is insulted. Later, the emotional abuse she has endured begins to manifest itself physically as bruises all over her body. When she tries to report the abuse, she's informed that the police cannot help her.
The film is incredibly impactful, and Almanzar's entire crew was made up of current NYFA students and NYFA alumni. Almanzar said she relied heavily on her crew to help complete the project.
When asked why she liked working with NYFA students, Ines said, "Since we're all students we already had a kind of shorthand on set. Communication is vital to the success of a set. We were able to move quickly and resolve issues as they happened."
You can watch Isn't This a Crime and all of the finalist films here:

All Rise Film Competition 2018 Judging Evening from All Rise on Vimeo.
by nyfa