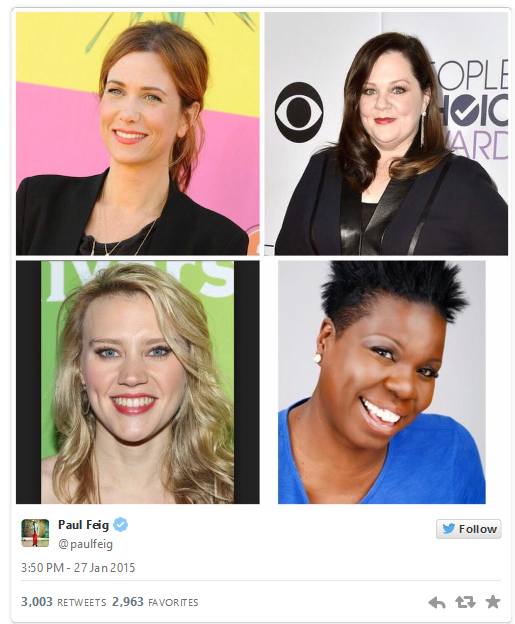 After months of speculating about who would be starring in director Paul Feig's all-female Ghostbusters reboot, the director himself revealed his future 'busters in a simple Tweet yesterday that displayed pictures of Melissa McCarthy, Kristen Wiig, Leslie Jones, and Kate McKinnon. The announcement shows Feig, who's carved out a profitable niche at the box office with his female-led comedies, re-joining with his Bridesmaids star Wiig and McCarthy, who also was in the film alongside the more recent The Heat.
While McCarthy had long been considered a likely lock for the film as Feig had indicated as such, the rest of the cast came as a bit of a surprise in its SNL-heaviness—besides Jones and McKinnon being current members of the show, Wiig is a veteran cast member and McCarthy is a frequent host. What has most surprised industry insiders is that this will be both McKinnon's and Jones' first leading roles in a big budget film, showing a strong vote of confidence on behalf of Feig. However, it should be remembered that the original Ghostbusters cast was also packed with SNL cast members such as Dan Aykroyd and Bill Murray.
The movie is set to start shooting this summer and although The Holly Reporter indicates that Wiig, Jones, and McKinnon are still in negotiations, the fact that Feig made the announcement himself makes the casting seem all like a done deal.
by nyfa