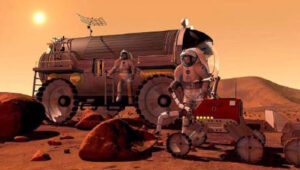 It is either the most ambitious project in the history of mankind, or a brilliant reality television production that has an elaborate hoax at the heart of its marketing plan.
Dutch nonprofit company, Mars One, announced Monday that they have narrowed down 100 final candidates — out of a pull of more than 200,000 — to compete for a chance to get a one-way ticket to Mars.
The field of 50 men and 50 women will be narrowed down to 24 travelers. And viewers will be able to see the process via a reality television show.
As per Norbert Kraft, Mars One's chief medical officer, finalists were narrowed down to the final 100 based on who is most dedicated to the cause, not necessarily who has skills or knowledge most suitable for the trip.
The organization has said the goal is to colonize Mars by sending six teams of four travelers every two years beginning in 2024. And although technology is likely to progress somewhat by then, Mars One has set the lofty goal of colonizing Mars with the technology we already have available.
That seems like a bit of a stretch, as only about half of unmanned missions have successfully made it to the red planet. And if a successful landing were to be made, experts estimate that the travelers would only be able to survive for 68 days with current technology, essentially making this a suicide mission.
The trip would also require an enormous amount of funding. Although Mars One hopes to extract some of that from the reality show they are planning to produce, it would only earn a tiny fraction of the billions and billions of dollars the trip would require.
Whether an actual trip will come to fruition is yet to be seen. We are still a decade away from the planned mission (which has already been moved back once). But one thing is for certain: even without an actual mission launch, we are sure to get a lot of entertainment hoping that this seemingly Sci-Fi story comes true.
by nyfa