Another Successful Year for Nordic International Film Festival Founders & New York Film Academy (NYFA) Alumni
October 30, 2019 Another successful edition of the Nordic International Film Festival (NIFF), founded by New York Film Academy (NYFA) alumni Johan Matton and Linnea Larsdotter, ran earlier this month. This October marked the fifth year for NIFF.

The Nordic International Film Festival is the biggest fest of its kind outside Europe, and features quality work of Scandinavian and international filmmakers in an exclusive, beautifully organized New York setting. NIFF has a mission that goes beyond the average film festival, one that seeks to build bridges between the Nordic region, encouraging and connecting filmmakers from all over the globe.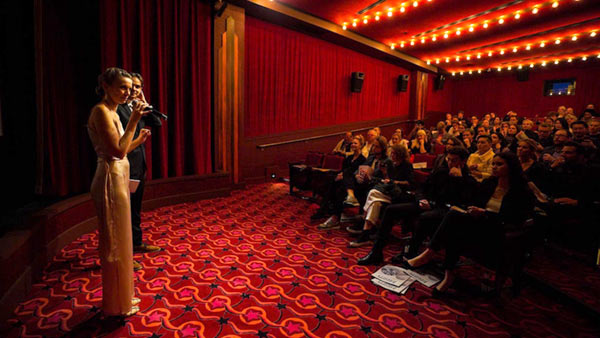 NYFA Alumni & NIFF Founders Johan Matton and Linnea Larsdotter
NIFF has presented diverse independent films with strong characters and storylines from artists around the world, including Oscar-nominated filmmakers, Nobel Prize winners, and star-studded casts, and aims to achieve a 50-50 male/female ratio each year, as well as creating zero non-recyclable waste during the festival while providing only environmental friendly, vegan food and snacks.
NIFF was founded in October 2015 by Swedish-born actors and producers Johan Matton and Linnea Larsdotter, both alumni of New York Film Academy. Matton attended the 2-Year
Acting for Film
conservatory in 2009 at our New York campus, as well as our 2-Day Line Producing workshop in 2018. Larsdotter attended the 2-Year Musical Theatre program at the Professional Conservatory of Musical Theatre at New York Film Academy (
PCMT at NYFA
) in 2010.
Matton and Larsdotter have worked hard to put
NIFF
together while building on each year's success with bigger and grander goals. While speaking to the audience on closing night, Larsdotter highlighted the festival's commitment to
gender equality
in filmmaking: "Here at NIFF it's been our focus since the very beginning, me being a female producer in this industry, I know that there are obstacles we have to face, and I'm so proud to say … in this Official Selection we were 50/50 male and female directors," stated Larsdotter to thunderous applause.
This year's fest
was held at the renowned Roxy Cinema in Tribeca, and ran from October 16 - 20. The week saw a world premiere, six international premieres, two North American premieres, one US premiere, and 11 New York premieres among its multiple programs, with 79% of the official selections including at least one woman in a prominent role behind the camera.
NYFA President Michael Young speaks to the media on the 2019 NIFF Red Carpet
Jury members, hosts, and alumni of the festival included industry notables like Kristin Chenoweth, Bruce Greenwood, Jerome Flynn, Hakeem Kae-Kazim, Veena Sud, Julian Glover,
Lyndsy Fonseca
, and Eric Roberts. Two special awards were given at this year's program: the Nordic Film Grand Prize, which offers a one-week trip to the Faroe Islands, and the International Film Grand Prize, which offers a one-week trip to Finland.
Two additional awards were sponsored by New York Film Academy:
Night Cleaners
by Hanna Nordenswan won Best Documentary Short, while Tia Kuovo, writer and director of
We Retired People
, won the Aurora Borealis Award for Best Up and Coming Filmmaker. Both award winners received scholarships for a 4-Week workshop of their choice at NYFA to advance their filmmaking studies. NYFA President Michael Young presented the latter.
"New York Film Academy is proud to support the Nordic International Film Festival," Young expressed to the audience in a short speech, continuing, "and especially proud of our alumni Johan and Linnea, who created such an extraordinary and enduring festival."
All in all, this year's fest was a great success. "We couldn't be more thrilled to have completed our 5th annual Nordic International Film Festival," says Matton. "With our strongest lineup of world premieres yet and the support from our incredible partners and organizations … this film festival will keep growing--and now with the support from NYFA, so will these incredible filmmakers."
New York Film Academy congratulates NYFA alumni Johan Matton and Linnea Larsdotter on another successful edition of their Nordic International Film Festival, and looks forward to another stunning event next year!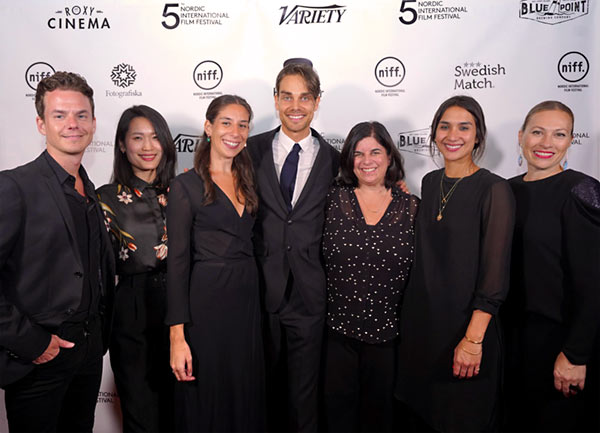 Please note: NYFA does not represent that these are typical or guaranteed career outcomes. The success of our graduates in any chosen professional pathway depends on multiple factors, and the achievements of NYFA alumni are the result of their hard work, perseverance, talent and circumstances.