New York Film Academy Embraces 'Fearless Girl' Statue Outside New York Campus
March 8, 2017 While the New York Film Academy's New York City location at 26 Broadway has become accustomed to the iconic Charging Bull statue at its doorstep, a staple for the Wall Street community, early this Tuesday morning, the students and staff noticed a refreshing addition to the campus — a statue of a "Fearless Girl" standing defiantly in front of the bull, with her chin held high.

State Street Global Advisors installed the bronze statue early on Tuesday morning, just in time to recognize International Women's Day (March 8, 2017). It was designed to call attention to a new initiative by the asset-manager to increase the number of women on their clients' corporate boards.

This initiative goes hand-in-hand with NYFA's support of women in the visual and performing arts. NYFA Vice President of Business Development Elle Bailey notes, "The New York Film Academy is a proud supporter of gender equality, especially in the arts. We have a diverse community and are honored to have many women in leadership roles, who strive to empower our students as they pursue their goals. The 'Fearless Girl' statue is the perfect neighbor for us: a wonderful symbol of that same spirit of strength and equality that NYFA supports."


As a part of NYFA's initiative in supporting gender equality, the Academy has curated thought-leadership and workshop events, featuring such guest speakers and industry leaders as Swedish Film Institute CEO
Anna Serner
and, most recently, Brandii Grace, who was featured on NYFA's gaming program Schooled!, hosted on Twitch. Grace, a pioneer in the gaming industry and current board member of the IGDA (International Game Developer's Association) LA Chapter, addressed issues surrounding inclusivity in video games: "Diversity is about eliminating exclusion, which is a good first step, but it's just a first step. Inclusivity is about making people feel welcome."
NYFA has not only been supportive of its women students and alumni, but has also served as a springboard for talented performers and filmmakers like
Issa Rae
from "Insecure,"
Camilla Luddington
from "Grey's Anatomy,"
Alisa Rajkitkul
and Urvashi Barua, who covered the NATO summit as part of the White House press corps, and
Raphaela Neihausen
, whose short documentary film "Joe's Violin" was recently nominated for an Academy Award.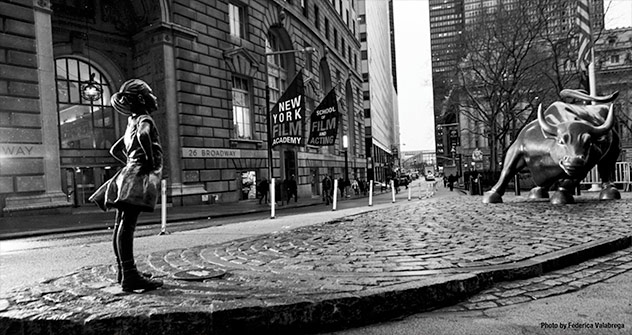 NYFA has established its own women's club,
"Les Femmes du Cine,"
which recently sponsored a trip to the 17th annual Women's Image Awards with club advisor Jesselin Berry and Dean of Students Kelly Gardner. The evening was hosted by Carol Leifer — best known for her writing on "Saturday Night Live," "The Larry Sanders Show," "Seinfeld" and "Modern Family" — and was a star-studded event that celebrated the incredible contributions of women in the industry.
The Academy has also called awareness to inequality for women in the film industry, especially in its Nov. 2013
Gender Inequality in Film Infographic,
which broke down several crucial disparities between men and women in the film industry. The infographic has since been highly discussed on news media sites and blogs, including Time Magazine, The Guardian, The Huffington Post, Salon, as well as being published in UNESCO's Gender Equality Heritage and Creativity issue.
The defiant girl statue will remain with the Standing Bull outside NYFA's 26 Broadway location for at least a week.