New York Film Academy Welcomes Cedric the Entertainer As Guest Speaker
November 15, 2018 On Wednesday, November 7, the New York Film Academy hosted actor and comedian Cedric the Entertainer after a screening of Barbershop (2002). The event was moderated by Tova Laiter, NYFA Director of the Q&A Series, and Amari Agee, NYFA Alum.

Cedric the Entertainer is considered one of the "Original Kings of Comedy" and the roster of his acting credits include The Steve Harvey Show, Barbershop, Madagascar, The Soul Man, The Last O.G., including his current CBS series: The Neighborhood. His universal appeal, versatility, and tremendous career solidified his standing as one of the premier entertainers in the world. In July 2018, he received a star on the Hollywood Walk of Fame.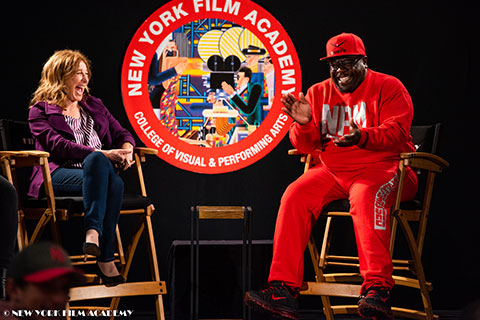 Laiter asked Cedric to talk about how he started in the business. Cedric performed stand-up in his hometown of St. Louis, having been inspired by Jamie Foxx, Martin Lawrence, and Eddie Murphy. "That was how most of us guys came into television and film," Cedric told the audience, "you started by being a stand-up…"
Later in the the Q&A, a student asked about the origin of the "Cedric the Entertainer" name. He fondly reminisced about being booked for a 30 minute stand-up show that paid more but not having enough jokes to fill the time. "I would sing, I would do a poem, I'd play a record, I would do a whole dance routine…" Cedric said to the emcee, "Don't call me a comedian, 'cause I don't have enough jokes. Call me a entertainer."
The name stuck, and the rest is history.
Agee, who now works for the animation studio
Illumination
(
Minions
,
The Grinch
), asked Cedric if he could talk about his experiences as a voice actor for
animated films
. He explained that it was a very different experience because, "it's just you, the booth, the writer, the producers…" rather than being with the rest of the cast.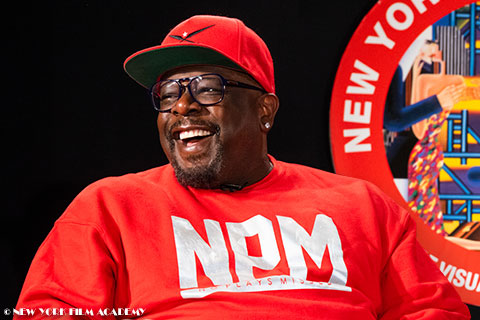 Cedric also spoke to how flexible you need to be for voice over roles: "[The director] says you might be jumping off a building, so do one where you're like 'ahhhh' — but I might have y'all running, so then I want you to breathe with it…. you gotta be willing to go in and out." According to Cedric, the only bad side of voice acting is when the movie ends, they show outtakes of him jumping up and down in an empty room during the credits.
Another student asked for advice on doing his first stand-up set. Cedric told him, "The real thing about stand-up is individuality. It comes from the experience you had, the way that you see life, the way that you can word something… try to take that truth on stage. It's the best thing that works."
The New York Film Academy thanks Cedric the Entertainer for sharing his entertainment industry knowledge and anecdotes with NYFA's aspiring actors and film students!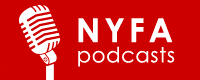 These guests are not faculty and do not teach at NYFA, but they have appeared to share their stories and experience with our students. As guest speakers are scheduled based on their availability, NYFA cannot guarantee whether a guest speaker will visit during a student's attendance or who that guest speaker may be. This guest speaker forum is not part of any NYFA curriculum and attendance at guest speaker events is purely voluntary. Students should be aware that guest speaker events do not represent a job opportunity nor are they intended to provide industry connections.