For some people, the fall season means sweater-wearing weather, pumpkin carving, hayrides, and snuggling under the covers in the morning. For other people, autumn means haunted houses, creating spooky Halloween costumes, and binge-watching horror movie classics. When it comes to horror films, some stand out not only for their ability to terrify their audience but because of the scary movie scenes and performances that leave you sleeping with the lights on.
Scary Movie Scenes & Performances: Our 8 Favorites
An on-screen performance can either make or break a movie—and horror movies are no different. Here are some scary movie scenes and actors with performances that left us shaking to the bones.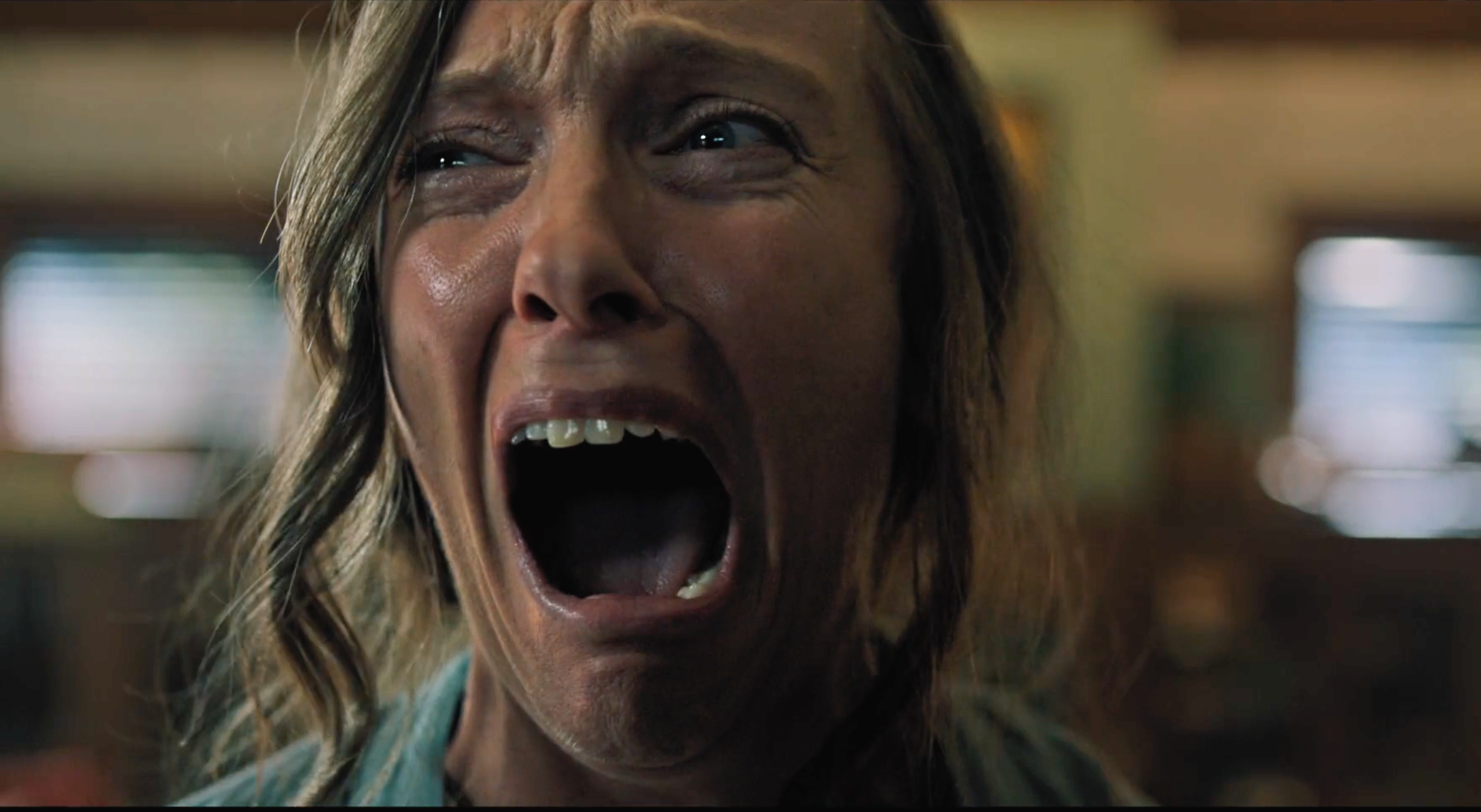 Toni Collette in Hereditary
In 2018, Ari Aster made his feature directorial debut with the bone-chilling, toe-curling nightmare, Hereditary. The film itself will rattle audience members to their core, but actress Toni Collette tackles the role of Annie, an artist turned wife turned mother, without missing a beat and takes her fictional character's inner life beyond the lines of storytelling. Collette's Annie is not just a victim in the film–she's the soul of it, too, and possibly even its devil–she is pure terror. In one scary scene, Collette, possessed, famously crawls across the ceiling. The physical motions are incredibly creepy, which can really make a scene scary. In the first horror movie, for example, a small figure appears on screen and hops around before suddenly vanishing. While simple, the eerie motions are effective.
The film also has scenes that are scary on a psychological level. There is one scene in the movie when Annie tells her son, "I never wanted to be your mother." At that moment, past the heartbreaking cruelty and honesty, Annie slaps her hand to her mouth just a second too late in the realization that what she said can never be taken back. The words she uttered aren't just sadistic; it's sadistic because there is a semblance of truth that is spoken. Collette successfully portrayed the amalgam of backbreaking roles in Hereditary while struggling to deal with traumas left behind by her recently deceased mother. The way that Collette portrays panic and grief in such a visceral way won't be forgotten anytime soon.
Jamie Lee Curtis in Halloween
More than forty years ago, executive producer Irwin Yablans asked director John Carpenter to make a low-budget movie about babysitters getting murdered. Carpenter told The New York Times in 2018, "It was a horrible idea. But I wanted to make more movies, so I said, 'Great!'" One of the greatest slasher villains of all time, Michael Myers, was born. 
Halloween helped launch a career for actress Jamie Lee Curtis, daughter of Janet Leigh, the aforementioned star of Alfred Hitchcock's Psycho. Curtis's teen protagonist Laurie Strode was meant to be an innocent, repressed teenage girl who is quick on her feet. Her inner strength comes out as she's forced to go toe-to-toe with an unstoppable killing machine, and Curtis made the role her own by the end of the first film. Since then, Halloween has spawned several sequels, remakes, and reboots, and Curtis has gone on to reprise the role of Laurie Strode in several subsequent films in the franchise: Halloween II, Halloween H20: 20 Years Later, Halloween: Resurrection, the 2018 Halloween, and its sequel, 2020's Halloween Kills.
The films have some of the best scary movie scenes, from Michael Myer's slow and creepy walking to various jump scares. But in one of the scariest scenes, the finale of the first Halloween film, Jamie Lee Curtis cries as Michael reveals his victims, one by one, then appears from the shadows.
Jack Nicholson in The Shining
Oscar-winning actor Jack Nicholson gives one of the most famous horror movie performances of all time in Stanley Kubrick's 1980 adaptation of Stephen King's The Shining, with multiple iconic scenes including Nicholson smashing through a door with an axe and screaming, "Heeeeeeere's Johnny!"
Nicholson is not only an actor, he's written and directed as well and had the opportunity to write an entire scene for The Shining. He recalls being berated by his wife when he would be at home writing, telling The New York Times, "That's what I was like when I got my divorce. I was under the pressure of being a family man with a daughter, and one day I accepted a job to act in a movie in the daytime I was writing a movie at night, and I'm back in my little corner, and my beloved wife Sandra walked in on what was unbeknownst to her, this maniac—and I told Stanley about it, and we wrote it into the scene."
Pulling from his own personal experiences at home, Nicholson was able to ground his growing supernatural insanity with the foundation of everyday pressures–talk about great acting!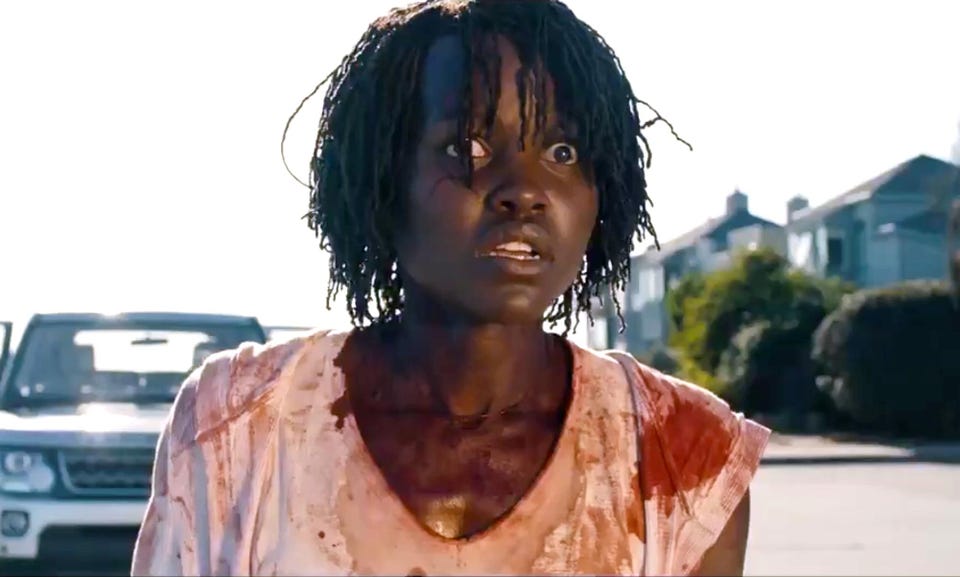 Lupita Nyong'o in Us
12 Years a Slave and Black Panther star Lupita Nyong'o gives a chilling performance in Jordan Peele's Us, his followup to Oscar winner Get Out. Nyong'o portrays both Adelaide Wilson, a mother with an unclear past, and Red, Adelaide's evil doppelgänger. Early in the film, the audience is introduced to Red and her family, who are clad in red jumpsuits and eerily resemble each member of Adelaide's family. The doppelgängers are there to exact vengeance on the Wilson family, but Peele doesn't let the audience know why until near the end. The most chilling part of Nyong'o's performance as Red was her voice. To make her doppelgänger stand out, she created a memorable voice. In a particularly scary scene in Us, Red tells Adelaide her story, which wouldn't be too scary if she didn't have the raspy, menacing voice narrating the tale.
Natalie Portman in Black Swan
Many little girls growing take dance lessons or even dream of being a famous ballerina. In Black Swan, directed by Darren Aronofsky, Natalie Portman portrays Nina, a young ballet dancer with a driving ambition so disturbing it makes the audience uncomfortable. Nina is a perfectionist willing to push herself over the edge for the sake of her art. In order to bring the prima donna to life, Portman spent hours a day training with the world's best dancers, coaches, and teachers. Portman's performance as the dancer who falls into madness is so convincing that it's hard to remember that it's just fiction.
While Portman may not be able to completely relate to the dancer's obsessive ambition, there is one thing Portman shares with Nina–Portman told Vanity Fair in 2011 that there is a connection between the actress and her character: "The quest for perfection and the need of an artist to sort of please yourself and find your own way, not to be just trying to please other people." 
In her quest to have the perfect performance in Swan Lake, Nina begins to pick and claw at her own skin. These moments don't have the same oompf as a jump scare but are disturbing and uncomfortable to watch.
Sissy Spacek in Carrie
A lot of people don't recall their high school days quite as fondly as others may. Brian de Palma's Carrie, released in 1976, plays on that teenage angst to an extreme degree in this Stephen King adaptation about a young abused girl who possesses very strange and terrifying powers. Actress Sissy Spacek portrays Carrie, and Piper Laurie portrays Carrie's religious fanatic mother. 
At 27 years old, Spacek received an Oscar nomination for the role of Carrie. The audience can feel Carrie's desperation and insecurity in every scene throughout the movie. Spacek was able to show the audience what everyone feels at some point in their life–feeling like an outsider and not being able to fit in. As a teenager, it can be very traumatizing not to fit in. Spacek was able to successfully deliver a frightening performance of a variety of emotions, including a great deal of frustration and fear. By the time of her–and the film's–violent climax, the audience can see exactly how and why Carrie has been pushed to such a point. It's one of the most iconic scary movie scenes of all time.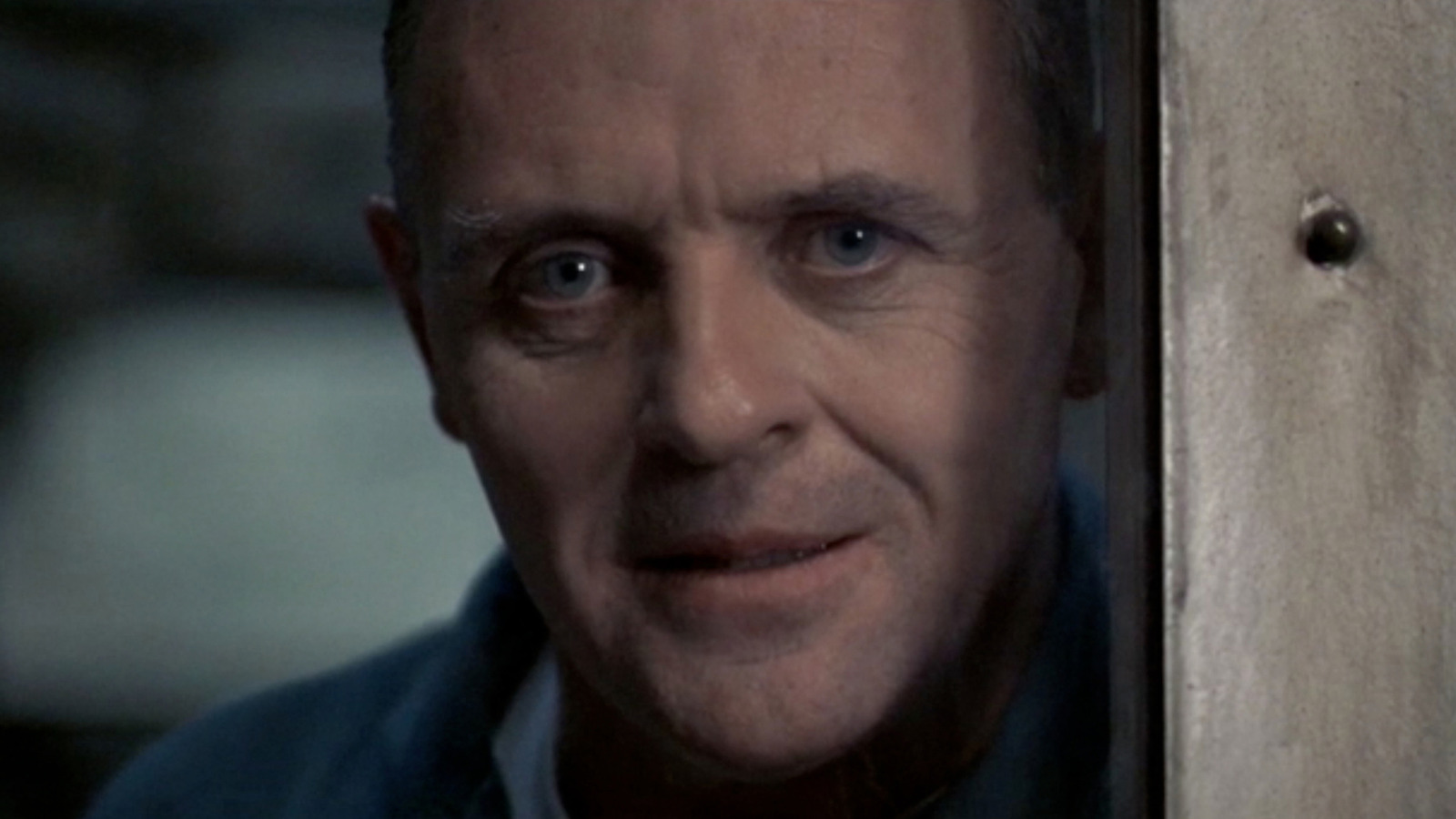 Anthony Hopkins in Silence of the Lambs
Anthony Hopkins was only on screen for 16 minutes as convicted serial killer Hannibal Lecter in the 1991 classic Silence of the Lambs, but his performance was so memorable and superb in that brief amount of time that Hopkins ended up winning an Academy Award for Best Actor. In one of the most unsettling scary movie scenes to date, Lecter speaks to Senator Martin through the infamous hockey mask, complimenting her suit. It's one of many terrifying performances in the film.
Additionally, throughout the movie, the audience is fed bits of information that helps heightens Hopkins' on-screen performance and make Lecter more grounded as a character, even when he's not on screen. To the audience, Lecter is a villain yet not the villain–a mentor, maybe even a friend to the protagonist FBI agent played by Jodie Foster, but an opponent to her as well. The ability to portray a complex and technical character demonstrates why Hopkins was worthy of an Oscar for this role. It's worth noting that Foster received an Oscar for Best Actress for her role in the film as well.
Anthony Perkins in Psycho
A good horror or thriller doesn't need to depend on violence, gore, or the supernatural to make it successful–or scary. Alfred Hitchcock's Psycho, featuring Janet Leigh and Anthony Perkins, is a testament to that fact. In an interview with The Record in November 1990, Perkins, who portrayed the titular killer Norman Bates, said, "There's no place to hide in Psycho."
Perkins made his fame by playing the deranged motel owner and went on to play Bates in several sequels. As a product of being a tormented child in Hollywood, Perkins was able to take his experience and pour it into his acting career–especially in roles where he needed to portray the darker side of nature. He played the role of the tense and repressed man well because he drew from personal experiences. Despite being soft-spoken and eerily calm for most of the movie, Perkins made Norman Bates one of the most famous and frightening horror movie monsters of all time. In all of the scenes on this list, the Psycho shower scene definitely tops as one of the best scary movie scenes of all time.
Making and Starring in Scary Movies
Whether you're new to the art of filmmaking or looking to improve your acting chops, one of the best things you can do is watch horror films. By studying memorable scene work and performances,  you can practice your own techniques and tap into your own terror.
by nyfa