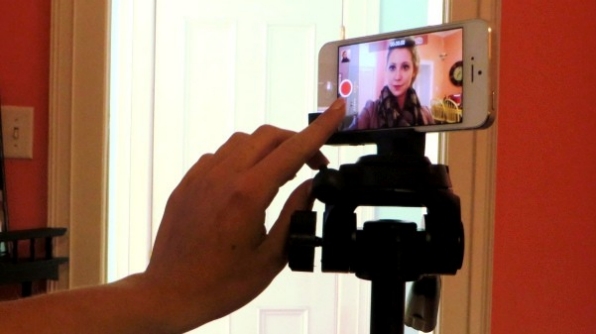 Most broadcast journalism students who want to pursue an on-air career make an audition video in their senior year, prior to applying for jobs in the industry. (These are sometimes called audition or demo reels, although those technologies have been replaced by DVDs, uploading your video as part of an online submission process, or providing a link to your work.) You'll have more footage to work with after you have produced several projects. Still, it's never a bad idea to start thinking about the kind of footage you want to use. You might want to record some special material—in particular, stand-ups—for use on your audition reel.
Keep it Short
Most audition videos should be no more than four or five minutes, although two or three minutes is acceptable and sometimes preferable. Station managers, news directors, and other people who make hiring decisions at TV stations are busy people with many other job functions. They also receive, on average, dozens or even hundreds of audition videos every month (this varies a bit depending on the size of the station). In the spring, when most journalism students graduate, that number increases. The bigger the station, the more videos they have to sift through.
What does that mean for you? It means some hiring managers may not have time to watch every audition video. They may choose some to watch based on the attached resumes, so it's important to make sure yours is in good shape. It's a good idea to ask a professor, if he or she has time, to look over your resume and make suggestions. Make sure to include any work you did for the school's TV or radio station, even if it was unpaid or required for a class. Also include any internships, and part-time or summer jobs at local broadcasters.
Assuming the person in charge of hiring decides to watch your video, he or she probably won't view the whole thing. Again, people in those positions are busy and overwhelmed with audition videos. Even if they like you, they'll probably just watch the first 30 or 60 seconds, or they may fast-forward to the next clip to see if there's anything different on the video.
What Does That Mean for Me?
That means it's important to grab your viewer's attention right away. Some professors recommend putting a slate (also known as a graphic) at the beginning and end with your name and contact info. This doesn't have to stay up for more than a few seconds at the beginning—if interested, a hiring manager can always rewind and freeze the frame.
The first piece of video that rolls should be your best work. In three minutes, you could put six thirty-second packages on your tape, or four thirty-second packages and two sixty-second stories, or various other combinations. You can also include a montage of stand-ups and live shots. If you think some of your packages are slightly better, you should start and end with the best ones.
How Do I Decide?
This can be a tough one, especially if you have regularly appeared on a school TV station, and make a point to save a copy of all your videos. There may be some you can rule out right away—ones where you stumbled on a sentence, or experience technical difficulties, for example. (Of course those things happen in television and provide good learning opportunities, but they shouldn't be on your audition video.)
You should also make sure you were professionally dressed in any video you're considering. Most students have at least a few clips of themselves in jeans and a t-shirt, because it's easy to forget you're going to shoot a story or anchor the news at your school TV station later. You may also have outdoor videos where the wind has messed up your hair, tugged your tie crooked, etc. Those shouldn't be on your audition reel either.
Audition video footage should show you in the type of clothing you'd wear to a job interview—a suit jacket or blazer, dress shirt or blouse, and matching pants or skirt. Not all TV stations require men to wear ties on-air today, but it won't hurt to wear one. You might be able to get away with wearing flip-flops if your feet don't show in the video, but remember you'll be expected to wear real shoes to work when you get a job. In general, it's a good idea to avoid t-shirts, tank tops, jeans, shorts, sequins, and anything you would wear to the beach or a nightclub.
Keep in mind that most TV stations won't hire someone with purple hair, a nose ring, or a lot of highly visible tattoos for an on-air position. Of course you have the right to express yourself, and you could argue that a reporter with unicorn hair is just as skilled a journalist as a reporter with a more traditional hairdo. You'd probably be right—in fact, you might even be able to find a person with green hair and a nose-to-ear chain who can out-investigate someone who looks like a clone of David Muir.
But, whether you like it or not, TV hiring managers will pass up anyone who doesn't fit with the image they want to project for their stations. You could argue that they should care more about journalistic skill than conforming to an image, but the fact is most broadcasters care about both when making hiring decisions.
Buying professional-looking clothes can be expensive, and not everyone can afford it after paying for tuition, books, etc. Thrift stores sometimes have gently-used career clothes at a low cost. You might also be able to borrow a suit jacket from a friend before going to shoot something for your campus TV station.
Variety is a Good Thing
If possible, you should show clips of yourself both anchoring and reporting. Also try to use video in different locations—maybe one outdoor shot, one at the news desk, another at an indoor news scene. Try to make sure you're not wearing the same thing in every clip you use—that tells the hiring manager you shot a bunch of stuff in one day to make your audition reel, and you don't have much experience.
A variety of news topics is also a good thing. You should have some serious stories—about the economy, politics, or crime, for example—interspersed with more lighthearted, or even humorous, topics—sporting events, local fairs/carnivals, concerts, local person who did something unusual or set a record, stories about animals, etc. This shows that you're versatile, and a less serious story is an opportunity to prove you're able to try new things and poke fun at yourself—say, letting a monkey climb on your head at the local zoo. Being a good sport is an important part of being a journalist.
Audition Videos Aren't Just For On-Air Positions
If you seek a job as a producer, newscast director, photographer, or one of many other off-air positions, you should have video of newscasts you produced, directed, etc. You will need to explain in your cover letter what you contributed to the video you're submitting. For example: "I've attached a sample of three packages I shot, then edited per the reporter's instructions." By being precise and to-the-point, you'll grab the attention of a potential employer while showing off your diverse strengths.
by nyfa