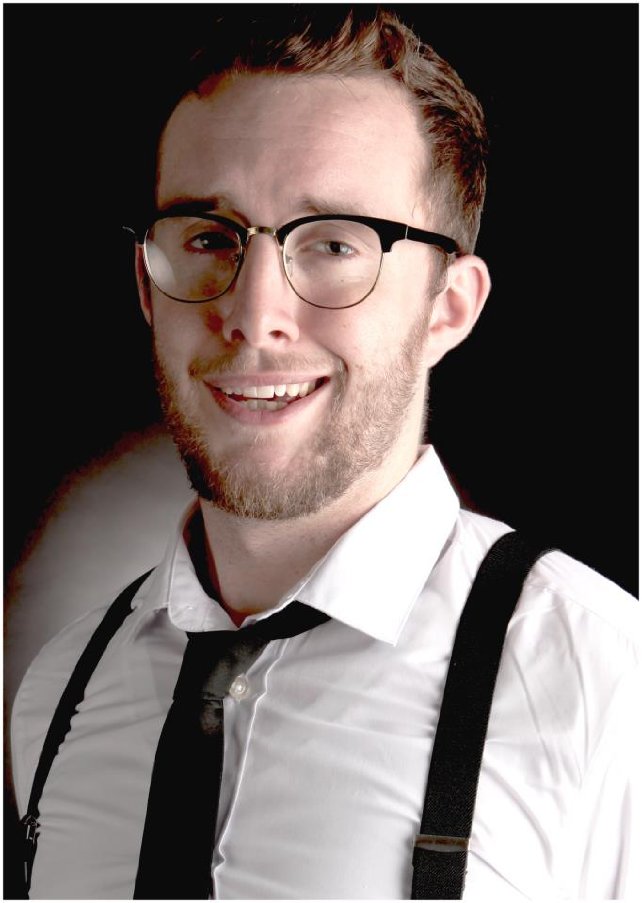 NYFA: Can you tell us a bit about yourself, your background, and what first got you interested in acting (and graphic design)?
Corey Scott Rutledge: I grew up in Southeast Michigan. About fifteen minutes west of Detroit. My dad worked for Ford Motor Company, my mom worked in graphic design. I have a couple sisters and have had a parade of dogs growing up. Although most of my time was spent playing sports through school, my free time was spent creating through a variety of mediums. I made really bad, cheap short videos using my family's digital camera. I once made a full recreation/production of Mortal Kombat with one friend of mine. Literally all the best fights were planned around my house. Ending with a climactic finale next to a pool. We edited in camera and at the time we thought it was the best thing ever made… It was not but the amount of creativity that went into the costumes, blocking and acting was pretty hilarious. I wonder if my neighbors ever wondered what we were doing.
Growing up at the time when cameras were becoming easier to use and the internet was becoming something you start to share your creations, it definitely impacted me to keep my creative juices flowing. Originally in high school I had a few different plans for life. Part of me wanted to try and pursue an athletic field while another part of me felt drawn to the military. It was a very confusing time in my life. The end of senior year I took a graphic design course and completely fell in love with the technology.
Although I was still unsure of what I wanted to do, I knew I had some talent or at least passion to do something with this new appreciation I found on a computer. I bought myself some time and enrolled in a small college to see where this would take me. I was pretty surprised to see how boring it could get. Although I loved constantly creating new projects and imagery, the business and technical side of it got to me. I wasn't having fun, it was constantly dealing with people who didn't feel passionate or stimulated about what they were doing. The week of graduating, I literally sat in the computer lab once again thinking about what I wanted to do. Did I really see myself sitting behind a computer for the rest of my life? What made me happy? The answer was actually always under my nose and in front of my eyes EVERY night.
I used to bartend near my college. After my shifts, most of the time I'd stop at this cheap DVD rental store and buy their "4 DVDs for $20" deal. I bought a ton of movies and every night I watched a different one.
So back to the computer lab. I sat there and just started questioning if that was even possible. I knew nothing about making movies other than how to block a Mortal Kombat finishing move next to the shallow end of a pool. I found NYFA online. Started researching it. It looked like a good fit for what I was looking for since I was inexperienced, coming from a completely different field.
In the beginning I originally was signed up for the filmmaking program but with my list of student loans and expenditures, I settled for the next best field to just get me to NYC, acting. I had no experience with any legit productions or shoots. I never auditioned, rehearsed or even memorized lines for anything BUT I felt like I just needed to get to the city and then see what was possible. It was the scariest and best decision I've ever made.
NYFA:  Was there anything particularly memorable – that stood out to you – about your time at NYFA?
CSR: There were a lot of moments that stood out. I think the most important and effective thing that happened to me there was meeting so many different people and networking with them. The majority of those I work with now, I met through the academy.
NYFA: You started a pretty successful sketch comedy group that has generated a lot of online views and buzz. After 6 seasons of The Shorts Show, is there any one video that was your favorite? 
CSR: The Shorts Show was a direct result of leaving NYFA and wanting to continue keeping busy and creating. I think the one that stood out for me was our Game of Thrones "Dragun Control" video. This was at a time that the show was entering the "third season" and morale was low considering the views weren't there. There wasn't a lot of hype.  A lot of people we used to work with dropped out or stopped participating all together.
Anyways, the idea called for a BIG set, BIG costume design, and a bunch of other ideas that I was way over my head with. I knew the concept was good (juxtaposing gun control debate with pop culture / game of thrones = draGUN control)
So I start sticking the feelers out there with everyone. Who could help make it happen? I asked some people who had interest in set design/creation about what it could cost me to make it cheap. They quoted me some crazy number so I didn't bother them. At this point it became a personal test of will. If I gave up on the idea, I felt like I may as well give up altogether on the show. I chose instead to do most of it myself.
I got the green light from my boss, Daniel Dacian of bigapplefilms, to construct my own set in his studio. I was able to collect a bunch of V-Flats from another friend, Roberto, to make the set construction. I contacted Brusan Molding Cloth and proposed making a co-production/trade of services. I made them a promo video to show the behind the scenes of using their cloth, which was used to make the ice walls and rock flooring. I went to a fabric store and made all of my own costumes. I constructed and painted an entire set with zero experience other than being stubborn as hell to prove to myself I could do it. (thankfully a couple people showed up the 2nd day of construction and helped me finish the painting which was a pain in the ass)
In the end though, it was clear that I was capable of taking matters into my own hands and without a doubt the final was far better and rewarding knowing I made it myself. (side note: I'll never do that again 🙂 )
NYFA: You've had a good bit of media exposure for your skits – be it for your Westboro Baptist Church dating site skit or your more recent Matthew McConaughey parody. For people looking to get a bit of their own exposure, how much of your exposure is organic and just a matter of good work, and how much is a concerted PR effort on your (or your team's) part?
CSR: The Westboro Mingle video was the first video to actually have an organic "Viral" reaction. Ironically it was also one of the most inexpensive sketches we've ever done. Through that organic reach, I was able to obtain some great contacts to send our later work out to, which has resulted in some very amazing press.
Thankfully, when people Google us, they do find a lot of results so it's made introducing and networking a little easier for me when I bother new writers/editors in hopes of them sharing our work. If you know any good people, send 'em my way. We're looking to expand.
NYFA: The internet and new media have obviously had a big impact on your success. Do you approach online projects differently than you would a typical film?
CSR: I definitely approach The Shorts Show online projects differently. Most of these shorts are written, shot, edited and released within a week or so of their initial concept. This is to keep things as topical as possible. It's a very hectic timeline and you're able to be a littler wilder and outside the box in your preparation and execution to make sure it gets done.
For film, I absolutely do not rush anything I do. I've been working on a collaborative anthology feature film called PRISM with many of Shorts Show directors. For the last six months I've rewritten my script close to twenty times. I've cast, recast, dropped cast, re-recast, relocated and rethought my story so often that I may go mad.
At the end of the day I feel like the stakes are higher for film and nothing can be rushed. I'm becoming obsessed with making it as good as can be and I can only hope it comes out that way.
NYFA: You also have a "gig" as managing director of bigapplefilms. How does this role help you in your creative pursuits?
CSR: Bigapplefilms has been a great foundation for me here. I started working for Daniel Dacian in the city just after NYFA. I had collaborated with him numerous times before we worked on the NYC 48 Hour film project, which ended up winning "Best Picture" that year. Since then, bigapplefilms has been directly responsible for The Shorts Show's existence through gear rentals, editing, and allowing me to continue pursuing its future. It's been a wonderful collaborative environment.
NYFA: You've gotten back into graphic design pretty heavily with your poster art. Is design something you have been doing continuously, or is it a passion that you have recently re-kindled?
CSR: I've been working on posters since being in NYC. Most of these were under the radar since I worked on friends short films designs as favors. Since so many people are always looking for an idea for their films, I kind of wanted to return to my roots and explore other ways of contributing to projects.
NYFA: Is one art form (acting vs graphics) more rewarding for you than the other? How do the two interact?
CSR: I think acting is far more rewarding. The amount of prep work and cooperation on a film set to make one scene is something that can't be beat for me. I think the design element is a great complement to film/acting because it also helps establish an identity for a performance or film's entire feel.
NYFA:  What role did attending NYFA's 2-year acting for film program have in where you are today with everything you are doing (be it your acting, job, graphics, or otherwise)?  
CSR: I think the role of networking is what really allowed me to continue this path. I don't necessarily think ALL good actors get work, however, ALL good networkers do.
I've been lucky to be able to pursue acting with a different approach. Through making my own projects with the show, I've had the freedom to build a resume/portfolio that has landed me numerous new opportunities.
NYFA: With everything you are currently juggling, what is your ultimate career goal? 
CSR: Ultimate career goal….. Hmmmmmmm. That's tough. I'd love to make ten feature films 🙂 But I break down most of my goals for one year for now.
For 2015, I'm planning on creating a new series under The Shorts Show that we are going to be pitching around the summer time. My goal is to finally get our tremendous cast and writing team discovered by a larger market and our show "picked up" so that we can focus more consistently on one single project.
NYFA: Any parting words of advice for aspiring actors, graphic designers, or artists in general?
CSR: I made a list. Hopefully something helps.
MAKE SOMETHING… ANYTHING.
Don't believe 51% of the "bullshit." Most of the people you meet are going to "talk" about opportunities. Find the people who are really doing them. Volunteer your time. Help them. You'll never be let down when something doesn't pan out. If 51%+ of everything I heard since moving here came true, I'd have three shows on HBO, two shows on Comedy Central, three million dollars and the cure for cancer.
LEARN YOUR LINES! NO EXCUSES.
Don't be a dick on set. These people will be the ones hiring you next time and just because… it's better not to.
GO TO SEE YOUR FRIENDS' LIVE SHOWS! They'll remember.
Do FAVORS. Most projects are made from favors.
PAY PEOPLE ON TIME. They'll remember.
Don't buy pizza on set unless EVERYONE is okay with it.
Refer your friends for jobs.
DON'T BE LATE TO SET!!!! You will instantly be that asshole. Hard to shake that unless someone buys pizza.
Save your money. Drink at happy hours. Remember bartender's names. They'll reward you eventually.
Don't get wasted and fall asleep on the subway. You may wake up in Coney Island covered in snow. (True story)
Don't forget a good idea. Use your notepad.
Don't be deterred by prices/money/quotes/inexperience.

by nyfa