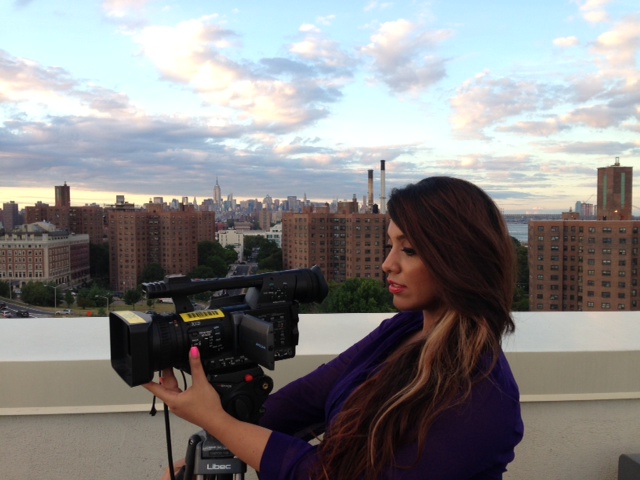 NYFA: Can you tell us a bit about yourself, your background, and what first got you interested in broadcast journalism?
Sheri Jamkhou: I was born in Dubai and lived most my life growing up there. The city is well known for its architecture, malls, souqs, and desert safari's.
Now when I go back and walk around I hardly recognize it compared to 10 years ago – the city gets better every time I go back! I believe Dubai is the best place for living a modern life while keeping traditions in place and that's why I love it. It's a very multi-cultural city.
When I first started working as a journalist, that's when the media industry just began booming in the region, so I was blessed to be able to start during that time. Before I started working as a reporter at Dubai One TV, I lived in Canada as well.
NYFA: So you've lived in Canada, lived and worked in the United Arab Emirates, and went to school in New York. How much of this was life circumstance, how much of it was desire to move around, and how does all that travel play into your career as a journalist?
SJ: I love traveling. It's my hobby, my passion, my pass time…whatever you want to call it.
Most of it was the desire to move around. And of course once I got to New York City I fell in love – with the City of course.
Traveling helps when it comes to writing and journalism. Being around people from different walks of life really helped carve out my career as a journalist. For example journalism styles vary in the Middle East as opposed to the United States but there are also many similarities.
NYFA: So there is a difference between the process of journalism in the UAE and America?
SJ: The process of journalism definitely does differ in the two regions.
For instance, in the UAE there are different guidelines that journalists need to abide by due to the culture in the Middle East. For example, when filming one should be mindful of what they are filming and the content shouldn't be disrespectful to the population. Dress code is important as well.
However, in the United States there are less restrictions in terms of content. But with that being said, I respect the traditional boundaries in the UAE – I find that respectful.
NYFA: You studied business, and even received a Master's degree in International Business. Do you ever lean on what you learned as a business major for your journalistic endeavors.
SJ: Business is what I thought I liked most and actually I was interning at the marketing department of Dubai One TV when they launched Emirates News, which back then was a new TV program to be launched.
The producers saw me and recommended I try out – and I did. After that, business hasn't been as much of a priority as journalism.
I'd say travel played more of an important role when it comes to being a journalist but business helped too, in terms of dealing with people and conducting interviews, because its very similar to conducting market research for example.
In business studies you learn about how to deal with people from different cultures which also helped.
NYFA: You were already working as a journalist for Dubai TV when you decided to go back to school and study broadcast journalism. Why did you make that decision?
SJ: I always felt like its important to have a degree or a diploma to support what you do as work. It makes you more credible in the industry.
NYFA: What made you choose the New York Film Academy to pursue those studies?
SJ: I like that the New York Film Academy had a course that was less than a year with professors being industry experts. I learned many new things from each of my professors.
The New York Film Academy also helped a great deal with sending out emails and employment opportunities which to this day are helpful. The Academy helps when it comes to building your contact list – which is a very important tool when it comes to success.
NYFA: Was there anything particularly memorable – that stood out to you – about your time at NYFA?
SJ: NYFA changed my life. It helped me learn about journalism through a different light.
Like I said earlier, the professors were from the industry. We had teachers who were filming documentaries and producers from ABC news, for example. These were people who do this everyday as a job and that opportunity to work with them increased my confidence as a journalist.
NYFA: What should students do to get the most out of the journalism program?
SJ: Students need to make sure to attend all the classes at NYFA. Every class taught me something, if not a few valuable lessons.
For instance, before my studies I was a full-fledged reporter but I didn't know how to edit or use a camera. Now I have those qualifications too.
Also, working with other students from across the world gives you a different angle and teaches you new techniques. So I'd advise students to integrate and be 100% involved.
NYFA: What is you ultimate career goal?
SJ: My ultimate career goal is to work as a reporter in New York City for a well known news corporation – that would be my dream.
NYFA: Any parting words of advice for aspiring journalists?
SJ: Journalism is a passion, its not a job. If you don't like it, don't do it just for the sake of being on television or having your name published.
Work hard, read the news everyday, and improve yourself in every way that you can because its a competitive but highly rewarding experience.
by nyfa