US Navy Veteran and recent New York FIlm Academy (NYFA) Broadcast Journalism and Documentary Filmmaking graduate Clyde Gunter is starting a 13-month paid, full-time Leadership, Exploration and Development Program next month at ESPN. While there, Clyde will spend time assigned to various departments across the company, learning the ins and outs of the sports media giant and, at the conclusion, he will be given an opportunity to join the ESPN staff full time.
New York Film Academy spoke with Clyde about his experience at NYFA, where his inspiration comes from, and what he has planned for his new position and beyond: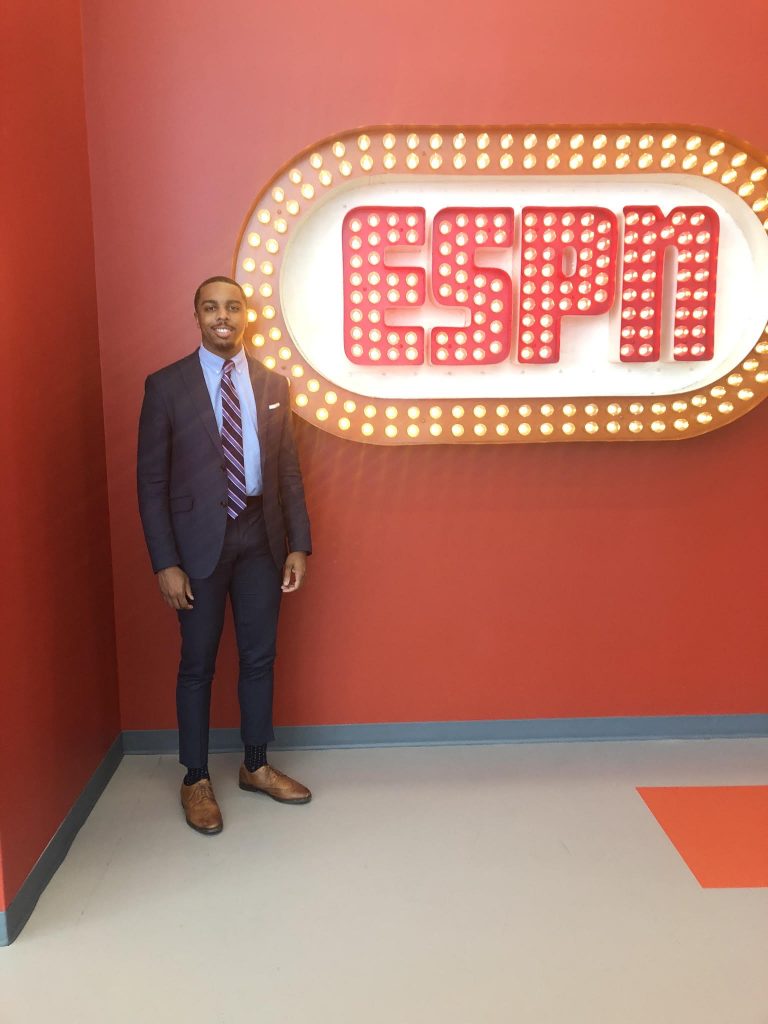 New York Film Academy (NYFA): First, can you tell us a bit about yourself, where you're from, and what brought you to New York Film Academy?
Clyde Gunter (CG): I'm a 27-year-old multimedia journalist with a strong interest in producing content in the documentary format. I was born and raised in Southern Virginia. At the age of 19, I enlisted in the United States Navy where I served five years of active duty, working in operations intelligence and planning and tactics. My first three years were served in Nagasaki, Japan, and my final two years were spent in sunny San Diego, California. 
While enlisted, I developed an interest in still photography which led me to want to study the art form. However, because freelance photography didn't seem financially viable, I decided to explore another interest of mine, video journalism, which led me to the Broadcast Journalism program at New York Film Academy. 
NYFA: What inspired you to study both Documentary Filmmaking and Broadcast Journalism?
CG: I was initially inspired to study Broadcast Journalism by the personalities and journalists in black media, specifically a journalist who worked in front and behind the camera for Complex networks. I said to myself, "That's something I want to do with my perspective of my culture and our music," so I researched their backgrounds and saw that they all studied journalism or communications. So I came to NYFA to gain the skills necessary to do what they do. 
As for Documentary Filmmaking, I was recommended by my editing teacher to consider expanding my abilities and further develop my narrative knowledge through the NYFA Documentary program. This decision really helped me strengthen my sense of storytelling  and understand what it takes to produce truly compelling work. 
NYFA: Can you tell us about your new position at ESPN Next and what the process was like in being selected for the program? 
CG: Through my new position at ESPN, I will be working as a production assistant and will have the opportunity to spend two six-month rotations working in two of six production areas: College Sports, Daytime Entertainment, Sportscenter @ Night, NFL, Live Events, and ESPN International & Deportes. The process consisted of three separate interviews: a phone interview, sports highlight assessment and a "Talent Day" that required me to visit ESPN's main campus in Bristol, Connecticut and meet with a group of HR managers and ESPN employees. 
NYFA: What are your goals within your next position, and what's next?
CG: My goals while I'm in this new position include excelling at the basics of my job requirements while diversifying myself as a veteran and employee of color that mentors fellow employees (vets and non-vets). I also plan on helping to organize initiatives within my respective employee resource groups within the company. 
NYFA: What other projects are you working on or do you plan to work on?
CG: I'm working on further developing and producing a feature-length documentary, along with a limited television docuseries that centers on the racial bias and injustice that America's black veterans have faced, dating back to our country's first fully integrated war with the Vietnam War.
NYFA: What did you learn at NYFA that you are applying or plan to apply directly to your work at ESPN Next, or your work in general?
CG: My deepened understanding of story and the key components that form a good story is something that NYFA instilled in me that I will continue to grow and take with me as I contribute to storytelling at ESPN. 
NYFA: What advice would you give to students just starting out at NYFA?
CG: A word of advice I have for NYFA students is to remain extremely focused and ambitious during what will undoubtedly be the most jam-packed, year-round educational experience you'll ever have. Persistence and constant discipline are vital if you want to walk away feeling rewarded by your work at the year's end.
by nyfa