NYFA does not represent that these are typical or guaranteed career outcomes. The success of our graduates in any chosen professional pathway depends on multiple factors, and the achievements of NYFA alumni are the result of their hard work, perseverance, talent and circumstances.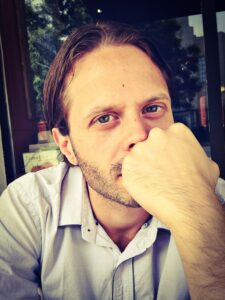 NYFA: Hi Nick, would you mind telling us a bit about your background and what drew you towards screenwriting? Why did you decide to study screenwriting at NYFA?
NICK OKTARAS: My family always encouraged me to do whatever I wanted to do. Which was great! except for one thing; I never knew what I wanted to do. My biggest fear growing up was that I didn't want to be 80, lying in my death-bed and with no stories to tell my grandkids. So… I did everything.
Bartender, carpet steam-cleaner, ventilation cleaner, pool table felt-brusher, door-to-door salesperson, customer service consultant, admission's manager, Army Reservist, chili-powder factory worker; the list goes on. But, I never stayed in one job for too long. I just got bored real easily, mainly because I ran out of exciting stories to tell from the workplace. So, after killing my boredom from traveling all over the world, Thailand, Malaysia, Canada, Alaska, and Hong Kong, I just took a step back and thought to myself;
"What didn't I get bored with when I was 10-years old?" Answer: Watching movies.
First things first. Make sure. So, I enrolled into an 'Introduction To Screenwriting' short course at RMIT in Melbourne. It was only once a week for 3 months. Hell, that was longer than half of my previous jobs so, I moved on to phase 2; Enroll into an intensive program that covers all aspects of filmmaking. I didn't know what I was exactly looking for, but I knew what I wasn't looking for. I wasn't looking to spend my next 3 years chasing a bachelors degree with 70% of the classes being theory based.
After an exhausting amount of research, I was ecstatic to learn that NYFA was planning to open their first campus in Australia. In 2012, me and 11 others, enrolled into NYFA Australia's inaugural filmmaking program where we each wrote and directed 8 short films. Collectively we worked on over 70 projects. I loved the intensity, the long hours and the sleepless nights, but my biggest appreciation went to the hard work everyone put into telling a story.
So, after saving enough money from working at NYFA Australia as their Admission's Manager, I made the move to LA and enrolled in NYFA LA's One Year Screenwriting Program.
NYFA: Your screenplay This Old Man has been doing exceptionally well at film festivals this year, including being a finalist at the 2014 Atlanta Film Festival Screenplay Contest and the Best Feature Gold Prize at the Beverly Hills Screenplay Contest. Would you mind telling us a bit about how you came up with the story for the script and fine-tuned it into the award winning script it is today? Why do you think this script in particular has been met with such success?
NO: It was inspired by a class exercise in Liz Werner's Story Generation. Each week we were given a certain method into finding inspiration to tell a story and present a one page treatment. The methods ranged from newspaper articles, social media, observing strangers, myths & fairytales etc. I came up with the story of This Old Man after an inspiration exercise which was an excursion to LACMA. There was a painting of a weathered Old Man sitting on a bench in open field. So, my love of coming-of age tales kicked in and Clint Eastwood's A Perfect World popped in my head. It's about a kidnapped boy who strikes up a friendship with his captor, played by Kevin Costner. (Spoilers; Costner dies in an open field).
So I took the Old Man in the painting and asked myself;
"Who is he waiting for at the bench?" The little boy.
Why?
To replace him as Death.
So after few this-makes-no-sense treatments, (the first treatment had a thriller road-trip tone involving a Neo-Nazi), I rewrote the treatment to represent the family-friendly script it is today.
So, under the great guidance of Matt Harry in Writing the Feature Film II, and 2 rewrites after graduation with the help of fellow NYFA Alumni, Lucy Luna, This Old Man was born.
This Old Man is a tale of a mature 10-year old boy who finds his dead brother's mysterious scrapbook and teams up with the only person that could help him decipher it; a delusional old man who thinks he's 'Death.'
To be honest, I'm still a little overwhelmed by how well it's been received in screenplay contests thus far. But if I have to guess, I think it may have to do with genre. When I interned as a script-reader there were so many scripts that would come in that were raw-and gritty, with messed up characters and in an even more messed up world. Maybe it was nice to change it up a little for the poor script reader interning at the contest. But honestly, I have no idea.
NYFA: What is one lesson in particular you learned while as a student at NYFA that you still find yourself applying to your current work?
NO: I never presented a vomit draft in class. I would vomit a scene in my head and get to work when writing it. If you're hoping to receive feedback and you present your vomit pages, then you're going to receive feedback on what you already know doesn't work or can be fixed. So, why waste time.
Always present your best draft. Even if it's bad, as long as it's the best that you could do.
NYFA: In addition to your work as a screenwriter, you've also worked in a variety of crew positions and as an actor. How has working in the various different filmmaking positions helped you to develop as a writer? What insight have you gained working as a filmmaker that you don't think you might have gained if you had stuck solely to writing?
NO: You really start to appreciate the hard work that goes with every role, and just as important, whether the script is shootable. Can the DP set up the shots with out spending millions of dollars? Should I rewrite the scene? How many actors are needed? Should I lose a character? Is there enough breathing room in the script for the DP, director, and actors to input their craft and feel part of the process? All these elements are crucial for independent filmmaking.
Working as a filmmaker, and then moving to writing, you really do learn to take away all those unnecessary details that you find in a script. Take away the color of the door being blue. Location manager will find a green door and production design will paint it red.
NYFA: What kind of stories, themes, and/or genres are you attracted to in particular? What themes do you find yourself returning to often?
NO: I enjoy watching raw-and gritty dramas with characters that would blend in today's society and nobody would even notice them. It makes you question all those people you didn't say hi to on the way to work in the morning.
I love coming-of age tales. I just love that nostalgic feeling you get when you relate the scene to something you went through growing up. Either you went through a coming-of-age years ago or you're going through it right now.
NYFA: How do you feel NYFA's philosophy of "learning by doing" helped you to prepare for your career outside of NYFA?
NO: I got my first job in the film industry at NYFA's graduation screening. An actor, who happened to audition for my final film but didn't get the part, was in the audience. He leaned over during the credits and gave me his card. From that point on, I've worked as a writer, director, researcher, runner, boom operator, casting director's assistant, 2nd AD, 3rd AD, and all because I knew exactly what I was doing from when I was a student at NYFA.
NYFA: How has NYFA continued to help you in your journey as a screenwriter? How have the Alumni Workshops helped you to develop your craft as a writer?
NO: NYFA caters for all aspects of filmmaking which is great because since graduation, fellow filmmaking students have made contact for potential collaborations in the future. The Alumni workshops are just as intense as the NYFA programs themselves. The only difference, is that nobody's chasing you to hand in a particular assignment. It's entirely up to you now.
NYFA: Where would you ideally like to see your career in ten years? What would your dream writing gig be like?
NO: Ideally, in 10 years, I would like to be an established writer with at least one produced film and a few more optioned.
Wow! My dream writing gig would have to be 'the-go-to-guy' for rewrites. The ones they call on for when there's one week of shooting left and the entire film needs to be rewritten based on the footage they already have. Is that too much to ask? Ha.
NYFA: Do you have any pieces of advice for current students or aspiring screenwriter on how to get their work seen and noticed?
NO: Entering comps can be expensive so try and find the ones that offer some sort of feedback as part of their entry fee. Also, look out for prizes. Not necessarily the cash prizes, but the prize of having a talent agent reading your material is worth more than some of the cash prizes out there.
As for the script itself, just impress the reader. It doesn't matter if it's for representation, a screenplay contest or your colleague at the printer, find your voice and make it a page turner.
by nyfa