There is exciting news from the Unmanned Autonomous Vehicle Systems Association, UAVSA. This group of leading experts in their fields of engineering, photography, technology, distribution, and production revealed that they are planning to organize an Aerial Drone Cinematography World Tour that explores 48 universities in a period spanning 18 months. The tour will be held in 2015 throughout 2016.
The SUAV/Drone industry is exploding on the scene and the definite future of this industry is indisputably the UAVSA Aerial Cinematography North America Tour. UAVSA has revolutionized the techniques used in film, television, broadcast news, and even in industrial settings through sensor science, airframe, and navigation presentations. These techniques at one time were never imagined even possible and now are leading the forefront in how we capture and share images.
The theme of the tour is Prepare, Connect and Learn; Prepare – Safety, Security, and Privacy, Connect – Communication, Awareness of Others, Learn – Know the Rules of Flight. The tour is then broken down into four specific sessions. The first session is a thorough overview of the UAV where new products will be highlighted as well as all of the fascinating, new trends in flight systems and technology. The second session is comprised of safety regulations that UAV adheres to while the third session covers the new applications being used in light industrial use and in TV and films. The final session will captivate all photographers as UAV demonstrates how the new smart Gimbals are capable of first camera action and simultaneous multi-dynamic shot angles within a single shot. Incredible.
This is an open invitation to academics, engineers, photographers, students, and the public to join this amazing event.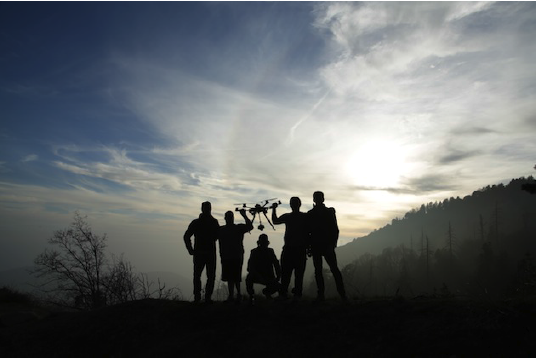 UAV Aerial Cinematography North America Tour is an important event to attend to understand the trends of the industry and the advancements being made. For example, attendees will learn about the state of the art UAV software and hardware used to capture aerial motion and light industrial use. That's not all. Attendees will then learn how to navigate the software and fly, which can impact film production and more. Other topics that will be explored include safety flying procedures, obtaining insurance for UAV pilot operators and understanding the current FAA rulings for drones in the TV, Film, and Entertainment industries.
As a sponsor in this monumental North American Tour, one is granted with full access to all sessions in addition to direct, one-on-one access to the UAV buyer markets. Sponsors are also promoted through all types of media communication including social media, internet, radio, and television. A Title Sponsor is awarded co-ownership of a National UAV Educational program which entitles the sponsor to be introduced and promoted at each event as well as all media sources throughout the duration of the 18 month long tour.
The Aerial Drone Cinematography World Tour is revolutionary and will undoubtedly change the way we interact and conduct human transportation and commerce. Participants will be fully educated and equipped with the latest skills and trends to be used in multiple industries and settings.
Curious to learn more about the advancements being made in aerial drone cinematography? Click here to read about New York Film Academy's One-Year Conservatory Cinematography Program.

by nyfa