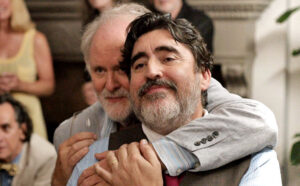 On Wednesday January 20, the nominees for the 26th Annual GLAAD Awards were announced with such films as The Imitation Game and The Skeleton Twins picking up nominations alongside such television series as Orange is the New Black and Transparent.
The Outstanding Film nominations are broken into two categories—Wide Release and Limited Release—with The Imitation Game, Love is Strange, Pride, The Skeleton Twins, and Tammy each earning a nom in the Wide Release category and Dear White People, Life Partners, Lilting, The Way He Looks, and Will You Still Love Me Tomorrow picking up noms in the Limited Release category.
In the television categories, ABC earned the most nominations for a broadcast network with six nominations while HBO led the other cable networks with five nominations. This year GLAAD increased both the Outstanding Drama Series and Comedy Series categories from five nominees to a maximum of ten, opening up the category substantially.
The 26th Annual GLAAD Awards will take place March 21 at the Beverly Hilton in Los Angeles and at the Waldorf Astoria in New York City on May 9. To view the full list of nominees, please click here.
by nyfa