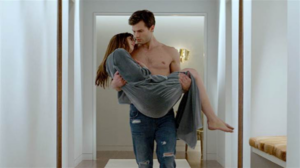 Proving that the nation's aunts have finally learned how to fully utilize the Internet, advanced ticket sales for Fifty Shades of Grey hit an all-time high this week. This was reported by box office website Fandango, which stated that since tickets for 50 Shades became available for pre-order last Sunday, the enormous sales have made the movie the fastest selling R-rated film in history.
50 Shades of Grey releases February 13, obviously hoping to attract a Valentine's Day crowd. The steamy, sex-filled film is an adaptation of the best-selling novel, itself a surprise hit considering it was originally conceived as erotic fanfiction for Twilight. It's enormous success spawned two sequels and an entire genre of modern romance novels, many self-published as ebooks like 50 Shades originally was. It has since made author E L James over $100 million.
R-rated films typically make less money because of their restricted demographics. Previous R-rated movies that have had explosive pre-order sales on Fandango include Sex and the City 2, Gone Girl, and The Hangover Part II and Part III.
50 Shades of Grey already made news earlier this week when a new trailer was released during the Golden Globes. It stars Jamie Dornan and Dakota Johnson and was directed by Nowhere Boy's Sam Taylor-Johnson.
by nyfa