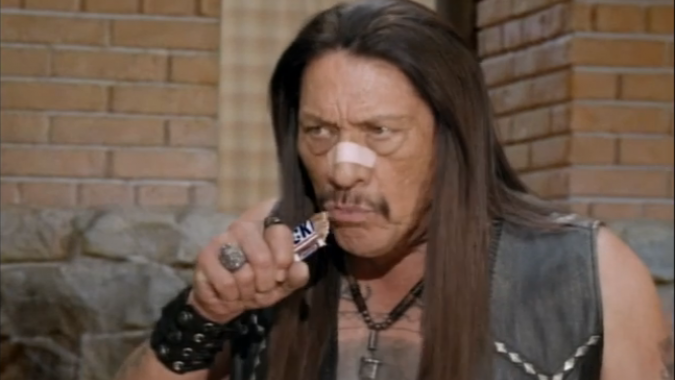 For a lot of people, the best part of the Super Bowl are the commercials. After all, companies pay millions of dollars for just seconds of screen time, so of course try their darndest to make them count. This year had commercials of all kinds, including movie trailers and ads ranging the spectrum from dark and gritty to sexy to somber and sad. Fortunately, a lot of them were just downright funny, usually thanks to some well-cast celebrity casting. Here's eight Super Bowl commercials from last night that we're still chuckling from. List your favorites in the comments!
1. Esurance
Fans of Breaking Bad were pretty disappointed when they found out Bryan Cranston wouldn't be reprising his legendary role as Walter White in the new spinoff Better Call Saul. They were probably ecstatic to see his surprise return to TV in the Esurance ad, where he works over the counter at a pharmacy.
2. Nationwide
Mindy Kaling wonders what a lot of us do sometimes—are we invisible?—and concludes that yes, yes she is. To the sounds of "Pretty Woman", she takes advantage of her superpower in many ways, until she finds out—from a foiled attempt at smooching silver-haired Matt Damon—that she is completely visible.
3. Snickers
Snickers has made a great long-running campaign out of showing characters transformed into famous celebrities by their hunger. For the big game, they used footage of The Brady Bunch to present Machete star Danny Trejo as a hungry, grumpy, nose-bruised Marcia Brady. If that wasn't hilarious enough, they throw in Steve Buscemi as jealous Jan.
4. Kia Sorento
Like a fine wine, Pierce Brosnan just gets classier with age. Never afraid to send up his image as James Bond, the commercial for Kia shows the former 007 imagining his Kia road trip filled with snipers and explosions. Instead he gets owls and log cabins. The ad has a happy ending though because Brosnan still gets his "fireworks."
5.  T-Mobile
T-Mobile doubled down on its funny, beautiful women by having Sarah Silverman and Chelsea Handler team up for their ad. Both comediennes compete over the increasingly ridiculous rooms in their mansions where they can get Wi-Fi service. The episode ends with Chelsea trapped under the floorboards with a possum, or as she calls it, a rabbit.
6. Avocados from Mexico
The healthy green fruit didn't need any celebrities for its commercial. Instead it used a very clever riff on sports drafts. In the very first draft ever, various animals and plant life are drafted by nations. Australia's pick—the kangaroo. The ad succeeds in making its guacamole look delicious, though you can't help but feel bad for that poor polar bear that wanted to hang out at the beach.
7. BMW i3
BMW was smart enough to use history for the bulk of its ad, playing a vintage clip of Today show hosts Katie Couric and Bryant Gumble showing their complete ignorance of the @ sign and the Internet. The ad then jumps to present day where the real-life personalities poke fun at themselves and struggle to understand the advanced technology of BMW's latest model.
 8. Clash of Clans
Tower defense game Clash of Clans shows how dedicated its players can be by casting Liam Neeson as a gamer who vows revenge on his conquerors. He also doesn't like it when baristas mispronounce his name. Who would've thought that nothing could be funnier than Neeson denying mercy to BigBuffetBoy85.
Which commercial was your favorite? Share in the comments below!
by nyfa