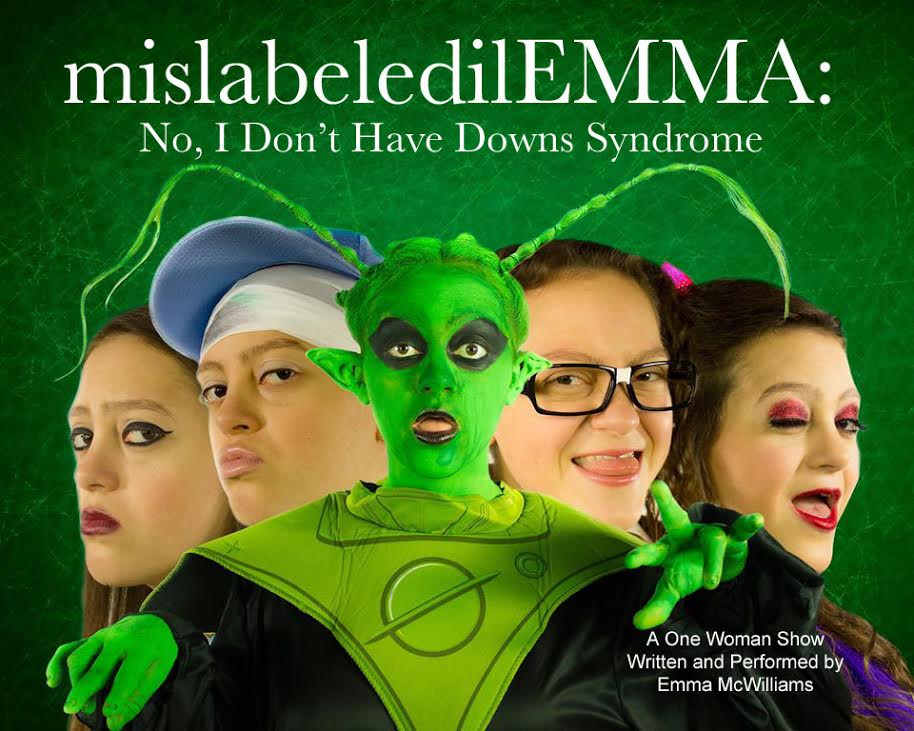 We're so proud to announce the upcoming production of mislabeledilEMMA: No, I Don't Have Downs Syndrome, which will make its premiere at the 18th annual New York International Fringe Festival. The show not only features a one woman show written and performed by New York Film Academy AFA Acting graduate, Emma McWilliams, but was also developed and is directed by NYFA Associate Chair of Acting/Departmental Programming, Anne Moore. Moore's theater credits include the Off-Broadway two woman show, Sit N' Spin, at the world renowned Atlantic Theater. She also co-founded the critically acclaimed sketch comedy group, The Flying Queens and starred in, Anne Moore and more and more at Catch a Rising Star. Her TV/Film credits include Vegas, Grey's Anatomy, Good Intentions, and more. She has also won an award for her documentary short film, Czech Daze.
Her newest production, mislabeledilEMMA: No, I Don't Have Downs Syndrome with Emma McWilliams is an autobiographical account of a quirky girl's search for identity amidst the confusion of being told she's "disabled." She captivates all–transforming into over 20 different unique characters that help share her heartwarming story as she tries to understand her syndrome she was born with spontaneously: Nail Patella Syndrome.
Nail Patella Syndrome is a rare genetic disorder that occurs in 1 and 50,000 people. The most obvious symptoms are poorly developed fingernails and kneecaps. Other symptoms include: dysfunctional elbows, stiff joints, kidney failure, and glaucoma. Emma is the first in her family to have the syndrome, and her story deals with the issues of discrimination, gender equality, racism, religion, "fitting in", and finding your identity. In the end, after many laughs and tears, you'll learn what changed everything, as Emma learns that labels don't matter.
First and foremost, Emma wants the world to know that, "NO, SHE DOES NOT HAVE DOWN SYNDROME." While attending NYFA, Emma's knack for comedy and standup compiled with her unique look was clearly noticed, and she was encouraged by her former teacher (Moore) to create a one woman show—thus where the project began. Emma is said to be an upbeat quirky girl who will definitely spice up your life. She is a muffin with rainbow sprinkles, a cross between Amanda Plummer and Joan Cusack. She has a wide range that always keeps her having fun; "crazy asylum girl" on Teen Wolf and "the modest girl" on Ant Farm.
Emma's motto: "To inspire, impact, and entertain the human spirit—one stage, one theater, one seat at a time."
Please come out and support Emma and Anne in this wonderful show, which runs from August 8th-24th at Fringe NYC. For tickets or more information, CLICK HERE.
by nyfa